News: SWH rugby shirt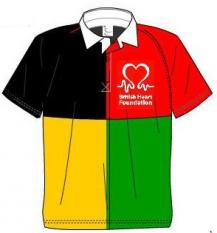 By Simon Robinson
May 9 2012
Following on from the fantastic success of this year's SWH walk – where over a hundred people took part – we're making another attempt to produce the Saints With Heart 10th anniversary rugby shirt.
SWH10 Rugby Shirt
These will be "old style" polycotton rugby shirts, short sleeves with traditional collars. The four quarters are black, green and gold for the Saints and red for the BHF. All shirts have the BHF logo embroidered on the front and "SWH" and the number 10 on the back.
They are being made by Badger Rugby, a company based in Dudley which has produced shirts for Cotton Traders. Shirts will be £50 each, all profits going to the Saints With Heart fund, raising money for the British Heart Foundation.
These will strictly be made to order – no extras will be made for stock. To place an order, click the link below for an order form and send in a cheque (made payable to "Saints With Heart") before the end of June. If you still have an order form sent out with your SWH walk paperwork, you can use that – just note the change of deadline and delivery.
Cheques will not be banked until the order is sent to the suppliers. If we don't reach the minimum order of ten shirts, any cheques received will be destroyed and you will be notified.
Delivery will hopefully be in time for the Leinster pre-season game on August 18th. If you wish to have your shirt posted, this can be arranged at a fee of £5 per shirt.
Any questions, please email saints_with_heart@hotmail.co.uk – we'll try to answer them for you.
Order form is here: http://www.smurfomatic.plus.com/rugby-shirt-form.pdf
PS – there are still a few SWH T-shirts left at £15 each, if anyone would like one please email the address above. At time of publishing, there are 1 Small, 7 Medium and 3 XL available.