Death in Jimmy's End - Part the second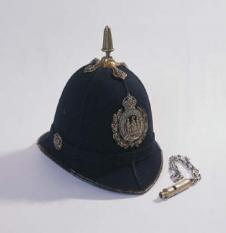 By Lundy Langer
June 7 2012
The second part of our summer rugby serial combining the best of Scandanavian Noir and Jimmie's Green. A sort of "Saints Gris" genre. The story is evoling. Please fee free to suggest plotlines and McGuffins. The Author may even use them.
AUTHORS NOTE - The following chapter contains adult themes –you have been warned !!
Also I decided to fictionalise some things – hence the town of Midhampton and their wonderful rugby team the Midhampton Angels. I don't know if it will ever be important to the plot but for your comfort and security - they do play in Black Green and. Gold.
Most serious writers spend ages researching things - I haven't so the details in some instances may be inaccurate but they serve the plot.
Talking of which now is the time to start to speculate and suggest - I am open to your ideas - who knows where we may end up.
Chapter 2 - 24 hours later. The Police take over - Bert makes a new friend.
Detective Inspector Harold Blunt was a big man - well over 6 feet 2ins in height but unfortunately bulging out of the tall frame were rolls of fat - all surmounted by a round balding head .- a full face that tended towards red when excited or angry with small bright eyes The straight bristle of a greying moustache covered his upper lip.
Unlike most large men he didn't try to get into clothes that were too tight – in fact he went the other way and tried to disguise his bulk behind loose flapping jackets and very baggy trousers.
He liked to think of himself as a clever and knowledgeable person but in effect he was neither- just a hard working almost driven man who made up for his lack of imagination with an elephantine memory for facts.
Blunt looked around the squad room at Midhampton police HQ and surveyed the team that had been assembled there to be de- briefed on what was now being called the Allotment murder. The team consisted of Sergeant Frank Malcolm a long serving officer whose sense of fairness and seemingly never ending patience always seemed to act as welcome buffer between the abrasive Blunt and the rest of the squad. Then there were two Detective constables - Watkins and Jones and the only woman a new comer and still on probation as member of the CID acting DC Clare Goodbody.
Blunt stood while the others at desks around the room he began.
"Right you lot what do we know ?" The question was rhetorical because as the team knew only too well Blunt was about to tell them.
"Ok the victim has been identified as Joe Falattu aged 23 a professional rugby player with the Midhampton Angels. Crime scene people report no DNA or other trace material at the scene that would tell us how he got there or who put him there." He paused and looked hard at the assembled squad.
"As you know the body was naked and headless it was also" – here Blunt appeared to smirk slightly " shall we say decorated with certain vegetables in what may be a suggestive manner "
"Now that information is sensitive and must not be revealed to the public and certainly not to our friends in the press"
"Sir – what about the head - has it been found ?" Interjected Constable Watkins – a gangly lad who was relatively new to the squad and didn't know better than interrupt Blunt in full flow.
"No lad it hasn't - " said Blunt evenly and then with some emphasis " And don't interrupt me again – ever"
"Now where was I – are yes we have a preliminary report from the Pathology wallahs.
Two things - First off - The head was removed by someone who knew what they were doing - it wasn't just hacked if you see what I mean. And – and this the important bit - The victim was already dead when his head was removed."
A general murmur of surprise and mutterings rippled round the room.
"All right - All right . We should get more from the Scientists later but meanwhile we have got some old fashioned police work to do.
Sergeant Malcolm and I will be off to interview the victims team mates managers and that lot down at the Rugby club.
Jones and Watkins can start on a house to house in the streets around the allotments. Right let's get to it"
'Sir what about me " the speaker was a tall slim attractive young woman in her late twenties .
"Oh yes " sighed Blunt " How could I forget our newest and prettiest recruit."
As he spoke he looked straight at her - it was not a look that made its recipient Detective Constable Clare Goodbody feel at all comfortable.
"Yes – ah Ms Goodbody " Blunt emphasised the Muss . – " OK then – you can go and talk that old to that old git that found the body I don't trust him - something very fishy about him - ask him how he knew who the victim was again."
"Yes Guv " muttered Clare and followed the otherwise wholly male group out of the squad room.
________________________________________________________________
Back at the Allotments
Once the fuss had died down , the body had been taken away in a plain black van and the police had left , Bert went back into his shed and brewed up another cup of tea.
He was disturbed - well you would be wouldn't you finding that on your allotment - but also by the police their attitude and especially that pompous Inspector . Still he had quite took the wind out of that buggers sails when he told him who the corpse was .
"It's that young Falattu the Angels new winger" he had told them . "Oh yeah and how would you know that from a headless body?" the head plod had sneered.
"Well " Bert " had told him "Cause he run past me every other week when I'm watching them Angels. It's his size and shape and I'd recognise those tattoos on his arms anywhere.
The policeman had stared at Bert and then turned away but not before turning back and looking him up and down and then finally nodding as if to confirm some private thoughts walked away to join the SOCOs .
Bert generally did not like policemen or come to that most authority figures .So he was somewhat surprised at his own reaction to the gentle knock on the open door of his shed and female voice saying – "Mr Haddon its DC Clare Goodbody can I come in? "
"MY she's a pretty one" thought Bert. But he answered with a non-committal grunt and waved her towards the old wooden chair opposite the more comfortable but very tattered arm chair that he had squeezed into the shed several years ago and which he now occupied.
"Mr Haddon " she began " I just wanted to check over a few things again with you - just to make sure we have got it right"
Bert smiled " Don't know what more there is tell you – besides your boss man didn't seem all that interested in what I had got to say. "
"I see " said Clare " and what was that then?"
"When I told him who the poor dead lad was " Bert went on to explain to Clare how he had recognised the body and how he was a regular attendee at the Angels on match days. "You ever been to the rugby? " he asked .
Clare visibly blushed "Er - I have been to rugby matches " she replied - " but somewhere else . – before I moved here."
Bert looked at her with a wicked little grin "You ent from up the road are you? You ent from Leicester are you?
Clare blushed even more - " well yes I am but it's really my partner who is the big rugby fan .
Bert grinned even more " Well never mind now you're here you will get the chance to see some proper rugby .
Clare was puzzled and confused - She knew that Blunt had only sent her to interview Bert because he didn't want her involved in the main work of the investigation but she had to justify the visit somehow and here she was talking about rugby not the murder.
"Bert - what do you know about the lad - Joe Falattu that is? she asked .
"Well " , said Bert , "Apart from him being a bloody goodun on the wing - he's from Tonga and we got him from one of them lower division clubs up north - Rotherham or Leeds or something like that. They also say he's very religious but a lot of them Islanders are that way . apparently he don't drink and don't go clubbing or anything like that "
"So he keeps himself to himself then? " - asked Clare
"That's what I heard " Bert replied " But he's supposed to be quite friendly with Ryan Philips the scrum half. Mind you that could just be something someone said once - you know there's always stories and theories about everyone and everything at a rugby club."
Clare Looked around as she struggled to think of another question - or at least one that was relevant. She took in the surroundings of the shed and noticed a book shelf with several books on it. What surprised her and lengthened the silence between her and Bert was what the books were. She made out two interesting titles on the spines - amongst the Crime paperbacks was a dusty copy of Das Kapital nestling next to a book whose title she couldn't quite make out - but the one word Lenin was quite clear.
"So what else do you want to know " asked Bert bringing her back to the business in hand.
"Well not much – I mean that's fine for now " Clare muttered rising from her chair.
"Tell you what girl " said Bert "If you want to know more – get the flavour as it were about the rugby club – the Angles - go on that internet thing and look at the Come on You Angels message board - all of human life is there as they say "
"Right I'll do just that " said Clare " and thanks again Mr Haddon ."
_________________________________________________________________
Under the bright lighting that characterised the pathology suite at Midhampton General Hospital Dr Russell Miller sighed and paused in his dictation into the overhead microphone used to record his observations as he carried out a further detailed post mortem on the body of Joe Falattu.
He turned away from the table where the body lay and walking away out of range of the mike and said to his assistant " You know we really can't do much more without the head and when in hell's name will get those lab reports ?
His assistant started to speak but turned away and walked quickly out of the autopsy suite leaving Miller staring after her. She returned quickly and breathing hard said "These arrived just as we came in and I didn't think to give them to you because you were just about to start on the full PM."
Miller looked at her and took the bulky sealed A4 envelope from her by now shaking hands . He studied then pages quickly and then with several " I sees " and " that explains it " turned again to his assistant
"Well my dear it appears that our boy here had been drugged and was taking drugs. Both traces of Ecstasy were found and wait for it - although previously untraceable - now with these new techniques we can and do find it - Rhohypnol was found in his tissue and blood samples "
"Isn't that the date rape drug? " - asked his assistant.
"Exactly " replied Miler "But from my examination of the Body there is absolutely no evidence of sexual activity unless you count the carrot."