Fantasy Testimonial XV's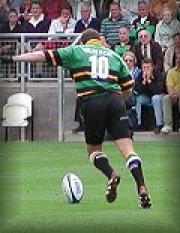 By Simon Robinson
June 7 2012
Tiny's testimonial match has got me thinking on the subject. Imagine you have to organise two teams to play a testimonial match, and you have a time machine and the ability to choose any player from the past to play. Obviously you'd be picking them at the peak of their skills, and ignoring the differences in physique for a player from the 19th century compared to the 21st!
Here's what you have to do – create two teams, starting XV and a selection (let's say around ten) to go on the bench. Establish the rules for selection in the teams (you could, for example, have an all-time New Zealand team against the Rest Of The World, or a Professional XV against an Amateur side) and maybe even say why you choose certain players over other contenders – after all, you are the chairman of selectors, no-one can argue with your choices. Feel free to "enter" more than one set of teams.
Here we go with my setup:
"Saints I've seen" v "Saints I haven't seen"
My first live Saints game was April 2000, any players who I've seen play in BG&G since can play in the first team, anyone else can play in the second. Most of the second team are picked purely on reputation and what I've read of them in old programmes and Brian Barron's book. No doubt many of the more experienced Saints fans will have seen several of this team play at the Gardens and may have different opinions on those selected. Feel free to argue about it below!
Saints I've seen:
Nick Beal; Bruce Reihana, Allan Bateman, Matt Allen, Harvey Thorneycroft; Carlos Spencer, Matt Dawson; Garry Pagel, Freddie Mendez, Brian Mujati; Tim Rodber, Jon Phillips; Andy Blowers, Budge Pountney, Pat Lam.
Bench: Soane Tonga'uiha, Dylan Hartley, Euan Murray, Matt Lord, Courtney Lawes, Phil Dowson, Lee Dickson, Paul Grayson, Ben Cohen, Jon Clarke.
Saints I haven't seen:
Jim Hetherington; Edgar Mobbs, Jeff Butterfield, Lewis Cannell, Teddy Cook; Ian Wright, Dickie Jeeps; Ron Jacobs, Andy Johnson, David Powell; Martin Bayfield, Vince Cannon; Bob Taylor, Don White, Buck Shelford.
Bench: Gary Pearce, Ray Longland, John Olver, Peter Larter, Bryan West, Jacko Page, Tommy Gray, John Hyde, Andy Hancock, Roger Hosen.