Death in Jimmies End - a Rugby mystery - Part 4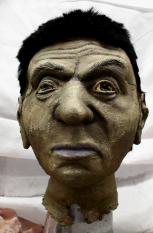 By Lundy Langer
June 17 2012
Authors note - The plot thins as they say – and a new character emerges from the foetid imagination of yours truly.
Chapter four - Monday Morning Sergeant Malcolm faces a complaint ; A Doctor is worried ; Why the head was removed - and the camera never lies.
Shortly after reporting into the squad room on Monday morning Sergeant Malcolm was sat at his desk reviewing the events of the week end. Blunt had gone home having postponed the daily briefing until midday when they hoped to have further reports from the Pathology people on the head and the likely cause of death.
He was interrupted in his musings by the desk sergeant who wanted him to help attend to a very irate person at the main reception who wanted to speak to whoever was in charge. "I suppose that's me then" he grumbled and followed the desk sergeant out to reception where on the other side of the counter stood a thin ratty looking man wearing of all things a very old and dirty Leicester Tigers shirt and a woolly hat.
"I want to register an official complaint" he said in a thin reedy voice .
"Yes Sir and what would that be about?" asked Malcolm.
"Yesterday on the canal this cruiser thing suddenly turned about with no warning and came straight at my vessel with its owner or whatever shouting and gesticulating at me and then shot off back down the water at what is known to be an illegal speed for the waterways."
Malcolm stared hard at the man who suddenly looked rather worried and confused.
" t was you" said the man "It was you that cut me up on the water. And you swore quite atrociously at me - do you know- do you know that my children who with me had to listen to that foul language."
Malcolm continued to look steadily at man in the Tigers shirt.
"Yes Sir that was me and it was a police emergency" Replied Malcolm evenly.
"What utter nonsense " declared the man - " I intend to make an official complaint about your behaviour - I shall take this higher".
Malcolm remained calm " Very well Sir let's start again shall we and do this properly. - what is your name ?"
"My name?" exclaimed the man "My name? – it's your name , rank and number that I want so that I can - er -write to the chief constable."
"Right Sir - I am Detective Sergeant Frank Malcolm and I am sure that the Chief Constable will be thrilled to hear from you. Oh and one other thing - why were you on the river on Saturday morning – I mean - he said looking pointedly at the man's shirt - you aren't from round here are you?"
The man moved away towards the double doors that led out of the police station " Why I am here is my business but I can assure you have not heard the last of Gordon March" And with a haughty toss of his head a gesture that didn't quite work under a woolly hat he pushed his way out into the street.
Frank Malcolm returned to his desk in the squad room muttering about pillocks with nothing better to do. True he was technically out of order in both his sudden manoeuvring of the boat and he had shouted at the other vessel to get out his way . Had he sworn at it – probably - after all he was rather exercised by the need to get the grisly evidence on his rear deck back to the pathologists and report his find to Blunt.
Funny though – he thought - don't remember seeing any children on that other boat. He also remembered that during the whole incident that other boat, apart from his own, had been only one moving that Saturday morning on the water. Malcolm made a mental note to check out Mr March and his boat.
Lionel Rathbone aged 47 was a very successful and respected orthopaedic surgeon based at Midhampton General Hospital who also consulted widely on Sports injuries for several soccer clubs and of course rugby clubs in the East Midlands. He lived in a large house overlooking Abingdon Park with his seventeen year old son Joshua. His wife had divorced him some two years ago on grounds of incompatibility and was now living in St Malo with a young painter of dubious seascapes but proven vigour.
This hardly bothered Rathbone who was a man very much in control. His precise approach to his work and calm urbane manner when dealing with both patients and colleagues had he believed earned him the respect of his peers and everyone who came into contact with him. To all concerned he represented the epitome of professional competence and probity. It was an image he relished , cultivated and protected.
He employed a house keeper and was generally satisfied with living essentially alone with his son Joshua who was a year 12 pupil at the well -known and respected Midhampton Collegiate Boys School.
So far Rathbone's domestic arrangements had worked well but in the last few weeks there had been a problem with Joshua. The boy was staying out very late at weekends and had become withdrawn and quite taciturn. He had come in late again on Sunday night and Rathbone was waiting at the breakfast table for the boy to appear.
When he did appear at about 9.15 he entered the breakfast room dressed only in a dressing gown and sat down with saying word. He reached for the coffee jug and poured himself a mug of coffee.
Rathbone waited but no word came from Joshua. . As Rathbone waited Joshua took out a packet of cigarettes, a lighter and lit up a cigarette.
Rathbone spoke - his voice was tight as he fought to control his concern and his anger at the sight of his son blatantly smoking in this - his house. "So how long have you been doing that" – he said waiving a hand in disgust at the smoke.
" What's it to you " grunted Joshua.
Rathbone who was usually so articulate and so controlled - slammed his hand down on the table top.
"Don't be impertinent" he shouted "I will not have smoking in this house – in fact I will not have you smoking at all"
Joshua scowled and got up and made to leave the room but turned back as his father seemed to compose himself visibly and said " Look I'm sorry if I lost my temper it's just that - Look where were you last night?.
"Out with friends as if its any of your business" replied Joshua.
"Where did you go? what friends? - are they from School" asked Rathbone.
"Went to a club if you must know with some guys I know" - and with that he walked out.
Rathbone remained seated at the breakfast table and poured himself another coffee. Out with some guys he knows and going to a club.- he mused - Well I suppose it's what young men do nowadays but he also thought we had better keep an eye on things - after all which club he was visiting and who with ? was for Rathbone a matter of some concern – even more so than the apparent fury over the rebellious cigarette. After all it wasn't just 17 year old boys who had their secrets.
Later that day - The Pathology suite at Midhampton General.
Sergeant Malcolm had been sent by Inspector Blunt to attend the examination of the victims head and to learn whatever the pathologist could tell him. Blunt did not like post mortems and despite his bluster was well known for being ever so slightly squeamish. So it was that Malcolm attended as he was wont to do.
He stood behind the glass observation screen as the head pathologist Russell Miller worked on the victims remains. At last Miller stopped whatever he was doing and came away from the table on which the body and its separate head lay. He removed his gloves and came around the screen to face Sergeant Malcolm.
"Well Sergeant I think we can work out why the head was separated from the body and an attempt was made to dispose of it in the canal." Malcolm looked at him and waited for more.
"The victim was shot once at close range between the eyes with a small calibre weapon probably a .22 pistol. Thing is that a small calibre weapon will kill with a head shot but unlike larger calibre weapons there is rarely an exit wound. The bullet just whizzes about a bit in then skull and stays there."
"So where does that leave us" asked Malcolm?
"OK said Miller - we don't like to speculate as you know but at a guess and it's only a guess I would suggest that the killer knew this about the weapon he used and knew that if we could recover the bullet we might be able to trace the gun hence the severed head and the attempt to dispose of it in the canal.. And before you ask -we have got the bullet and that will be going off to ballistics immediately . We should know something by tomorrow afternoon.
At the same time as Frank Malcolm was listening to the suppositions of the pathologist - Ivan Spinks was sat in the empty bar area of Club 69 with his manager Ronnie . They were both studying a lap top screen that was showing the CCTV tapes from the last weekend.
"There they are " said Ronnie " just look at them with their placards " He pointed to the screen at the image of a group of people who were indeed waving placards. The image was not clear but you could make out words " Hell awaits you " and Sodomy is sin" on several of the placards being held by the otherwise anonymous group of about five people."
"Can't tell who any of them are can we" said Spinks
"Well " replied Ronnie" Move it on a bit there's some better shots from the door cam. There - look!"
They both looked hard at the new image " well I never " exclaimed Spinks That's that rugby player who got himself murdered. What the heck is doing there.? It was as they correctly assumed the late Joe Falattu and he appeared to be walking away from the club doors . He was dressed casually in what looked like jeans and a light blue sweater of some sort." What's he carrying – there in his hand " said Ronnie . "Looks like papers – leaflets? offered Spinks .
They continued to watch "Hang on stop it there " - ordered Spinks . Ronnie did so and they both looked at the frozen image. Falattu appeared to be in conversation with a tall man wearing a dark suit .
"Ok roll it but slowly" said Spinks. "Now that is interesting look at that" . On the screen Falattu appeared to follow the man in a suit and get into a car. It drove away out of shot.
Spinks was thinking - Nothing to identify the god squad nutters who were ruining his business but if he played it right what a responsible citizen he would be . "Ok Ronnie stop the tape and give to me – I know of someone who would be very interested in this.