Death in Jimmies End - a Rugby mystery - Part 5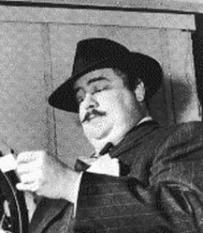 By Lundy Langer
June 27 2012
Tuesday - in which Blunt gets a new perspective - Goodbody goes on line - and the killer strikes again.
From the author
So where are we up to ? the plot if there is still a plot meanders madly and one begins to wonder who dunnit. Your author is undecided and uncertain of the way forward. The biggest difficulty with this project is how to develop characters and yet at the same time keep the pace of the plot going.
So your author thought we might sum up what we have in terms of suspects or characters who might become suspects. In the argot of the American crime series that bore me to death when family watch them – who is a potential " UNSUB " or Perp . Who would you like to see in the frame. Some possibilities ??
Ivan Spinks - the successful and ambitious business man is always good for this sort of thing. Does he have a grudge ?
Rathbone the orthopaedic consultant - knows how to cut bodies and apparently has a secret.
Gordon March the pedantic Leicester boatman - clearly not telling the truth about himself when he complained about Sgt Malcolm.
Meanwhile thanks to Rich Lindley for giving me an idea - I have watched Game of thrones and read all of the books in the " Songs of Ice and Fire saga." So more in a sort of " Moans of Mud and Mayhem " way some characters may just cease to be.
______________________________________________________________
Harold Blunt sat at his desk in his own office with sergeant Malcolm standing to one side as he fed a DVD into his computer.
"Now then Sgt Malcolm we are apparently about to see something of interest what has been forwarded to me by a friend of ours ."
"May I ask who Sir " enquired Malcolm as they waited for the Disc to play.
"Well I suppose you will work it out " replied Blunt " It's Mr Ivan Spinks what has sent this to me and I can assure you that he is as we say on the level."
One of Blunts most amusing habit – well amusing to his colleagues at least - was his habit of peppering his speech with Masonic references such as "Let me square with you " – and "On the Level. "He , Blunt, was convinced that Free Masonry was the benign backbone of the police service and that it was good to give the impression that one was so connected. In fact he wasn't and had never even been approached to join that organisation. . His one and only meeting with the Chief Constable had ended in embarrassment as the Chief hastily withdrew his hand from Blunts as a formally courteous handshake was turned by Blunts persistent caressing of his superiors thumb joint into a bit of a farce.
"Here we go then " -and the screen started to show a copy of the CCTV tape previously viewed by Spinks and his manager Ronnie.
Neither Blunt nor Malcolm spoke again until they both simultaneously said " Stop there " and rewound to watch the telling shots of Joe Falattu talking to the tall be -suited stranger and getting into a car with him.
"Now then " said Blunt " That's most interesting - right let's get this to the techies and see what they can come with - car number plates etc. would be very helpful."
______________________________________________________________
In another office at Midhampton Police HQ that afternoon Goodbody also sat at a PC . She had had to beg and perhaps flirt a little to persuade the usual incumbent to let her borrow the room but now she was there - logging on as Bert Haddon had suggested to Com on you Angels .com.
Some two hours later she had got the feel of it –and was beginning to see some patterns emerging . It was a message board devoted to news and discussion about the Angels and rugby in general. Some characters were evident – regular posters many using nomes des plumes - whose individual styles and even prejudices were clearly evident. Some were witty and quite funny. Nobody liked Leicester tigers but that paled into insignificance compared to the scorn and sarcasm reserved for Saracens. She also noted a pronounced English bias where international rugby was concerned and a general dislike of all things Welsh . However the most venom seemed to be generated and responded to in kind by a poster who went under the name of "The Green Fairy " His postings were always making comparisons between the state of English rugby with that in Ireland. It was also clear that he regularly watched the Angels but to the annoyance of the other regular posters failed to offer in his postings unequivocal support for the local heroes.
His most persistent antagonist - the poster who it seemed could be almost guaranteed to respond critically and sometimes abusively to the Green Fairies efforts was someone who went by the name of "Moseley ". What was also interesting was that this particular poster did not seem to post on anything else – just posting in response to the Green Fairy.
Clare also noticed one other rather interesting and regular contributor - a poster who regularly commented vociferously on the number of foreigners or overseas players in the Angels team and squad. This one used the name of "Longshanks "
"I need to know who some of these people actually are " thought Clare . She didn't know why she thought that for a certainty but felt that there might be something more to it than just message board antics and mayhem. At the back of her mind was the thought that some of the names used coupled with the trend of the postings did suggest some persons with strong prejudices.
The editor of the site was apparently one Illtyd Williams and Clare decided that she needed to have a talk with Mr Williams about ISP addresses etc.
Later that evening a smart black Mercedes coupe' pulled into the car park behind the Midhampton Marina Hotel. Celia Weedon - Smythe had arrived. In fact she had arrived in more ways than one . A successful barrister expected to make it to "silk "status in the near future , Celia was about to attend her first meeting as a newly appointed member of the board of Midhampton Angels . She would be the only woman and also despite her rather upper class name would also be the only person of mixed race to join that body.
Celia was slim and attractive with long black hair and had one of those very beautiful faces that seem to be almost indigenous amongst some Asian women. As she was wont to say I got my silly name from my father and my looks and my brains from my mother.
Celia had made her name and reputation in the fields of employment law and discrimination cases. She had been invited to join the board of then Angels after her success just over a year ago in a high profile race discrimination case involving a young teacher of Pakistani origin and The Midhampton Collegiate School . The Angels wanted to have an in house legal professional on board who would be capable of dealing with the often incomprehensible and random disciplinary procedures of the RFU.
Celia, however , never made it to the hotel entrance. As she turned the corner from the car park and walked along the shrub lined pathway and just as she got to the point where a small copse of ornamental birch trees stood she thought she heard someone behind her . She looked around and saw a figure dressed in a black "bomber jacket "black trousers and with a black balaclava pulled down over their face emerge from the trees.
The sudden intruder was less than a few feet away from Celia and was pointing something at her. She recognised what it was as the figure raised the object so that it was level with her head .Celia started to try to speak - but a sharp pop rather than a bang coincided with her world going black as she fell backwards to the ground.
_______________________________________________________________________
Harold Blunt was alone in his office and the clock his desk said 7.30 pm. Everyone else had gone home or was out somewhere. He , Blunt , was staring hard at the white board chart on the wall trying to make sense of the names and arrows . So far there wasn't much - The victim's name was in the centre with connecting arrows to places rather than people who might be linked as suspects. He noticed that someone had added in a name since he last looked - that of Gordon March ? " Who the hell is he ? " thought Blunt then he recognised Sgt Malcolm's hand writing and determined to ask his sergeant what he meant by putting stuff on the chart without asking first.
So far all they had was that the murder weapon was a .22 pistol very probably the sort used in competition shooting according to the firearms boys. "Were there still shooting clubs "he mused . "and started to do a search on his PC when the phone rang.
"Blunt " - he spoke into the phone
"Sir it's me Malcolm – there's been another one - a woman lawyer – Asian apparently – shot dead at the Marina hotel – Uniforms are at the scene I'm on my way there now. "
Blunt started to sweat - he put the phone down - fumbling to replace the hand set properly. He stood up and felt very hot .
"A woman lawyer ? No it couldn't be - not her "
And then things went out of focus and he slid for all his bulk gracefully to the floor where he lay staring at the ceiling . Spittle leaked from his lips which moved as he whispered to himself "No not Celia – not my Celia.