News: The fault, dear Brutus ......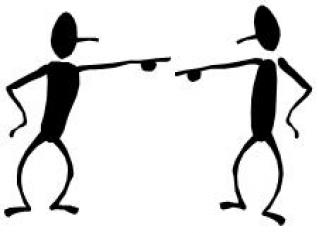 By St Marlowe (David Lowrence)
July 29 2012
The quote in full: " The fault, dear Brutus, is not in our stars, but in ourselves, that we are underlings" and coupled with another favourite *eighth beatitude" from my Mother "He who expecteth nothing shall not be disappointed." Taken together in the context of postings on the board this month form the basis for my sermon tonight - (well it is Sunday)
The Blame Game and Northampton
One of the worst elements of our ability to have instant communication, be it via the web, sites such as this, or our wonderful media, is the propensity to indulge in blame. The worst elements of this blame culture can be seen daily in our Houses of Parliament where alleged wrongdoers are paraded in front of a disparate bunch of politicians to accept blame and admit their complicity in whatever subject is currently the favourite of the mob. This blame culture even extends to some of our cherished institutions such as the BBC, where the intention of every interviewer seems to be to find faults and extract contrition from the interviewee.
I use these examples to show how we have all become complicit in this game. Supporters of Northampton Saints are no less susceptible to this drug than anyone else.
There have been a number of postings questioning our current squad strength (as against previous years where we had not fully achieved expectations), and asking the question "where did it start to go wrong?".
The writer is not convinced that it has "gone wrong", but there is clearly (during these dog days) an appetite to hang the problems of not having a bulging silverware cabinets on someone. Candidates to date have been Geech, KB, Wayne Smith, the board, players' egos, or any passing coach.
Northampton is the largest town in the country. The inhabitants seem to be quite happy with that state of affairs with no real push for City status. The inhabitants of Northampton also appear to be content to have the town centre blighted for 12 years by a property company without storming the Guildhall. Do these seemingly unrelated issues point to another reason why Northampton Sts does not have a trophy cabinets as large as our friends of the road?
We are generally known as one of the most fanatical support bases for any rugby club in the UK and some would say in Europe. Along with this goes a great apathy as to the day-to-day running of the club. We have a supporters club which appears to exist only to provide coach travel to those supporters who cannot make their own way to away matches. This is a superb facility and probably the best in the league. But given a season ticket base of about 9000, a supporters club that only boasts about 300 members gets exactly the reaction from the club as can be expected. Here is a good place to start to correct that.
Is this apathy part of the problem? Northamptonians seem to be content with their lot. They expect nothing therefore they are not disappointed (much) when things do not go according to plan. Some questions for supporters related to the events that have occupied the board over the summer.
Where were you when the Academy was abolished by Wayne Smith?
Where were you when the board, having dismissed a failing coach, appointed two inexperienced players as coaches for an ambitious premiership club. (The players concerned, while inexperienced as coaches, were badly served in these appointments by the club and this is not intended as a slight against two of our most committed club servants)?
So while we wail and gnash teeth seeking the faults in other people - could it be perhaps that an acceptance of the status quo by Northamptonians in general feeds down to the supporters of the Saints? "We never expected to be here so we are not disappointed that we don't reach the pinnacle"
Is the fault with ourselves as much as anyone else, and is our desire to play the blame game and avoidance of responsibility by supporters in the day-to-day activities of the Saints?
In Jim we trust, - everyone else pays cash!
So perhaps all those who seek to apportion blame should look inward first, after all, like most things in life, if we do not raise our voices (not just on this site), nobody will listen or act.