News: HC: Castres vs Northampton Saints - Match Preview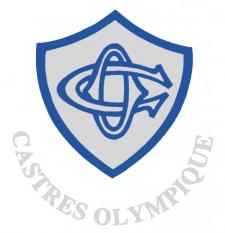 By Sometime Lurker
October 18 2012
Following their bonus-point success against Glasgow at Franklin's Gardens last weekend, Northampton Saints travel to France to take on Castres Olympique in Toulouse in Round Two of the pool matches in the 2012/13 Heineken Cup. Occasional COYSDC contributor "Sometime Lurker" takes a look at what to expect on Friday evening...
CASTRES OLYMPIQUE vs NORTHAMPTON SAINTS
HC (R2): Friday, 19th October 2012 - 8pm (Sky)
STADE ERNEST WALLON, TOULOUSE
MATCH PREVIEW
Right then. The Heineken Cup. The chance to play new teams, visit distant lands, and make new friends through a common love of rugby (or alcohol). So this year, our French opposition is……………… (drum roll, pause for effect)………….. Castres.
Hmmmmmmmmmm.
Haven't we played them before?
Yes folks it's true – for the third year on the trot we are playing our friends from Castres. We might as well just invite them into the premiership.
So, over-familiarity aside, what can we expect of the southern Frenchmen this year? Judging by their outing against Ulster last week they've found none of their passion for travelling. A woeful first half, finished off by the most headless chicken end to a match that I have ever seen, gifted a bonus point to an Ulster team that rarely had to move out of first gear. Of course, at home Castres are likely to be a different beast, especially this early in the season when they might be thinking of picking up a lucky away win later in the group and having a crack at qualification. Lucky for us then that they have decided to move this match to Toulouse, although whether this has any real impact remains to be seen.
As for Saints, where to start? We went 5 for 5 without ever really playing well, let alone playing for a whole 80 minutes, then fell to pieces against London Irish. As for the first 30 minutes against Glasgow, I'm trying very hard to forget that short period of my life. And yet, despite not really managing more than 50-odd minutes of decent performance in a single game, our record currently reads played 7, won 6 – so why the long faces? Pretty much any other team in the league would kill for that. More importantly, I can remember years past when we did come out of the blocks firing on all cylinders; by the end of the season everyone was out on their feet, barely able to hold their bodies together. Maybe, just maybe, we've learnt from our mistakes and are still just in the warming up phase of the season – and if we happen to be topping the league in the meantime, that's not such a bad position to be in.
Onto the teams then:
I know virtually zero about the Castres squad, but I am reliably informed by certain people that last week's effort against Ulster was a bit of first team, a bit of second. They also inform me that the whole front row will be swapped out, but are extremely unreliable when it comes to telling me who will be swapped in. Therefore I can safely say that the Castres team WON'T be this one:
Castres:
15 Romain Teulet, 14 Marcel Garvey, 13 Daniel Kirkpatrick, 12 Seremaia Bai, 11 Marc Andreu, 10 Pierre Bernard, 9 Thierry Lacrampe, 8 Pedrie Wannenburg, 7 Yannick Caballero, 6 Piula Faasalele, 5 Rodrigo Capo Ortega, 4 Matthias Rolland, 3 Michael Coetzee, 2 Mathieu Bonello, 1 Yannick Forestier.

Replacements: 16 Marc-Antoine Rallier, 17 Gregory Marmoiton, 18 Mihaita Lazar, 19 Iosefa Tekori, 20 Rory Kockott, 21 Antonie Claassen, 22 Paul Bonnefond, 23 Thomas Sanchou
(see what I did there?)
Don't have a clue who will actually start though, but I would guess that Wannenburg is nailed on.
For Saints, provided everybody recovers from knocks I don't expect any changes from last week. If this was a home match then Myler might have been swapped for Lamb, but I can't see that happening for an away match in France. Given our 5 day turnaround though, we should probably expect more substitutions earlier in the match, so the bench will have a far greater say in the outcome for us than normal.
Saints:
15 James WILSON, 14 Ken PISI, 13 George PISI, 12 Dom WALDOUCK, 11 Vasily ARTEMYEV, 10 Stephen MYLER, 9 Lee DICKSON, 1 Soane TONGA'UIHA, 2 Dylan HARTLEY (capt), 3 Brian MUJATI, 4 Samu MANOA, 5 Courtney LAWES, 6 Phil DOWSON, 7 Tom WOOD, 8 Rhys OAKLEY
Replacements: 16 Mike HAYWOOD, 17 Alex WALLER, 18 Paul DORAN JONES, 19 Mark SORENSON, 20 GJ VAN VELZE, 21 Martin ROBERTS, 22 Ryan LAMB, 23 Tom MAY
And for a score prediction – my head says Castres – it's an early round, they might actually care about it, etc. but my heart says that maybe, just maybe, we could be about to see something special.
Saints by 8