News: Saints up to 4th after Exeter awayday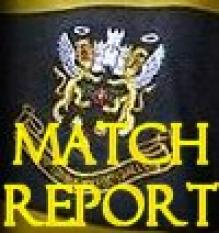 By SAINT_aitch
January 6 2013
A lovely day trip to the South West courtesy of our Rail network allowed me to imbibe in some of the local pleasantries and the ever popular pasty to soak it up as I enjoyed the banter from the terraces at Sandy Park to watch Saints take on Exeter Chiefs in this round of the Aviva Premiership. A full strength Saints squad had the edge over our hosts, depleted in strength and missing a few key players as they were but Saints came into this on the back of some disappointing efforts against Harlequins and Saracens recently and they needed to taste victory again soon if they were to restore any chance of keeping the pressure on the top end of the league.
EXETER CHIEFS vs NORTHAMPTON SAINTS
Aviva Premiership Round 13
Saturday, 5th January 2013 k.o15:00
SANDY PARK
MATCH REPORT
From Smyler's kick off and for the best part of the first twenty minutes this game was played in the midfield with both teams flexing their muscles and trying to gain a foothold. The Chiefs backs were looking decidedly dangerous as they tried to spread the ball quickly in the hope of finding a hole or catching Saints napping, but it was clear from the start that Saints defence was going to prove a tough nut to crack.
The Chiefs pack was also getting the better of this first quarter of the match and despite the strength of the Saints pack, Chiefs powerful front row of Tui, Moon and Clark, with the impressive Mumm in the engine room were making things very difficult for Tiny, Dylan co and the first few scrums went in the home teams favour.
The first points of the match came at around fifteen minutes when Phil Dowson was pinged for not rolling away from a tackle and this allowed Gareth Steenson to notch up the first of his four penalties of the day. But again this was a half of two halves and as we went into the second twenty minutes, Saints began to show a little more composure and started to take control at scrum and line out.
Then came the first half try after a poor clearance kick from Luke Arscott went straight to Ben Foden who did what we Saints fans just love watching him do, run the ball back, and boy did he do it well cutting a great line through the Chiefs defence until he was some 7 or 8 metres out from their line before passing to Ken Pisi who had a relatively easy jog over the line and around behind the posts to dot down. Bizarrely, Myler's conversion attempt hit the upright. His only miss from a good afternoon's kicking.
The forwards dominance continued in the first half giving a good platform for the backs to work from and as half time approached, with solid defending and powerful attacking, Myler was awarded a penalty about 15 metres inside the Chiefs half, which he dutifully slotted.
Chiefs though were not taking this lying down and with continued pressure on Saints, Mr Garner decided that Dylan Hartley had been slowing down the ball and sent him to cool off for the remainder of the first half allowing Steenson to get three points back on the board for the home team.
Half Time 6:13
Chiefs wanted to make the most of Saints missing their captain for the first few minutes of the second half and they started it well right from the restart getting a penalty awarded which Steenson slotted, only to lose momentum shortly after and gift Saints a penalty back which Myler successfully kicked.
It wasn't too long before Dylan was back on the field and order was resumed in the Saints squad. Chiefs kept up the pressure on Saints as best they could but, despite all their efforts, they just could not find a way through the Saints defence relying only on indiscretions and the boot of Steenson to provide another 3 points and their only real hope of reigning the Saints in.
Saints meanwhile were making the most of their full pack and, from a line out and resulting drive, Tiny managed to push over the Chiefs line and dot down. Mr Garner checked with the TMO and awarded the big prop a try. Myler got the conversion and the Saints lead now meant that Chiefs needed two scores to get back in front but with 20 minutes still to play, anything could happen. Would Saints capitulate again, would we sit back on our lead and let Exeter come to us? Or would we push for more?
We have all seen it before, Saints get a lead and its as if someone brings on some comfy chairs, slippers and a some newspapers for the Saints team to relax into. Within minutes of Tiny's try, Exeter, and full credit to them, pushed their way into Saints 22 with a succession of attacks until feeding Naqelevuki who crashed through to score Chiefs only try of the game. Mieres, on for Steenson, got the conversion and hope and despair in the fans suddenly swapped sides as Chiefs looked to have gone up another gear.The next ten or so minutes of the game were, however, to prove a masterclass in Saints forwards dominance again, as Chiefs struggled to contain the visitors and we saw most of the game played in Chiefs half of the pitch and, with another well worked line out, G.J.V.V crossed the whitewash to score a third Saints try. Surely now Chiefs were beaten?
The last few minutes showed the determination and resilience of Rob Baxter's team as they desperately tried to push Saints back, stop them from getting a try bonus point and make every attempt to get themselves a losing bonus point. They were looking threatening too with just seconds left on the clock but a spilled ball just outside Saints 22 had Mr Garner raise his arm at right angles, check his watch and give three blasts on his whistle.
Final score 19:30.