News: Saints win away, but Falcons earn a Bonus Point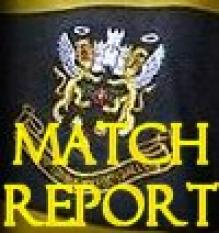 By Saint_aitch
February 23 2014
Several bleary eyed Black, Green and Gold attired punters boarded the charabanc that left the statue at 8:45am to face the 200 or so mile trek up the M1 and A1(M). It was a cold morning in Northampton, but we were to be welcomed in Newcastle with the usual Geordie warmth. Spirits were generally high, what could possibly go wrong? The current premiership leaders, unbeaten in a run of, what is it, nine or ten games now? We were off to see our most northerly league opponents who were painfully close to the bottom slot in the table with only three wins to their name in the league this term.
Newcastle Falcons vs NORTHAMPTON SAINTS
Aviva Premiership Round 15 : Sunday, 23rd February 2014. 15:00 k.o
Kingston Park, Newcastle
MATCH REPORT
By SAINT_aitch February 23rd 2014
The pitch looked to be in surprisingly good condition, but turned out to cut up in most areas by midway through the second half. The usual North West wind was in attendance, and the corner flag in the South West corner was almost permanently blown horizontal through the match meaning that the kickers would need to be on their mettle if they were to have any success.
In a game which turned out to be a proverbial 'game of two halves' these two halves seemed to defy all of the pundits expectations as Saints effectively let a bonus point slip whilst Falcons managed to grab a losing BP from, what was looking like a potential white wash as half time approached.
Falcons kicked off and whether it was Saints choice to let Falcons have the wind behind them for the first half or not, it was clear the wind was an advantage.
From Samu's safe catch, Saints forwards set up a steady driving maul that was evident on many occasions in the first half of this encounter although the Saints forwards didn't have everything their way as the first couple of scrums proved. Falcons were holding their own and, with possession, seemed happier to get the ball out wide to their wings to attack Saints back line. Saints, on the other hand were gaining ground with crash ball up the centres with Samu and Dowson in particular making excellent impact and Kahn seemingly bossing the forwards excellently.
The first score was a Saints try after 5 minutes or so and came from a well worked set piece with quick ball flicked out to James Wilson who managed to get across the line near the left touchline. Myler's conversion attempt was indicative of the strength of the wind as it missed by a bigger margin than I have seen a Myler conversion miss for a long time.
Saints had control of the game and were definitely the more threatening going forward helped by the odd grubber kick from Myler or Kahn that gained valuable yards but Falcons were not going to be pushed around on their patch and took advantage of indiscretions by the Saints defence when Mr Small penalised Saints just outside their twenty two, Rory Clegg calmly slotted the kick to bring Falcons right back into the game.
From the restart Saints took control of the game again and as before, pushed their way into Falcons half Myler kicking any penalty opportunities as close to the corner as he could and with Line outs being well controlled by Daisy, and a good drive from the fat lads. The ball pings out to Tom Stephenson who weaves his way through to dot down under the posts. The conversion is much easier for Myler and Saints are now 3:12 to the good.
Its not long from the restart that Saints get pinged for holding on giving Falcons another opportunity to get points. They take it and Clegg slots the kick. 6:12 with 20 minutes gone.
Its ten minutes before the next score but its ten minutes of Saints forwards controlling the game with steady hard yards being fought and the odd sniping run from the likes of James Wilson who had a great game at full back. It was Wilson who, after breaking into the Falcons twenty two again, is quite literally and very unselfishly handed the ball from George Pisi as they crossed the Falcons try line. Myler appeared to have got the hang of the wind and with an excellent kick converts to add the extra two points. 6:19
Good play and the odd mistake from both sides get us to half time.
HALF TIME 6:19
After the Saints domination of the first half, I was confident that the second half would see the bonus point try very soon and that Myler would make use of the wind behind his back to give our forwards a break from, what was now evidently a very heavy pitch. Alas it was not to be and from the restart, Falcons made it clear that they would not simply allow Saints to dominate this game.
Myler and Kahn certainly make their presence felt in the early stages of this half, but not with as much effect as they would like and Falcons are doing a very good job of controlling any attempts they have at gaining valuable yards. It's also clear that the Falcons pack have learned from the first half and are now having more dominance in the scrum as well as attacking the line out and rucks with a lot more effectiveness. It's clear that Saints game plan has to change if they are to get the upper hand again.
It's near the hour mark before we see the next score and it goes to the hosts after Mr Small penalises Saints for offside. Clegg is Mr Consistent with the boot today and slots the three points. 9:19 and the advantage seems to be with Falcons now. Even so Jim decides it time to make some changes and Ma'afi is replaced by Denman, GJ Van Velze come on for Calum Clark and Ethan Waller replaces his brother.
Only minutes later Myler restores the point differential with a kick in front of the posts after Falcons are pinged for not releasing. 9:22
Saints continue to hold off the Falcons who are now becoming dogged in their determination to score. Saints are, however just as dogged in their determination not to let them pass and some stalwart defence ensures the score stayed as it was until, that is, a break from Saints gets up to the half way line and an errant pass from Myler goes straight into the waiting arms of Noah Cato who took off the 50 metres or so to score, what I would imagine, was a very satisfying tray against his old club. Joel Hodgeson is now on for Rory Clegg and he slots the conversion. 16:22 with just a couple of minutes on the clock. Falcons are ecstatic because they have managed to get a losing bonus point back from nowhere, but fair play to them. They applied all the pressure in the second half and it paid off for them.
FULL TIME 16:22
The journey home was still in good spirits, Saints win again but that extra point would have been icing on the cake. Maybe next week eh?
Cheers!
Messrs Mallinder and Wilson say......