News: Saints 39 Gloucester 13 -Saints prevail at the Gardens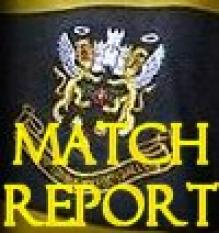 By Bonso
March 2 2014
This was not a game of two halves someone said to me after the game, more of four quarters and it was certainly that. Having traded my normal terrace spot for a temporary berth in the Burrda Stand. I had a fresh perspective and it was certainly interesting What I lost in not having the sideways view was made up quite nicely in having a overview in watching play develop from behind the post.
Aviva Premiership Round 16
Northampton Saints v Gloucester Rugby
Saturday 1st March, Franklin's Gardens K.O. 3:15pm
Northampton 39 Gloucester 13
The first quarter showed what fine fellows both teams were as both generously gave each other an introductory try. First a Gloucester knock on bounced weirdly much to everyones, including referee Tim Wigglesworth's surprise, Pisi junior picked it up sprinted to the line and dotted down. It was one of those everyone stuck in treacle moments and Ken just seemed to be the only person not in slo-mo. After sir had double checked the ball's initial weirdness upstairs Myler slotted the extras and Saints were on their way. Tails up Saints went to the job and surely a second was on its way after the superb Stephenson rocketed his way through the Glos midfield feeding Khan who was pulled down just short. The men in Green surely must score but Khan and Trinder had other ideas as Khan's intended long pass found Trinder who said thanks very much and sprinted the length of the pitch and with Burns extras levelled the match.
Saints were looking the better side but just couldn't quite get it together in the next quarter. Every time it was almost but not quite, be it a forward pass, a fumble, the wrong offload, and then there was James Wilson who was having his worse day at the office in the famous Green Black and Gold. By his own high standards he was noticeably off colour with both his kicking and handling. It happens and I am sure whatever needs to be done will be done. Saint two penalties to Gloucester's one was a fair reflection of an error strewn passage of play where there was plenty of huff and puff with both sides almost but not quite executing scoring rugby. However by this point I was feeling that Saints pack were just starting to get the nudge on the Cherries eight resulting in Saints second penalty also poor old Van Veltze picked up a knock and was replaced by some fellow called Manoa strangely this seemed to not weaken the Saints pack. So 13 – 10 at half time.
The start of the second half was as error strewn as the end of the first half with Burns taking his chance to level the scores. Both sides made changes and for Saints this seemed to have a positive effect as the returning Foden along with Waller, Mercey and Dickson seemed to invigorate Saints . Something had to give and it was the Gloucester defence. After a period of pressure a jubilant Calum Clark scored right infront of me and boy was he jubilant. It turns out he should be as unbelievably that was his first try in 94 premiership games. Nice that and better was to come with Stephenson showing Gloucester that his try against the Falcons last week was no fluke with a Clarkesque jink with good acceleration to round Kvesic to score . Gloucester next have a brief flurry but really now its all up with them as their rolling maul is stopped shy of Saints' line. Unfortunately for our West Country friends Saints attempt the same on the Gloucester line and are rewarded with a bonus point try for Alex Waller and the game is over apart from a further try for Hooley.
A strange old match with Saints misfiring for 60 minutes then looking sublime or the final 20 minutes. I do hope that it is the Saints of the final 20 minutes that await Saracens and their strange aprons next week.
The star of "Rugby Tonight" says.....