News: Sale (19) stun Saints (6)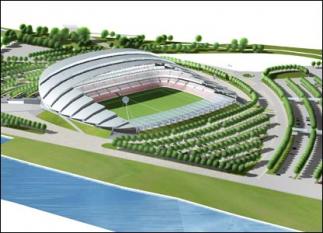 By serious saint
March 23 2014
The match today turned on 5 madcap minutes towards the end of an otherwise uneventful first half. To be perfectly honest the match, bar these 5 minutes, was pretty forgettable from a Saints perspective. After 34 Mins - 7-6 but, by the time Mr Pearce blew for half time, Saints were 19-6 down and minus their captain. Sale,however, trooped off with the prospect of a bp win a distinct possibility.
Aviva Premiership Round 17
Sale Sharks v Northampton Saints
AJ Bell Stadium
Saturday 22nd March 2014
KO 2pm
Sale 19 Saints 6
It was a crisp pleasant morning as the SSC coaches pulled away from the Gardens for the trip north to Sale. However, by the time we had arrived, the gloom had descended as a portent of what was in store for us Saintly folk. I should point out that I'm currently heading south on the very same coach and, without the benefit of any replays or radio commentary; my report may deal more in generalities and be a little light on the finer details. This was my first visit to the AJ Bell stadium and, whilst it has little to recommend itself architecturally, there was an easily accessible bar full of friendly folk and, having spent an enjoyable hour chatting to a rather pessimistic Sharks' fan, I took my place on the terrace to the strains of John Williams' Jaws score….yet another omen.
It had been rumored that, despite being named on Friday, Myler was struggling to shift has niggling ham strain and sure enough it was a no show from Stephen for the second week running. However, the returning Burrell, Dickson, Hartley, Wood, Lawes and North would surely give us sufficient firepower.
Young Hooley stood in for the absent Myler and duly slotted the first opportunity on 3 minutes to give Saints the lead for the only time in the game. Sale were on the back foot in these early exchanges and play was exclusively in their half until Dwayne Peel, rolling back the years, made a 60 metre break with Saints players seemingly incapable of laying a finger on him. He was eventually brought to ground but quickly recycled ball was passed out wide for another evergreen, Mark Cueto to chalk up another try in his record breaking career. Cipriani converted and, 10 minutes in, Sale were 7-6 in front.
The next 20 minutes did not offer a great deal other than a further Hooley penalty, from a collapsed scrum, and a Cipriani miss. However, it felt as if Sale were beginning to get on top and they elected to go for touch with their next kickable penalties. This increasing pressure ultimately resulted in a close range try for hooker Jones who proved to be unstoppable from 5 metres. Another miss from the tee by Cipriani kept Saints in touch at 12-6 but, in the aftermath of the Jones try, some shenanigans on the floor resulted in both Dylan and the Sale centre Tuitupou being yellow carded.
Sale were awarded a penalty from the restart, as a result of the aforementioned indiscretion, and kept the pressure on with a mix of kicking to touch and assured handling. This ultimately resulted in the final try of the afternoon, 2 minutes before half time, as winger Brady dotted down after a chip through. For once Cipriani hit the target and Saints trudged in at half time 19-6 down.
The second half was a blur of Saints possession but little penetration with the Sale centre pairing and back row scything down anything in lime green. Our lads, in particular North, tried manfully to make ground but Saints could not unlock the Sale defence. For once Jim didn't stick to some pre-ordained rota of substitution and Kahn, Dows and George Pisi were introduced within 10 minutes. Alas it made no real difference and Saints huffed and puffed but, apart from one close range effort by North, very little sticks in the mind as being genuinely threatening to the Sale line. The weather conditions deteriorated throughout the second half which was never going to be conducive to "catch-up' rugby. However, it was the Saints who had put themselves in this position and the weather could not be used as any excuse as the second half ended, as it had begun, 19-6 to Sale.
Sale deserved this victory as they played the conditions well and, when opportunity presented itself, they filled their boots. Saints, on the other hand, looked out of sorts and the returning stars didn't really do themselves justice. I'm going to put this one down to a bit of a hang-over after the previous weeks' cup final defeat and the need to integrate our internationals back into our squad and systems.
It's never easy to accept a defeat, particularly after so many victories. But todays' failings in no way diminish my excitement and anticipation of next weekends' battle against the old foe. I'm confident we will see a vastly superior performance played in the usual Gardens atmosphere.
COME ON YOU SAINTS!!!!
Jim Says