News: Sail Away Saints secure Home Amlin Semi-Final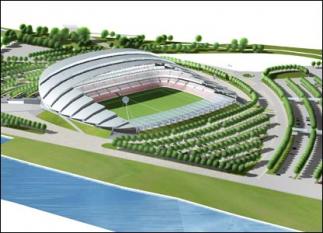 By Dave Jackson
April 4 2014
They said, "Come sail away, come sail away, come sail away with me lads" Well on this occasion I didn't so this review is written from the sofa and the joys of Sky Sports at 8pm. Having made it for the recent league match at more sensible Saturday Afternoon time it was a step too far for a Thursday night at a ground that is not easy to get to.
Amlin Cup Quarter Final
Sale Sharks v Northampton Saints
AJ Bell Stadium, Thursday 3rd April 2014
KO 8pm
For me this is something new as I have only done reviews of away matches I have been to and have been able to write about the quality of the pubs, ales, hotels, meals and anything else apart from the rugby.
Anyway travel was easy short stroll to sofa after switching on TV!
Pre-match interviews from Jim Mallinder and Steve Diamond were very guarded. Neither of them were really giving away much and being very guarded about their team selection and tactics. Guess we will let the 80 minutes on the pitch do the talking.
Team were very changed from the league match. Good to see Mark Easter (who started for Saints on the occasion we won the Amlin Cup) starting for Sale and even better to not see Mark Cueto who has been scoring tries for fun. Saints team looked a good mixture of youth and experience. Looking at weather on TV looked wet and cold, not much different from our last visit with hopefully not the same result.
Off we go to Romain Poites shrill whistle and Will Hooley started the game. For once Saints got the better of the kick off and put Sale under early pressure. This led to first set of scrums and a penalty to Sale, with way the scrum is reffed this did not bode well. Great kick to touch and within a couple of phases Henry Thomas went over for a try to Sale, good conversion and Saints were 7-0 down. Already having horrible feelings that already this is a repeat of the league match where we conceded three tries in the first half.
Will Hooley was looking sharp looking for space but a promising attack was stopped by a massive tackle from Mark Easter. Saints however started to play more with ball and won a scrum penalty. Again though Mark Easter stripped Saints of the ball and Sale cleared. Back come Saints and put together 19 phases ending up 2 yards from line and won a penalty. It's a kick to corner and from the set piece a great try from Ben Nutley – so good to see him playing and great to see him cross the line and even better to see Will Hooley put the memories of last weeks match to bed and nail a great conversion. With the first quarter gone its 7-7 and all to play for.
Romain Poite was as usual providing a strong direction in the scrum and not afraid to raise his arm for penalties along with a chat with the two Captains. Nice to see some decisive referring something we have not seen with consistently in Premiership games this season. Two more penalties and a dust up between Gaskill and Mercey saw another kickable penalty for Saints which was again kicked to the corner and another try for the forwards, Sam Dickenson the scorer. Another good conversion and Saints were 7 points to the good with 30 minutes on the clock.
The next 10 minutes were all Saints, fantastic work by Lee Dickson and Ken Pisi saw Saints attacking again and an inch perfect grubber from Will Hooley saw Ben Foden score against his old club. Again the conversion was good and Saints were really purring by now. Shortly after Sale were down to 14 men with Henry Thomas being carded after yet another Sale scrum infringement and ball again kicked to corner. By this time Saints were impossible to stop and it was no surprise than Ben Nutley scored again with a faultless conversion from the young no.10. Wow what a half – Saints 28 -7 up and playing some great rugby in what looked like poor conditions. Not sure what they have been fed this week but need to keep them on it for the rest of the season.
Half time -rush to beat the crowds in toilet, look no queue, oh yes it's my bathroom I am at home! Much easier than usual to get to bar and snacks. Guess despite the weather the Saints fans are feeling a lot better than we did at half time in the league game where I was forced into going for a half time cup of Bovril for first time in 20 years!
Second half here we go. Whilst not conceding scores things went bad in the first ten minutes with Tom Mercey limping off, Tom Stephenson taking a blow. Looked like a great return for Dom Waldock but within a couple of minutes he was down and being carried off and not looking good. Really hope its not serious as the guy has had no luck with injuries this season. On the good news front Saints now 30 minutes from a home semi.
25 minutes left and with no addition to the scoreboard the Sky commentary team were losing the plot and talking about grandmothers in Rochdale and their dogs. Thinking back to the league game we had no score for the whole of the second half, let us all hope someone scores soon before the commentary really goes off track.
21 minutes left and Sale finally got some territory and possession. Saints were forced into giving away a penalty to stop a driving maul. Kicked to corner but once again Saints won the ball and clear their lines. 20 mins left and the 2nd half still scoreless. Joe Ford formerly of Saints came on to the pitch finally giving the commentary team something else to talk about.
Anyway while we wait for some rugby to break out, anyone want to win the prize for the lyrics quoted at the start – As a clue it's from the year that J J Page was Saints Captain.
5 mins left and still no 2nd half score – maybe there is some sort of a clause in the A J Bell lease that points cannot be scored in the 2nd half of any match. Game getting a bit scrappy now with both sides knocking on and the clock continuing to countdown, just 10 minutes left now.
With just 7 minutes left the Sale pressure finally told and the try was scored by a huge pile of bodies with Ford slotting the extra two points. A yellow late card for James Craig gave him a three minute head start on the rest of the team in the scramble for the post match showers and meanwhile the Sky team gave Ethan Waller the man of the match. Full time came – Saints win 28 - 14
Despite not dominating the second half Saints had put in a superb first half and were comfortable winners. Really good to see Will Hooley have a good game which will have done his confidence a lot of good and some of the forwards showed the strength we have in depth. Hard to pick a man of the match, James Craig worked hard at the set piece, Ben Nutley hard in loose, Ethan Waller dismantled the Sale scrum but for me Ross McMillan was outstanding in a rare chance to start for Saints.
And a big well done to those that made the long journey to the North West on a school night.