News: Winter Rugby not quite enough on a sunny day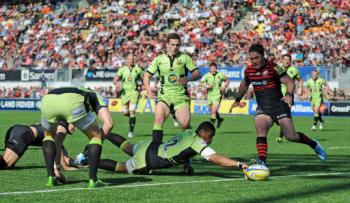 By riverlodge
April 15 2014
To echo the boxing analogy from St Dormouse's excellent preview, with just one three minute round to go we became a bit excited that Saints were going to do the ultimate 'rope a dope' comeback and nick the tie.
Aviva Premiership Round 19
Saracens v Northampton Saints
Allianz Park Sunday 13th April KO 3pm
Saracens 28 Saints 24
However, it was all too little too late – and too imprecise - and despite that last flurry of points Sarries should have had Saints stopped on some form of technical knock-out well before the end. Anyway, with a bit more detail, here is how I saw the pre-advertised "rumble in the Barnet jungle".
Ding: the referee invites the opponents to touch gloves and, requests no naughty business such as evidenced in the bare knuckle West Country derby the previous day. On the sidelines both sets of supporters are however in almost summer fete mode – the weather glorious, the huge bar that we remember so fondly from last year's title fight eliminator, pies being advertised on the big screen (I kid you not, "JJ's pies" with a grinning pic of the big prop showing just what those pies can do for your super heavyweight figure) and kids playing and oblivious to the bruising encounter just about to commence. Whatever your thoughts on the home team promoters hype, this really is a great place to go for a visit now, and the natives are pretty friendly – but to a man also clear that although they look forward to a fair fight they are in no mood to lose yet again to Saints this season, despite it not being the title fight.
Ding: round one. Early sparring, Saints laboured jabs barely tickling Sarries chin, the home team looking more purposeful with their dodging and weaving and winning the early contacts. Dickson lobs a few aimless overhead shots which are well wide of target, and with no follow up combinations this merely allows Sarries to counter, and with some real menace. Welterweight Farrell operates on a much more cultured level than his supposed reputation, and after slack Saints defending to a haymaker run from Billy, the fly half slides a perfectly judged right through the Saints guard for the first points. Shortly after, the flyweight Strettle tries an airborne hit on bantamweight Jamie, misses and falls in a heap. Brief stoppage while he is treated and then taken off for precautionary checks on his hairdo. Judges score it Sarries 5 Saints 3.
Ding: round two. Saints still off the pace and Sarries centres continue to jab purposely, shifting the attack well, but finally Saints get their heavy hitters into some close quarter action. Daisy nicks two in succession off Borthwick and Botha, then the Saints big lads pummel Sarries into the corner, and the referee gives a mandatory standing count for a penalty try. One round each despite Sarries looking quicker, particularly in the three quarters where Barritt and Bosch are purposeful and seem to have plenty of time. Judges score it Sarries 5 Saints 10.
Ding: round three. Saints come under real pressure, tide shifting in favour of the home fighter but not before a trademark, wince inducing, Lawes hit on Farrell. It's only a momentary lift for the Saints - first Brits shows real class slicing through the middle with a dart (through some admittedly weak Saints tackling). Sarries press home the attack with Saints wobbling, and then slam a right hook through the impressively industrious Brown for a knockdown try. Saints retaliation is careless, allowing their light runners to fall into the clutches of the home back row. Jamie runs into contact and is easily turned over in midfield for a penalty. Instead of going for position, Sarries elect to have an audacious long range free shot. Bosch! The Saints are now making little headway against a tight home defence, and could do with half time arriving to sniff the wake up smelling salts and rethink tactics. However more errors from Saints and two more Sarries penalties find the chin. Judges have it Sarries 21 Saints 10.
Ding: round four. More sparring, Hodgson now the notional playmaker for Sarries but Bosch and Barritt still running the lines and testing the defence. Saints defence looks tighter, but still not at all incisive in attack apart from one powerful dart by George North. At least the aimless box kicking (oops wrong sport) seems to be off the Saints plan for this half. Changes to personnel now come thick and fast from both teams, but Sarries keep their shape better and when Pisi fumbles the Saints are made to pay through some clinical attack, Sarries going left and right with control by Hodgson before Bosch finally lands the body blow. If it was boxing, the referee would be examining the visitor's fitness to go on at this point. Judges have it Sarries 28 Saints 10.
Ding: fifth and final round (yeah, I know, but..). Sarries seem content to run down the clock, but two changes spice things up a bit for the last few minutes. First, Sarries take off their honed heavyweight front row and bring on the chief eater of JJ's pies, Stevens, who is promptly sent back by the referee to finish off the leftovers in the long bar. Saints however bring on the in-form King Kahn, who first shows superb defence (to make one of the best turnover steals I personally have seen from Saints all season), and then seriously ups the pace in attack. All of a sudden Sarries are looking a bit leaden footed, while Saints are jabbing and throwing Kahn Myler combos, Burrell eventually finding space to cut inside powerfully and finish. Just. Surely too little time for a Saints knockout blow, but then good hands and real power from the men in lime green sees a dangerous left hook driven home by North. Myler strikes a beautiful touchline conversion for afters to set up a nail biter. Now, Sarries might have taken a couple to the chin, but they remain savvy and work down the clock well and manage to cling on for a deserved win. Final tally from the panel shows Sarries 28 Saints 24.
Bosch was probably a deserving MoM but personally I'd have given it on a shared basis to the Sarries back row, always in control of the breakdown and allowing their 10 to 13 to dictate for long periods. For Saints, I'd suggest the following: front 5 did a good job, Kahn made a clear difference, Wilson's hands and boot add real certainty for a team which is having a bit of a confidence dip, and finally – I know it s a perennial debate for Saints fans - when you play two 6.5s against a good back row instead of a proper 7 the breakdown becomes a real risk.
Also, well done to the referee. At the match, I couldn't always fathom why he gave turnover scrum ball for what appeared to be ball grounded rather than held up (for both teams, not just Saints) but in general, not having seen highlights, he seemed to me to have a good game.
Anyway, post the bout, one of the pleasures of the Allianz is the opportunity to go out into the ring (why is a square called "the ring"?) and test out the canvas. So we have a good old mess about, take photos and chat to Sarries fans and then say hello to some of the main protagonists as they head off. Politely ask Alex K what went wrong for 60 minutes and get a bit of a hard stare – this is quite reassuring as it means that he cares / is annoyed and will be doing his best to fix it, perhaps he can start by working out where the "on" switch is in the first quarter instead of the final one.
Let's just hope the promoter can sort a rematch at Twickenham at the end of May.
Tom Wood Says: