News: Saints Head North to Early Lead in Premiership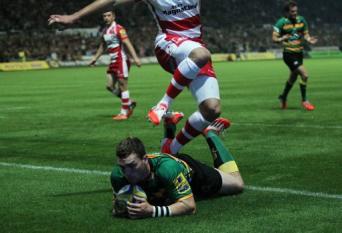 By Jonathan Stockham
September 6 2014
Well It has seemed an age a'coming, but this opening match of the new Aviva Premiership season showed Saints silky smooth skills in triumphing over a star-studded but unaquainted Gloucester side. The Cap'n, Jonanthan Stockham, opens our review season with this report.
Aviva Premiership Round 1
Franklins Gardens, 5 September 2014
Northampton Saints 53, Gloucester 6
By Jonathan Stockham
Saints Head North to Early Lead in Premiership
BOOM!!! Next please! Northampton Saints, winners of the Aviva Premiership last season, kicked off their 2014/15 campaign in real style with an eight try demolition of Gloucester who left the Gardens with the meagre crumbs of a couple of penalty kicks.
Walking into The Gardens last night, earlier than normal before a game, to discover that a few good friends had arranged a surprise birthday supper for me in The Rodbar (thank you again!), one became aware of the highlights video of the Premiership Final playing on the big screen and the realisation that Saints had a responsibility to the game, to their fans and mostly to themselves to do as well, if not better, this time around. There is a recent legacy to live up to!
The ground was full, the 16th Man/Woman/Person up for it from the start, the atmosphere only tempered by a smaller than usual Gloucester support who lacked the volume of previous visits. Come on you Shed Heads! We need you!
Gloucester ran out to the pre-match music on to an immaculate Piggy's Patch. Music stopped, The Gardens knew its cue and took up a rousing "Oh Wendy." It's good to be back!
For the first quarter, it was pretty even, Saints working out how a new(ish) Gloucester team would perform and not getting the upper hand at the scrum. John Afoa and Richard Hibberd are a useful new partnership in the Gloucester front row and showed signs of more to come, other than the Welsh hooker throwing a dive after colliding with Hartley to win a penalty! Such fun…..
It was clear that Saints' defence has been a "Big Thing" in pre-season. Minimal numbers defending at the breakdown meant that Gloucester found staying on the gain line, let alone getting past it, difficult. So difficult in fact that, throughout the game, visits to the Saints 22 were rare events. Any penalties won were long range affairs. Only two found the target. That was as much opportunity as Saints gave the visitors.
That defensive organisation set the foundation for playing the game in the right part of the field, of winning turnovers as the visitors ran out of options at the break down, allowing Saints to steal ball (quite superbly by Kahn Fotuali'i late in the second half), and creating space to attack.
Saints attacking game was one of variety. There was no over-reliance on the rolling maul. There was no power play from the scrum (which wasn't dominant as Alex Corbisero and Afoa tussled for superiority).
Instead it was about a good kick and chase game, great ball distribution from Myler, intelligent chips through the Gloucester back line and intuitive running and support play from a squad clearly comfortable in each other's positioning and abilities. Great off loads, always a player in support whether that was to receive a pass or be there for a catcher. Looking for chances and opportunities, not being afraid to try things and, even if they didn't always work, knowing that the team would cover and sort it out.
Gloucester didn't know what hit them, what to expect next nor how to cope. Eight tries later, they were still having a go (to their credit) and Saints were still stopping them. Saints hardly missed a beat as the replacements came on with Fotuali grabbing a poacher's try after only two minutes and debutant Jon Fisher opening his account late on with a try in the right corner after Saints had pulled the visitors left and right.
Eight tries? Oh Yes! Luther Burrell claimed a pair, the second an interception as Gloucester grew desperate to create something out of an attack. In the first half, George Pisi timed a run into space between the centres superbly to collect Myler's glorious chip ahead.
Jon Fisher scores his first Premiership try for Saints
As well as the two from Fotuali'i and Fisher, we had a superb hat trick from George North. Having recovered from being quite unnecessarily smashed off the ball by Savage early on, North showed real class to finish each opportunity strongly, none more so than the second effort where he pirouetted around one tackle and then stepped the next defender to cross for the try. Top quality!!. George hopes he hasn't peaked too early!
The new Gloucester coaching team have much to do to rebuild team confidence after this humbling. They have the same much vaunted back division as last year (outside of the half backs) but they need to develop an attacking strategy which gives some go forward and gets over the gain line. It's early days of course but it will be interesting to see what David Humphreys and Co can do to bring improvement to that fine club.
For Saints, what a start! However, knowing Jim Mallinder, there will be no overconfidence and the hard work will continue to perform even better but the pre-season graft and especially the guile brought by Alex King were evident in a thoroughly professional performance by Saints last night.
More please! Saints 53, Gloucester 6. Wow!
Teams:
Northampton Saints:
Wilson,K Pisi, G Pisi, Burrell, North, Myler, Dickson, Corbisiero, Hartley (capt), Ma'afu, Lawes, Day, Clark, Wood, Manoa
Replacements: McMillan, Waller, Denman, Craig, Fisher, Fotuali'i, Hooley, Foden
Gloucester: Cook; Sharples, Trinder, Twelvetrees (C), May; Hook, Laidlaw; Murphy, Hibbard, Afoa; Savage, Hudson; Kalamafoni, Rowan, Morgan
Replacements: Dawidiuk, Thomas, Puafisi, Palmer, Moriarty, Robson, Atkinson, McColl