News: Saints (43) prove too much for Sale (10) - 3 for Samu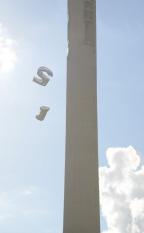 By fair_weather_fan
October 11 2014
Its half part twelve on Friday morning and Steve 'Dimes' Diamond, Sale Sharks Director of Rugby, is enjoying a small malt while puzzling over the Guardian crossword, when he is interrupted by running feet outside his office door and an urgent, frantic knocking follows. "Yes Baldrick, what is it?" as a liveried flunkey blunders inside. It's the Saints team sheet sir, and it's really good news. "Well don't just stand there gibbering Baldrick, tell me"
Aviva Premiership Round 6
Northampton Saints v Sale Sharks
Franklin's Gardens 10th October 2014
K.O. 15:15
Saints 43 Sharks 10
Well sir, that big lumpy Welsh guy, he isn't starting. And that bloke that's always swearing, he's not starting either. Their lineout caller isn't starting sir, and neither is that one who's barred from all the pubs in Leicestershire".
"Right Baldrick, call Big Ali's Indian takeaway, I'm calling a team meeting".
"What sir, are the team there?"
"No you fool, they're on the training pitch, playing buses and pedestrians, but I'm feeling hungry!"
Half an hour later, crammed into the Portakabin, the squad listen intently to Dimes every word. "Right lads, they've put out a weak team but the bench is dynamite, so we need to get into them hard from the off and get a good lead, I want to see us 10 up after 50 minutes before their bench comes on".
Maybe the team weren't listening hard enough during the pep talk as the first thing they did after Saints started to empty their bench was score. The problem though for Sale was at that point they were 33 points adrift, and while they never stopped competing and were camped on Saints line for several minutes at the end, they lacked any cutting edge.
Meanwhile Saints piled on the points at regular intervals, starting with Ken Pisi, who, spotting me calling for the ball up in X-block, threw a spectacular dummy followed by one of Judy Murray's better dance moves to fox the Sharks defence and open the way to the line. A few minutes later Samu Manoa caught a long line out and crashed over to score, the only problem was that it was a Sharks lineout. Ooops. Worse was to come for the Sharks after Ken Pisi caught a well judged kick and put his brother away, that was made one, made and scored one for man of the match Ken.
Jon Fisher breaks away (AP)
So 22-3 at the break and Saints picked up the pace quickly after the break, Samu picking up two further tries at the bottom of driving mauls. Kahn scored a typical opportunist try after the Saints splintered a Sharks scrum, the ever reliable Myler and later James Wilson adding the extras. The Sharks kept competing and scored a slick try up the middle after the ball went loose, but this was almost the only blemish on a Saints performance that had great set piece, slick handling from the forwards and backs alike, and a really uncompromising last ditch defence from the whole team to prevent the Sharks adding to their score late on. Sharks competed well, never gave up and contributed to a very enjoyable game for the spectator by spurning their few opportunities to score from penalties in favour of kicks to the corner. Danny Cipriani showed why he might be an asset to England with accurate kicking and slick distribution but the Saints defence was equal to anything he threw at them.
Saints can head to Paris with a spring in their step, and a largely fit squad in good heart and good form. It was very noticeable today that they never tried to force anything that wasn't on and adopted a patient approach that kept the Sharks under sustained pressure, even when they were in possession. One genuine holding-on penalty only was conceded against a team with real specialist ball-stealing players.
And the last talking point of the game is that well, there were no talking points. Courts had a try correctly chalked off for foot in touch, Saints held a Sale maul up over the line for no try and a scrum 5, and a there were a few unnecessary referrals to the man upstairs, which we have come to expect. No cards, streakers, or interfering waterboys, and Mafu didn't hit anyone. Not one for lover of controversy, but a good game of rugby, which is exactly what we pay for. #kpfc
Jamie and Ken say: