News: Saints return empty handed from Paris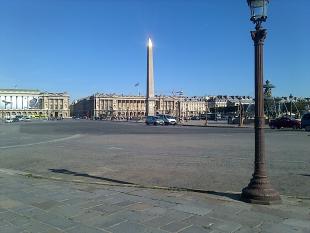 By Dave Jackson
October 20 2014
I have always been fortunate enough in the past to write reports when Saints have won and I can wax lyrical about how good we were and the outstanding performances from certain players, so writing this report is clearly going to be more difficult but here goes.
ERCC Pool 5 Round 1
Racing Metro 92 v Northampton Saints
Saturday 18th October, Stade Yves Manoir, KO 6:15
Racing Metro 92 20 Northampton Saints 11
Take 1: Great city, great weekend and great weather
Will that do? Guess not so will have to try again and mention the rugby.
Take 2: I had been saying for a long time I wanted to see Saints in Paris and the draw for once had us avoiding our usual trip to Castres. Paris it was to be then – though I see Racing have moved the Ospreys match to Le Mans! Out of Eurostar, booked in hotel and carnet of metro tickets in hand and off to explore Paris on the Friday. Walked some, saw some of Paris then retired to two very good craft beer pubs that had been recommended by a certain ex Saints prop. More of the same on Saturday and then joined the masses of Saints fans on the train from St Lazare. Some seemed to go to Le Stade but we alighted at Colombers for the slightly longer walk to ground through a very pleasant high street.
So to Stade Yves Manoir. Easy access, easy to find seats, Racing seemed to have plenty of people about to help and greet the fans. Whilst the catering area may not have been as varied as our village it was very French with tables and chairs outside almost like a normal cafe in Paris. The ground whilst it may have hosted the 1924 Olympics with capacity of 60,000 it clearly had not been maintained to that standard since. Vast areas were out of use or boarded up though what was in use was more than adequate for the 9,000 crowd. On the subject of the crowd at times it almost seemed like a Saints home game, no idea how many Saints fans had made the trip but it must have been 2-3,000.
After the match we had a great night out in Paris and a safe journey home on Sunday.
Looks like I forgot to mention the rugby again! - Last try coming up
Take 3: Let's talk about the rugby then – or try to. Game did not start great for Saints being pinned back within a couple of minutes on our own line with a great kick to touch from Jonny Sexton, what is it about Irish fly halfs and their ability to get the ball behind our defence, Disaster struck losing the 5m lineout and a couple of phases later Racing score a try. Kicking tee onto the pitch on a radio controlled airplane (on wheels) was about the highlight so far and Sexton made no mistake with the extras. If we are honest the first half was not great, it was 22 minutes before Saints had first decent possession and attack and it came to nothing when we seemed to end up with all the forwards in the back line and the backs in the ruck. Scrums by now were a total lottery, the ref seemed to be using the old tactic of penalising each team in turn regardless of what was actually happening in the scrum. Half time came with a score of Racing 10 Saints 3 which to be honest was a fair reflection of a poor first half.
Half time saw the usual decamp to bars, toilets and smoking corners. There are some big blocks of flats with balconies overlooking group and whilst they had been full at start of game it seemed most people had gone back indoors to watch the French equivalent of Strictly Come Dancing.
The second half underway we saw a completed scrum something of a rarity in this game and a good break from Luther saw a penalty to Saints and 10-6 kicked by Steffan Meeler (to be fair they got most of rest of teams names spot on). Shortly after Racing missed a chance to reply after what appeared to be some foul play by Salesi, not really sure what happened and not yet had a chance to see replay. There was a card shortly after with Racing down to 14 men and Saints looked to capitalise on this with George Pisi breaking clear to score under the posts. Had that been the case I honestly think we would have won this game but a cruel injury while running for line saw the ball spill, Pisi collapse to ground with what appeared to be a bad hamstring injury. Young Jamie Elliott came on and George North came into the centre. Following on from this there were a lot of substitutions which are too many to mention but the key ones were Mooj coming on after 62 minutes the 'Swapping of the Wallers' on 63 minutes.
Racing were looking tired at this stage but still pumping up some high kicks and Foden was struggling a little with them, one was knocked on and picked up by a Saints in an off side position. 13-6 Racing.
Finally Saints started to get some territory and possession and after a couple of 5 metre line outs were driving for line, penalty advantage, surely we would score. No but it is a card for Racing now down to 14 men and a penalty against Tom Wood. Odd one this was as we were playing advantage and had not been called over – so surely the play should go back to our penalty – discuss!
Saints got back in Racing 22 and with 4 minutes left Phil Dowson scooted over in the corner leaving a tough conversion for tie the game. Most of us would have backed Mr Cool to make the kick but it was missed. 13-11 Racing.
Three minutes left, could we get back downfield and make the winning score, Racing by now were looked very tired and still down to 14 men. If not well at least we had a losing bonus point, we well that was until Foden tried to chip the Racing defence handing them the ball and a run in to a converted try. With the power of hindsight maybe we should have held onto the ball and been happy with a losing bonus point but that is not really the way of this Championship winning Saints team.
Looking back if I had to pick a Saints Man of the Match would say Calum Clarke had a great game. Some of the refereeing was a little confused especially around the scrums and we struggled against what is a very talented Racing team. Let us hope the boys come back stronger next week and win against Ospreys which will not be easy, they are another good string side.
Final thoughts: great weekend, great city and great weather.
Tom Wood Says:
Dylan Says: