News: Saints Singin' in the rain: Saracens 24 Saints 31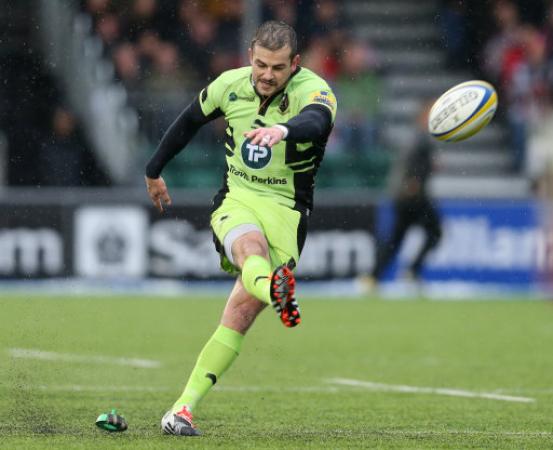 By Dave Jackson
November 24 2014
It was a wet Sunday, it fact it was a very wet Sunday. Forget the fact it was Sunday it was just wet. So with the wet lies the first part of the report in that normally I take notes during the match to refer back to when writing report but it was too wet for pens, papers and smart phones so the report will have to come from memory and I remember it being wet.
Aviva Premiership Round 8
Saracens vs Northamption Saints
Sunday 23rd November Allianz Park k.o. 1pm
Saracens 24 Saints 31
This was to be my 2nd trip to Allianz Park following from the first time we played there in the play off semi and took a shock victory. Was told on the way by a Sarries fan that no team had won twice at Allianz Park and we had no chance this time. To be honest I was not expecting a win just hoping for a better performance than against Exeter. For those that have not been to Allianz Park the transport is well organised with free bus shuttles from Mill Hill and Edgware with purple clad 'pioneers' on hand to guide supporters. The pioneers despite the rain all seemed cheerful and keen to impress the visiting fans. A short walk off the shuttle bus takes you to the ground though on this occasion it involved wading across what appeared to be a new tributary of the River Thames. So here we were 30 minutes to kick off and wet. We were to be sat (well that was plan) in the West Stand behind which there is a delightful collection small food stalls selling curries, pulled pork, pancakes etc. Just a shame there was nowhere on that side of the ground that was dry.
Having found our seats we decided to stand as sitting in pools of water did not seem a great idea, while at least by standing in the rain some of the water would run off us. Kick off soon came and despite the bad weather it was clear Saints intentions were to play some good rugby. This was quickly rewarded by a try to James Wilson,
whilst at our end of the pitch it was in the far corner. Superb conversion from Myler and we were 7-0 up with the game hardly started. Hodgson soon got Sarries on the board with a penalty but it was to be Saints who were to score another try soon after. Saints 2nd try whilst scored again by James Wilson was made by a perfect grubber kick from Steve Myler, despite the awful conditions though helped by the pitch it was inch perfect into the same corner as the first try.
Again being on opposite side of pitch did not see it all and have not seen replays but had Chris Ashton gone on holiday as two easy tries on his patch of turf (yes I know its not really turf). Again good conversion and a penalty gave Saints a 17-3 lead and we had not even played 20 minutes.
The first half just got better with more pressure and when Billy Vunopla spilled the ball then the captain for day Phil Dowson was able to pick up and wriggle over the line for Saints 3rd try and despite the difficult conversion being missed it was a 22-3 lead. Three tries and a huge lead was certainly not what I was expecting, certainly worth all the rain, did I mention it was still wet, in fact very wet. Another penalty and it was 25-3 with half time approaching, As half time approached Sarries were starting to get more into the game and were using the rolling maul to good effect. For some reason Saints seemed unable to stop the maul legally and gave a away a series of penalties. I am sure the ref was considering a yellow card but Sarries went over for a try so we kept to 15 players. Hodgson missed the conversion so we had a healthy 25-8 half time lead.
Half time consisted of more rain, luke warm chocolate which was hot but as soon as the lid was off was topped up with cold wet rain But who cares about the rain when Saints are taking us back to the days of 1191 and the Battle of Arsuf when Richard the Lionheart gave the Saracens a thoroughly good tonking.
Guess the 2nd half was always going to see a comeback. For a start Sarries were attacking the lucky corner where all the tries seem to be scored. Whilst they did manage 2 more tries including a good finish from Chris Wyles in the lucky corner it was maybe a key point that Hodgson missed both conversions. Saints did play with 14 men for 10 minutes after the referee sent Alex Waller off somewhere dry to towel off and rest. With 5 minutes left it was 28-21 to Saints and a real danger that Sarries might score a 4th try and steal a draw. Saints however upped the game and won a penalty which was slotted over by Myler and with a 10 point lead and the clock running down a victory was certain. A last minute penalty for Hodgson rescued a point for Sarries and it was time to head home with 4 very welcome points in the bag. Despite the truly awful conditions both teams had managed to play a good game of rugby with some good handling of what must have been a very slippery ball. Whilst I am a fan of year round rugby and various conditions I am not sure what sort of game we would have got had it been a normal pitch.
Back across the growing river outside the ground to get the shuttle buses, some stories of how wet we all were shared with some Sarries fans, at this point have to say despite all the nonsense in the past every Sarries fan we spoke to was gracious and recognised they had been beaten by the better team on the day. Finally made it back to a warm pub with open fire, a sign outside pub said dogs very welcome. I think we all had that wet dog smell as we settled down next to the fire, wet coats, wet shirts, wet trousers, wet socks, wet shoes, wet everything but a great performance by the team and 4 points. Back to the top of the league and with London Welsh next up we can hope that is where we will stay when Tigers come to visit just before Christmas.
Thats all folks (I did mention the rain didn't I)
Jim Says
Phil Dowson Says
View a Printer Friendly version of this Story.
News: Saints Singin' in the rain: Saracens 24 Saints 31
Discussion started by ComeOnYouSaints.com (IP Logged), 24/11/2014 11:34
ComeOnYouSaints.com
24/11/2014 11:34
What do you think? You can have your say by posting below.
If you do not already have an account
Click here to Register
.
St Marlowe
24/11/2014 11:38
Super report Dave - Was it wet out there? (I was in Corporate Hostility!
David L
What if there were no hypothetical questions?
- Live wrong and preposterously
Howlin
24/11/2014 12:11
Good report thanks (it was Dicko with the grubber) .....but what was the weather like ??

Saint 'til I die
St Dormouse
24/11/2014 15:32
Great read thanks dave, I almost felt like I was there....without getting wet!!
I had this one down as a lbp if we were lucky and well done to the Saints for proving me wrong.
Dave Jackson
24/11/2014 15:51
Cheers for correction re the grubber kick. Was too wet to see properly!
boomer!
24/11/2014 17:49
on the way to The Thames
You were a lot closer to the truth than you may have thought; much of the waters flooding across Copthall would eventually find itself in Dollis Brook, River Brent and then the Thames.
Saint Tim
24/11/2014 19:41
"Those who desire to give up freedom in order to gain security will not have, nor do they deserve, either one."
Benjamin Franklin
Tetleys Block F E143
Flinstone Saint
24/11/2014 20:31
Thanks for that Dave. Wee bit wet did you say?
----------------------------------------
Please sponsor me for Saints with Heart [
www.justgiving.com
]
tws
24/11/2014 22:18
Well written Dave. Every bit as wet as Dave describes. Health and Safety would have a field day.
Sorry, only registered users may post in this forum.