News: Tigers await perfect Match Report Saints 67 Treviso 0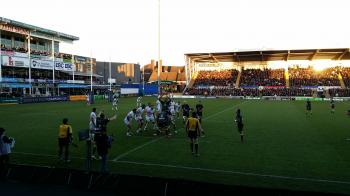 By fair weather fan
December 15 2014
On the admittedly fairly rare occasions these days when Saints lose a match the doom and gloom merchants start a plethora of threads on here, bemoaning the poor quality of the playing staff, how our coaching and conditioning staff are rubbish, and how we should be recruiting better, and it carries on until normal service resumes with a victory. This Sunday morning I turn to Saints and Sinners and what do I find after the most stunning rugby display seen at the Gardens in recent seasons? Zilch.
European Rugby Champions Cup
Pool 5 Round 4
Northampton Saints v Benetton Treviso
Saturday 13th December 2014 KO 3:15pm
Mind you, I should think half of Northamptonshire was probably glued to whatever media they had available to watch replays of what are already being described as multiple tries of the season. I have been on BT about 10 times already, mostly to see how on earth some of ball transfer actually happened, as from my rather flat view in X-block it wasn't easy to understand how Kahn, just about to be tackled as it appeared, got to the line without a hand being laid on him.
You have to feel a bit for Treviso. Already trounced the previous Saturday, and with no interest in the competition beyond pride, they did their best and kept trying to hold the mainly grey but slightly green and gold tide that attacked them from all over the pitch from minute 1 to minute 79. At the start they went through some phases and kept the Saints defence busy, without threatening to get anywhere near the tryline, but as they failed to get adequate support to the breakdown they began to leak holding on penalties which lost them field position. Then as Saints worked their way up the field further maul and scrum infringements found the Saints with a 5M scrum, where they duly pushed the Italian pack almost into the pavilion leaving M Gauzere to trot under the posts arm raised. Only 12 minutes on the clock and the sense that a severe caning was about to be handed out could be felt all round the Gardens.
Within minutes another penalty series moved the Saints to a lineout under the commentary box, and with the maul set but a little far out for a drive to the line, Kahn called a move and quick hands from Dowse and Khan himself put Big George in enough space to do what Big George does.
Barely had we got our breath back from that when one of the outstanding tries of this or any season started when James Wilson first caught a clearance kick in his own 22, threw a pass wide to Ken Pisi who made ground assisted by a subtle block from his brother before finding Wilson who had made up yards to get the return pass. On about halfway he laid the ball inside just before running into touch for George who made ground before finding Kahn with a one handed inside pass. Kahn still had 35M to go when he got the ball but after beating one defender on the outside with inches of room to work in, then stood up the last man with a brilliant feint inside, leaving a straight run to the corner without the last defender laying even a finger on him. Made in Samoa with a very important dash of Southland thrown in.
The Gardens were rocking but as Treviso conceded more ground and the penalty count mounted, M Gauzere gave the team yellow that had been coming so reducing to 14 the number of defenders trying to contain a now rampant Saints team. Another clearance kick fielded by Ken Pisi on the right was shipped across to Tom Stephenson who seemed to lack the space to put Big George away, but he held his line in a way that Brian O'Driscoll might have done to make some space, George accelerated through a clutch of would be tacklers, and as the remaining members of the defence converged to stop him, a simple ball shipped onto the supporting Calum Clark enabled him to put Ken Pisi away with unneeded support outside him. Bonus point gained, 34 minutes played.
Now, faced with modest opposition and the objective gained, over the years many Saints teams have taken their foot so far off the gas that games ground completely to a halt, or worse allowed an opposition comeback. There was no more scoring before half time and anyone could have been forgiven for thinking that was more or less the end of a competitive game, but anyone would have been wrong.
Saints started the second half playing the same way as the first, George Pisi got in on the act from short range, given after review, then Courts had one chalked off after review, but noticeably Saints were still piling into the tackle area releasing a constant stream of quick ball. Myler was subbed at 50 by which time Big George was already off, and much to my surprise Samu appeared as almost the last of the subs for what looked like a walk-on part with 20 to go. Again the subs usually signal a loss of co-ordination, but this time another sweeping move saw Samu with ball in hand 10M out and the defenders politely waved him over.
When it rains it pours, and another man in white saw Yellow after a silly engagement with the wrong part of a Maul. Once more a depleted defence, Samu runs onto a nice pass from Christian Day but 40 Metres out but a centre's step and Jonah Lomu-like pace left defenders clutching at straws and try number eight on the overworked scoreboard. Five minutes later on the back of a driving maul, Samu found himself with a collector's item of a 13-minute hat trick. We won't miss him when he's gone, will we?
And still the Saints kept coming. Another scything diagonal run by James Wilson with inch perfect offload timing put Ken Pisi in for his own hat-trick and as the party pieces came out even Tom Wood found himself selling a dummy. Right at the death another Samu charge allowed Ben Foden to pick up the loose ball and stroll in for try No 11. The twelve days of Christmas rang out round Franklins Gardens and while there are no thirteenth and fourteenth verses, Fifteen Snarling Tigers await next Saturday, and while there are no verses with chickens counted or Cockerels crushed in them, if I were a Tiger's fan I would be very worried indeed. Next week can I suggest substituting a Partridge for something else?
You can only play what is in front of you, and Treviso kept trying to the end, going for kicks to the corner when a chance at scoreboard respectability beckoned, while a lone trumpeter in Z block was mocked politely. But above all the match showed that a Saint with a ball in hand is a dangerous Saint. Apart from James Wilson who had a great game, Phil Dowson seemed game perfect and Kahn, who has served up one or two very dodgy cameos recently, showed us the class act that he is. Tom Stephenson is coming on so quickly this year that whether George Pisi's hamstring rules him out for next week or not, we will barely notice. Other notable cameos were Gareth Denman's handling skills, a butchered overlap pass by Sam Dickinson who put in a great shift at lock, the pass notable as the only one that went to ground all day. And last of all, Calum Clark, doing the dirty work again yet popping up to provide the vital short pass link for two tries. With the England captain injured, and Calum the undisputed no 1 English ball stealer, I wonder what 2015 will hold for him.
Robin Pool aka fair_weather_fan
Jim Maillinder Says:
Dylan Hartley Says:
The MoM - James Wilson Says: