News: Christmas week at the Gardens Saints by 4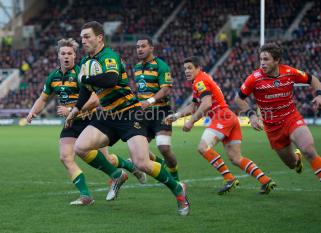 By Ballagher
December 22 2014
Well - Howsabout that? Once again a contraversial game. Bragging rights for the year secured. Lots of opinions, villains and heroes. A fitting pantomine for Christmas. Topped off with a review by Ballagher - from deep in Tiger Country, and some fabulous photos by Claire (Redhat). Is the best Saints side ever?
Aviva Premiership Round 10
Northampton Saints v Leicester Tigers
Franklin's Gardens Saturday 20th December
KO 3:15
Saints 23 Tigers 19
It was Christmas Week at the Gardens,
And the cold, crisp day was bright,
With the pitch a lush green carpet,
The place was a wondeful sight.
A host of Saints had gathered,
A good time to be found,
And to make the day complete,
We had the neighbours round.
For the Tigers were back in Northampton,
With most of their Lions in tow,
Who better to celebrate Christmas with us,
It was fitting it should be so.
[Author note: I realise lions and tigers are very different animals living in different continents (apart from zoos) but this is poetic license.]

Before the feast was to commence,
There was time to reminisce,
Of semi-finals in April,
The memories were bliss.
With red cards and yellow cards and last minute comebacks,
We hardly had dared to hope,
But thankfully such could not be again,
Sure my heart would fail to cope.
With growing noise from the expectant crowd,
The warriors took to the stage,
In the story of this great rivalry,
We were about to write the next page.
As soon as the Tigers ran on to the field,
Something did not seem quite right,
There was a sort of Tigery orange in view,
But not a stripe in sight.
This time in white, previously yellow,
Also stepping back on the soil,
Was the ref from last April, so I'm minded to say,
Good luck Mr JP Doyle.
In the very early exchanges,
Neither side made a very good start,
Poor kick, soft pen and missed touch,
Perhaps nerves were playing their part.
But some excellent hands down towards Saints left,
Made the first good position of the day,
Five metre scrum; against the head;
Clearance and we're back to half way.
And so it went on; this way and that,
Poor kicks, but worse the chase.
Then Leicester came dangerously close to our line,
As they started to pick up the pace.
With our captain all up to his elbows in trouble,
JP called him over and said,
"As it's Christmas I think I should hand out some cards,
But I'm afraid I've only got red."
I was beginning to think that JP,
Didn't think us very good hosts,
As a couple more scrums before (inevitably),
He walked us under our posts.
The scrum was a powerful weapon,
And a battle we seemed destined to lose,
This looked like it would be a very long day,
As they would begin to turn all the screws.
But it wasn't just the shirts that were at odds,
With the Leicester we know so well.
For instead of going in for the kill,
They seemed to go back in their shell.
[I am well aware that Tigers don't have shells. Nor do lions for that matter. It's an expression OK.]
For surely the ball would stay firmly in hand,
With a barrage of tackles to make,
And as numbers and effort and time took its toll,
Salvi'd swoop down and eat us like cake.
[Salvi is a rare breed of tiger that does swoop and is indeed a sight to behold. And tigers do eat cake; nearly everyone does at Christmas.]
The tigers seemed wary, off-colour no less,
As Saints tried to fight a rearguard.
Perhaps they felt left out, unloved by JP,
As he didn't want to give them a card.
With the tigers now up to their necks with it all,
JP to Croft, "My dear fellow,
I'll give this to you, but it's for the whole team.
This time I'm afraid it is yellow."
So only a point divided the sides,
As both went indoors for a rest.
And now it's the turn of Mr Cockerill and Jim,
To help to bring out their team's best.
Saints best hope was to make the most,
Of Croft's absence in the first 10, [Minutes of the second half obviously]
So hit 'em full hard, run straight and run hard,
Then back up and hit 'em again.
But courage and effort, only take you so far,
Mere power would not quite suffice,
There were handling skills, breathtaking at times,
With passing both quick and precise.
Rugby looks easy when you're in form,
And when your team's on top.
But A Waller's try was simply sublime,
Ridiculously good for a prop.
A glance at the scoreboard, we're 4 points ahead,
And Croft was still in the bin,
But surely it's too far, too long to go,
To think this is one we could win.
Moreover Steve Myler had taken a knock,
and made an exit stage right.
Conversion was missed, half an hour to go.
(At least we gave them a fright.)
But Saints were not finished, Myler returns,
And Denman does shore up the scrum.
A penalty missed (that's now one for each side),
"On You Saints – Come" [Sorry – I'm particularly appalled by this line but it's getting late.]
But sure enough Leicester abandoned Plan A,
And started to play with some zing,
Freddie Burns with a dart, recycled and then,
A try out on the left wing.
Back came the Saints, with Myler again,
(It's a pity he's only a kicker).
Either Foden or North, to slice down the left,
The passing could not have been slicker.
Plan A still abandoned, the game became loose,
A Salvi turnover and then,
Benjamin scorching down the right wing,
And Goneva's gone over again.
Burns got the extras (kicking proved hard),
And Leicester now leading by three.
But can Saints get back for a draw or a win?
Not long left to wait and see.
Does the word "champions" really inspire,
So much fear and respect?
Whatever; it's Saints who are champions now,
And reaping the champions effect.
So little surpise when the penalties came,
That we declined to go for a draw.
With one league point there, what's the point of a second,
When a win will give us all four.
Line-out, then maul, then Burrell the tank,
Then forwards and backs all combine.
It's Leicester who seem to be a man down,
As Elliott goes over the line.
One final play, the restart secured,
(That's something we once couldn't do),
The clock was wound down, ball into the crowd,
Without any further ado.
Hostilities ended, it's handshakes all round,
And time for a laugh or a tear. [I declined the more obvious "a chat and a beer" as I don't drink]
So thank you to all for a feast of a day,
And we'll do it all again next year.
Jim Says:
Luther Says
Happy Christmas from the Editors