News: Champions remain top of the pile at the end of 2014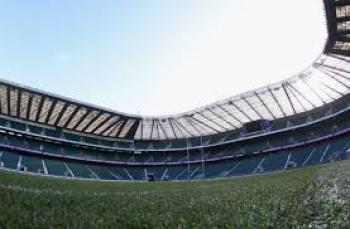 By Howlin'
December 28 2014
Well the Turkey was put on one side, the booze awaited our return, and hordes of Saints set off, avoiding the train, for the Christmas Cracker which called itself Big Game 7. Malcolm made the trip, and here is his report on the post Chrismas extravaganza!
Aviva Premiership Round 10
Harlequins vs Northampton Saints
Saturday 27th December 2014
Twickenham 16:30
Harlequins 25 Saints 30
You're in heaven when you hear BIG game seven

Hey hey diddle dumb day
Ei ei ie'er
Hey hey diddle dumb day
Ei ei ie'er

Quins had a Harley Bear they could not stop it grunting
Saints took it to the Big Stoop and kicked it's little rump in

Hey hey diddle dumb day
Ei ei ie'er
Hey hey diddle dumb day
Ei ei ie'er

Big Ugo went up the wing the crowd to try and please
Saints came up with a beaming smile and brought him to his knees

Hey hey diddle dumb day
Ei ei ie'er
Hey hey diddle dumb day
Ei ei ie'er

Little Wayne Barnes sat in the middle with a shifty look in his eye
He never booked the pretty Quins but he smiled when the boys went by

Hey hey diddle dumb day
Ei ei ie'er
Hey hey diddle dumb day
Ei ei ie'er

Quins be nimble Quins be quick Quins they tried to win
But all they got was a bonus point with Mafu in the bin

BIG game seven


Well six coach loads of Saints supporters headed down to Twickers full of Christmas food and drink wondering what to expect. Cockers had warned the Saints that retaining a championship would be harder than winning one. This may have been mind games from Pooh corner but I very much doubt it as Cockers is a coach of very little brain; I think he may well have spoken the truth from experience. This game would indeed be a true test as, although lying eighth in the league Quins were champions themselves not so long ago and showed against Leinster that they are beginning to find their form once more. The Christmas period and the emotion surrounding disciplinary proceedings etc. had also played their part in hindering the ideal preparation for Saints first trip back to Headquarters since that wonderful day at the end of last season.
Quins have also had some practice at putting on this big event. 82000 tickets sold, most of whom turned up, free Quins flags left around the stadium, fireworks , Quins announcers goading the support, electric banners flying around the perimeter encouraging the Quins and Fireworks. Tacky for some , but it was a well orchestrated show and no-one was in doubt that they had come to a BIG event. BIG game seven in fact. We even had a pantomime villain directing the show for this holiday period with his two goblins running the line…."look out Wayne he's behind you"
So time to judge for ourselves. Was there reason to dread BIG game seven……And so it began.

Early sparring that saw Pisi tackles on Brown and Swiel illustrated the small margins that either applied pressure or gave away a cheap penalty to provide the other team territory. It was a pattern that continued throughout the afternoon as the two teams, like two heavyweight fighters were mostly locked in the middle of the pitch with the sweet punches only occasionally getting through to see forays into the opposition twenty two. Quins got more punches in, but Saints rode most of them expertly and throughout the match delivered the more telling blows with the smaller amount of possession.
Much of the pre match talk had been about Luther Burrell but it was the Quins 12 George Lowe who made the first significant break and scored the first try shortly afterwards. Saints conceded a penalty to make it eight to nil in favour of Quins after only 9 minutes. Quins meant business. But this Saints team has a quiet assuredness about it and in the next nine minutes despite another dangerous break by Mike Brown they had scored a penalty of their own and given Samu Manoa an armchair ride over the line for their first try. The try was then converted by Myler to put saints into a lead that they would never relinquish. In fact despite losing Mafu to the bin for a high tackle, Myler added another penalty to make it 8-13 at half time.
Before Mafu returned the 14 men of Saints had added another try immediately after Swiel had missed a penalty for Quins as BIG Sam charged down and followed up sublimely to take the ball in one movement off the ground and offload one handed to George North who coasted to the line for his first Twickenham try. Myler again converted to make the score 8-20 and for me the contest was over. Despite Quins retaining the ball for long periods they rarely threatened. In fact the next big chance fell to Ken Pisi on the break; but a last ditch tap tackle from Swiel stopped him in full flight. There followed an exchange of penalties and saints looked to kill the game showing more invention with the possession they had, typified by a cheeky move off the front of the lineout.
But with the scores at 11-23 Quins finally made a breakthrough on 59 mins with their best move of the match. The Saints defence held firm time and again but eventually Clifford outwitted George North to fall over the line and with Swiel converting this time it brought a small bit of hope to the home crowd as the deficit closed to five points.
But like a fighter on the ropes saints absorbed the further pressure that came from Quins new found confidence and when their chance came they put the pressure back on starting with a penalty at the scrum. Saints then went for the corner a couple of times as Quins infringed to keep them out and despite coughing up possession near the line they maintained the pressure keeping Quins pinned back in or near their twenty two. During this period Corbs crossed the line twice (good to see you back big fella) but was held up the first time then dropped the ball an inch from touching down. Saints continued to keep Quins pinned down until eventually Kahn put the result beyond doubt sniping over the line, getting injured in the process. Foden replacing him at scrum half ! That was it game over. Once Myler had converted it was 18-30 with about six minutes remaining. But to their credit Quins wouldn't lie down and a late try by Toomey brought them some consolation and the losing bonus point which their sheer effort to play attacking rugby probably deserved.
The coach journey home was a quiet but happy trip . Very pleased with this win. Once again it showed another side of this Saints squad which is maturing into something very special indeed. In a pulsating match, away from home, with a relatively small amount of possession they scored three tries and created other chances, showed heart and desire and possibly more importantly a huge slice of composure in adversity. Efficient is probably the best word to sum it up although the coaches will probably not be content that the meanest defence in the league has conceded six tries in the last two matches. Always something to work on ! However whilst Quins will probably have to wait for big game eight before they play at Twickenham again, I have a feeling that Saints may well be returning to the home of rugby before the season ends for another BIG match.
Happy New Year .
As it happened
5mins QUINS Try Lowe 5-0
9mins QUINS Pen Swiel 8-0
11mins SAINTS Pen Myler 8-3
18mins SAINTS Try Manoa Con Myler 8-10
38mins SAINTS Pen Myler 8-13
HALF-TIME QUINS 8 SAINTS 13
41mins QUINS Miss pen Swiel
42mins SAINTS Try North Con Myler 8-20
52mins QUINS Pen Swiel 11-20
54mins SAINTS Pen Myler 11-23
59mins QUINS Try Clifford Con Swiel 18-23
71mins SAINTS Try Fotuali'i Con Myler 18-30
77mins QUINS Try Twomey Con Swiel 25-30
FULL-TIME QUINS 25 SAINTS 30
Jim Says:
Calum Clark Says:
Ken Pisi Says: