News: Professional Saints Performance Too Much For Ospreys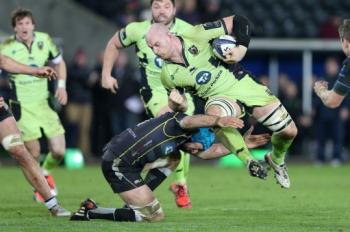 By Simon Robinson
January 19 2015
Northampton Saints travelled down to South Wales knowing only victory would keep them in the hunt for a home quarter-final in European Rugby's elite competition, the Champions Cup. Veteran COYSDC contibutor, Simon Robinson (smurf) gives us his thoughts, written on the Saints Supporters' Club charabanc on the way home with four precious points in the bag...
EUROPEAN RUGBY CHAMPIONS CUP
POOL FIVE - MATCH 5
OSPREYS 9 - NORTHAMPTON SAINTS 20
11am and 45 or so intrepid Saints supporters set off from Franklin's Gardens on the long trek to Swansea for the penultimate ERCC pool match against Ospreys. Due to the ridiculous 5:30pm kick off time, many of those making their own way down will be spending at least one night in a hotel, but not us!
Expected return time about midnight and some of us have to be up for a normal Monday morning start...
Forecast is dry but breezy and the temperature just above freezing. Plenty of extra layers packed for when we arrive.
With three pools' top teams on 18 points after their 5 games, Saints know two wins in the last rounds should be enough for a home quarter final. A bonus point in either would put us on 24 and guarantee top seed, whatever the others do.
To ensure that we finish top of the table, we need to make sure we have at least one more point than Racing - if we finish level on points the first tiebreaker is results between the teams. The lack of a losing bonus in Paris could prove costly if this is the case.
The return of Dylan Hartley - his 200th game for Saints - as well as Christian Day and Samu Manoa should shore up the pack which was the weak point last week against Sale.
On to the match itself - an early Biggar penalty was cancelled out by a charge down scramble at the other end. 3-7 after Myler converted Calum Clark's try. In between Saints lost Ben Foden to injury, replaced by James Wilson. Another Biggar three pointer narrowed the gap to a point before Myler slotted one of his own to make the score 6-10 after 25 minutes.
Eight minutes before half time, George Pisi saw yellow for a tip tackle, Biggar again stepping up and closing the gap to 9-10.
Two minutes before the break, Ospreys spilled the ball on halfway and George North pounced. Moments later he was under the posts, with Myler converting the half time score was 9-17.
The second half was a bit of a disappointment, no real sustained threat from either side. Myler had a kick just after the hour mark which hit the post, however Ospreys were penalised from catching the rebound and gave Saints an easier chance which Myler converted. Saints defended resolutely for the final ten minutes but Ospreys could not break through. 9-20 final score.
With Racing getting a bonus point win against Treviso, the two sides are level on 19 points. Winner takes all at the Gardens next weekend, with not only the pool win but also top seeding at stake.