News: LV=: Leicester Tigers vs Northampton Saints - Preview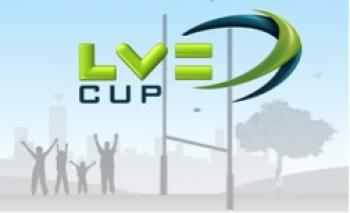 By HRsaints fan
January 28 2015
It's a return to LV= Cup duty this weekend as European Champions Cup Quarter-finalists and current Aviva Premiership champions, Northampton Saints, travel up the A5199 to take on Leicester Tigers at the "roundabout". With senior players away on international duty or on the treatment table there's plenty to discuss and regular COYSDC contributor HRsaints fan (David to his mates) takes a look ahead to the game...
LEICESTER TIGERS vs NORTHAMPTON SAINTS
LV= Cup: Saturday, 31st January 2015 - 3pm
WELFORD ROAD, LEICESTER
MATCH PREVIEW
After all the fun and games of last Saturday's game, the strange world of Professional Club Rugby in the Northern Hemisphere turns our attention immediately to another competition entirely – the LV=Cup.
As our heads have been full of the recent Premiership games and, in particular, the permutations of the final set of pool games in the European Rugby Champions Cup, I thought it would be helpful to remind you all of where we stand in Pool 2 of the LV=Cup.
Saints have played 2 and won 2 scoring 8 tries and conceding 3, giving a current point's total of 9. In our Pool the nearest competition comes from Sale who are on 5 points with Cardiff Blues on 4 points and London Irish propping up the group on 1 point.
However as we all know by now we do not play those teams in our group, but play four games against those in Pool 3 so this coming weekend the other Pool 2 team's games are as follows:-
Sale away to Newcastle; London Irish away to Scarlets; and Cardiff at home to Wasps
The Irish game is on the 31st January with the other two the day after. For Sale it is difficult to know what team they will put out after the mauling at the hands of Munster last week but they will want to try and get back to winning ways. Wasps are likely to rest the bulk of their first team in a similar fashion to Saints and Tigers, although Irish will probably target an away win to try and jump start their poor season thus far.
For Saints Round 3 of the LV=Cup on Saturday 31st January brings us up against our dear mates from a roundabout not far away – Leicester Tigers.
Saints previous results in this current competition were a home win against Newcastle (37-23) and an away win against Scarlets (24-7) with both games played in November during the Autumn Internationals (crikey that seems like a long time ago now…). Tigers are also standing on 9 points in Pool 3 having beaten London Irish away by a single point, and Sale Sharks at home by a more comfortable score of 29-13.
With the top two teams that qualify out of their respective groups having a home semi-final (as well as the prospect of the final at the Gardens) there is still much to play for in this competition; not the least of which is the ongoing bragging rights between the two East-Midlands heavyweights whose teams were formed in the same year of 1880 (Coventry were formed even earlier in 1874 but sadly cannot be considered as a heavyweight club any more - but it would be great if that could change). Just for your information on this basis the newest claimants to being an East Midland club – (London) Coventry Wasps - need to be resident until 2148 before they can be considered as a proper East Midlands club.
There is no doubt that the Saints management, and indeed the players, do not take this competition lightly although with all the pool games being played during either the Autumn Internationals and then the forthcoming Six Nations both teams will be deprived of many first team players. Additionally just to add to the confusion the England Saxons play the Irish Wolfhounds on Friday 30th – the day before our game against the Tigers.
The first team players from both teams that were originally selected for their Six Nations teams and will therefore miss Saturday's fixture are as follows:-
Saints:- Day, Waller A, Dickson, North, Clark, Corbisiero, Hartley, Wood, Burrell and Myler
Tigers:- Croft, Cole, Kitchener, Parling, Youngs (B) and Youngs (T).
Note: As I write this review it has been announced that both Christian Day and Tom Croft have been 'elevated' to the main England squad as injury cover for Tom Wood and Geoff Parling. Although I would not want to wish injuries on any player, it would be wonderful if Christian Day could get his first cap on the inaugural Friday night game of the Six Nations against the Welsh. If ever a player deserved it, it is Christian.
It has also been announced that Luther has concussion, which I think is a minimum 3 week rest from rugby? (I may be wrong about this time period). However both squads have further injury problems with senior players such as Tuilagi, Slater, Lawes and Foden all out (some far longer than others).
The normal practice of both sides in this competition is to select a mix of youth and experience – but with the above absentees and injury issues that option may not be possible for either coach.
However I believe that the Saints team might be:-
15 Collins
14 Packman
13 Stephenson
12 Waldouck
11 Elliot
10 Hooley
9 Hodgson
8 Dowson
7 Nutley
6 Harrison
5 Dickinson
4 Onojaife
3 Denman
2 Haywood
1 Waller (Ethan)
With Subs: Hodgson Wilson Woolford Williams Dolan Kahn Mallinder Manoa
I have also seen that Dom Waldouck might be heading to Irish for next season. I'm sure I am not alone in wishing him the very best with this move. He has always given 100% when wearing the Saints shirt and I hope that he can work his way back into the first team squad at London Irish.
I know that almost everyone thinks that Samu Manoa needs a break (and you all may well be right) but for once I am not sure I agree with the majority. I thought that he seemed reserved and quiet on Saturday which, given the very recent and unexpected death of his brother, is perfectly understandable. Of course his performance may be down to how that particular game went but I think that he would want to keep playing as he is that sort of bloke. However it is unlikely he will start even if he is picked for the match-day squad but he would make a really good impact sub!
In terms of the Tigers team I think that Richard Cockerill will probably do something very similar although he too is limited by the number of fit senior players. I am not familiar enough with their squad to consider which players they may select however I would like to see the soon-to-be-our-very-own Jamie Gibson get some game time…(sorry - couldn't resist it).
We all know that Tigers hate losing on their patch no matter what competition they are playing in. I think that a capacity crowd at Welford Road (and I believe it is almost sold out) with the usual baying for Saintly blood is a fantastic experience for a Saints player and can only be good for our youngsters in the future.
As for the result I would be delighted to keep the bragging rights in Northampton but my head is telling me that this might be a step too far for a young and relatively inexperienced team. However what I would want to see would be a committed and passionate performance from 1 to 15 to lift the Saint's fans spirits from the lows of last Saturday and, if such a performance is forthcoming, I think it could be quite close.
For those brave enough to go - have a very enjoyable game! It is not televised (the Sky choice is Harlequins versus Bath) but I look forward to hearing the cries of "Oh When the Saints" echo round Welford Road on the ITV highlights programme.
COYS!