News: LV=: Northampton Saints vs Coventry Wasps - Preview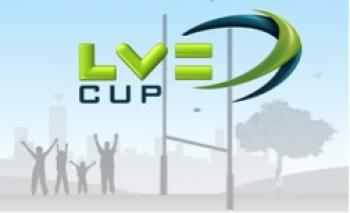 By fair_weather_fan
February 5 2015
In the final match before the Aviva Premiership roars back into action, Northampton Saints welcome Coventry Wasps to Franklin's Gardens for the last of the pool matches in the 2014/15 LV= Cup. Penning his third (I think - Ed.) article for COYSDC, fair_weather_fan (Robin to his mates) takes a look ahead to Satdee's game...
NORTHAMPTON SAINTS vs COVENTRY WASPS
LV= Cup: Saturday, 7th February 2105 - 3.15pm
FRANKLIN'S GARDENS, NORTHAMPTON
MATCH PREVIEW
The peculiar format of the LV cup means that when the Saints play the Wasps on Saturday, that while both need a win to have any chance of qualifying for the semi-finals, it is not an elimination contest as they are in different groups and both require results in the mirror fixture to go their way, in order to progress. The mirror fixture being between our friends from Pooh corner who are visiting Cardiff Blues the day after the bi-annual dust-up at the Millennium Stadium. Co-incidentally, several players from each team are likely to be detained although to no special surprise, our Calum, Corbs and Stevie M have been released by England and might well participate on Saturday.
Both teams let their qualification chances go, fielding the kind of sides that should be playing in this competition, but come Saturday the chances are that both sides will be reinforced, at bench level at least. Dai Young is on record on the Wasps site that he is targeting a win, well he wouldn't be targeting a defeat would he, but the double attraction of recording a season's double over the Premiership Champions and a desire to rebuild momentum before the league resumes should ensure that they turn out a fairly strong side.
The major loss for them is James Haskell who has fully earned his recall for England – he is pulling up not trees at the moment but entire forests.
Meanwhile we seem likely to lose just Dylan and Luther to England, George to Wales of course, all playing in positions where we are well covered, but more serious is the injury list that will limit our options if we are going to try and keep our interest in this year's competition alive. We surely will as the final is at the Gardens and I don't think the fan base would be impressed if we turned out a team weaker than necessary this weekend, even though we need help from Pooh Corner to reach the knock-out stage.
It will be a hard job to predict the exact team composition as one of two players have a lot of games to play before season's end. I will go with...
15 Tom Collins
14 Ken Pisi
13 James Wilson
12`Tom Stephenson
11 Jamie Elliot
10 Steven Myler (otherwise Will Hooley)
9 Kahn Fotu'ali
1 Salesi Ma'afu
2 Matti Williams
3 Alex Corbisiero
4 Tom Ryder
5 Christian Day
6 Calum Clark
7 Ben Nutley
8 Sam Dickinson
Bench: Denman (Mercey if fit, haha), Marshall, Waller E, Harrison, Woolford, Manoa, Day, Pisi G.
Not everyone's selection I am absolutely sure, so plenty to disagree with.
So to Wasps.
There is no indication what their team might be for Saturday, at least no-one has started anything on Drunken Wasps to even speculate. Last Saturday's team was relatively inexperienced while including James Cannon formerly of this parish; surely most of the available first team will return to action this weekend. The team that played Leinster was...
15. Rob Miller
14. Christian Wade
13. Elliot Daly
12. Ben Jacobs
11. Tom Varndell
10. Andy Goode
9. Joe Simpson
1. Matt Mullan
2. Edd Shervington
3. Lorenzo Cittadini
4. Bradley Davies
5. James Gaskell
6. Ashley Johnson
7. James Haskell(c)
8. Nathan Hughes
Bench: 16. Carlo Festuccia 17. Simon McIntyre 18. Jake Cooper-Woolley 19. Kearnan Myall 20. Guy Thompson 21. Ed Jackson 22. Alex Lozowski 23. Andrea Masi
Of these, Haskell is with England, Cittadini with Italy, and Johnson is currently indisposed. I would expect the majority of those to be playing on Saturday, but with the team playing well Dai Young may rate the league a higher priority and mix up his selection a bit. No need to burn the team out before they get to Toulon.
For those of us who are statistically minded the qualification situation is similar to the Challenge Cup.
The top teams from each pool qualify for the knockout stages. From the LV site: -
The pool winners will be decided by the following criteria:
1. The pool winner will be the club with the highest number of match points in each pool. The pool winners will be ranked 1 to 4 by reference to the number of match points earned in the pools.
2. If two or more clubs in the same pool end the pool stage equal on match points, then the order in which they have finished will be determined by:
i. the greater number of matches won by the club and
ii. if the number of matches won is equal, the club with the greater total number of tries scored and
iii. if the total number of tries scored is equal, the club with the greater points difference (points scored for, less points scored against) and
iv. if the points difference is equal, the club with the fewer number of red cards and v. if the number of red cards is the same, by the toss of a coin.
Now Cardiff are 4 points ahead of Saints, and as they have scored more points than Saints courtesy of this week's opponents, I suspect they have scored more tries too. The BBC tables helpfully do not show that. So if the Saints win they will need to tip the try balance in their favour as well. If we score 4 and Cardiff get nothing at all from the Tigers, we are through. If Cardiff get a bonus point we will still qualify with a try bonus point if the try count tips in our favour. At least Tigers are very miserly with their defence.
Our opponents face an almost identical scenario despite having lost 2 games, as they accumulated a monumental 5 bonus points in 3 games. So if they win without a bonus point they cannot qualify on games won, even if Tigs lose in Cardiff, they must score a try BP as well. So we can expect penalties to be kicked to the corner by both sides, and a highly entertaining game is in prospect as a result. It could all be for nothing, but may be fun to watch. With Wasps on a bit of a high, I wouldn't bet on the result.
Fair_weather_fan