News: Youth and Experience sinks Coventry Wasps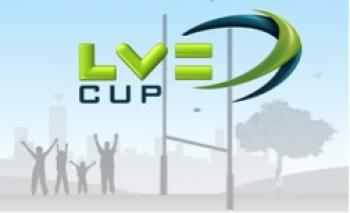 By St. Dormouse
February 8 2015
What a lovely morning, walking the dog at 9am, the sun shining over Irthlingborough lakes, slowly melting the morning frost, ducks and coots waddling along looking for a water hole in the surface ice, the perfect day. Wandering along in just a sweatshirt I mistakenly thought it would be a mild day so decided on just a Tshirt under my (old style) Saints shirt and my comfy Saints coat that the lovely Mrs.D had bought me for Christmas. There are many expletives I could utter to describe my own stupidity but on this occasion I shall just say that I regret my choice of clothing.
Northampton Saints v Wasps
LV= Cup Final Pool Game
Saturday 7th February 2015
Franklin's Gardens KO 3:15 pm
On arrival at the ground I discovered that Northampton has, in fact, a different climate to Irthlingborough, similar to the difference between Malta and Moscow, however I was looking forward to a good match with all or nothing, to play for. I rarely get to see the younger players strutting their stuff so enjoy the LV cup, as do most Saints fans judging by the consistently near full house crowds they continue to draw. Thanks to 'Fair Weather Fan's' brilliant preview I had some idea that apparently if Cardiff came away with no points and Saints got a try bonus win then we would squeeze into a semi-final place. We would know by half time the Cardiff result but regardless of that, both teams had to win to stand a chance.
3.15 comes and I'm starting to regret my choice of clothing as the temperature drops below zero, however on come the teams and the customary excitement banishes anything else for the time being. I was surprised to see a second row forward playing fullback but quickly realised that this must be our sticking plaster signing from Samoa, Ahsee Toala, making his debut. Now every time I have seen his name I want to break into 'Wonderful World' by Louis Armstrong, "Ahsee trees of green, red roses too..." (geddit?) but to my dismay it is a soft A and he is referred to by all as Ace,
Never mind that, his first touch from the kick off led to a monstrous clearance kick, the first of many, much to the obvious delight of the 13000 + crowd. Within 10 minutes, he had further endeared himself by acrobatically finishing a powerful drive by the Saints forwards, assisted admirably by the ever impressive Tom Stephenson. Sam Olver converted from the touchline to make it 10-3 after Alex Losowski's earlier penalty. It was now -5 degrees and my fingers were turning blue.
There followed a period of play which seemed to sum up the whole match. Wasps played almost the entire game in a series of training ground moves, almost like watching the warm up before kick off. Every time they attacked there were as many players running dummy lines as actually touching the ball, leading to, in my opinion, constant blocking and obstruction. On one occasion, I watched a wasp's lazy runner actually reaching out and pushing a defender having failed to block him properly! Throughout the match, the referee was totally oblivious to this so Wasps just carried on doing it. Meanwhile, Saints defended faultlessly while attacking play seemed to be more off the cuff and instinctive. A penalty apiece was followed by a well-deserved try for captain of the day Phil Dowson, a candidate for many for the man of the match, both for his endless reserves of energy and his leadership.
Half time score 17-6 to Saints and despite not seeing much of the ball looking pretty comfortable. The only downside was Corbisiero having to leave the field, let's hope it's nothing serious. Unfortunately, it was now at least -10 and my cider had a coating of ice, I can't feel my toes and icicles are forming on the end of my nose.
By now it had filtered through that Tigs had given Cardiff a right thumping so the Semi-final place was ours to win or lose. Not that the players knew that if you believe the post match interviews, but regardless within 3 minutes the superb Kahn Fotuali'i had chipped beautifully over the defence for Jamie Elliott to collect and touch down in the corner and followed with a try for himself 6 minutes later. Bonus point in the bag, half an hour to hold out for a semi place. Khan left the field shortly after and there followed the customary substitutions. Nice to see James Craig walking off the field for a change and wouldn't it be great for the club and for the young man himself if he could string a series of games together. Unfortunately for the fans and the wingers/fullbacks the game then descended into a series of collapsed scrums and cringing boredom. Wasps still tried to attack, but the Saints defence, as throughout, was determined and steadfast. Unsurprisingly considering the now -20 degree Siberian chill, cramp was a major problem for the virtually redundant back 3 of both sides and even with 15 minutes to go if the game had been a Labrador a decent vet would have put it down. No more points were scored, the game fizzled out, Kahn got man of the match, and I was taken home and treated for frostbite.
Saints, thanks to superb defence and the ability to take their few chances well, will now face Exeter, Saracens or maybe even Tigs in the semi. I'm now off to plonk myself in front of the box to find out who, but wouldn't it be wonderful to watch the boys play a final at the Gardens?
Editors note: We now know that it will be a trip to Barnet!
Ahsee Tuala says:
Kahn Fotuali'i says:
Alan Dickens says: