News: AP: Northampton Saints vs London Irish - Match Preview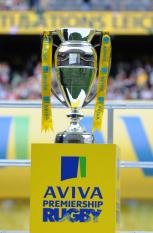 By HRsaints fan
February 12 2015
After a month of cup rugby it's a return to Premiership action for Northampton Saints this weekend as they welcome London Irish to Franklin's Gardens under the lights on Friday evening. Regular COYSDC contributor, HRsaints fan (David), looks ahead to the game...
NORTHAMPTON SAINTS vs LONDON IRISH
AP: Friday, 13th February 2015 - 7.45pm
FRANKLIN'S GARDENS, NORTHAMPTON
MATCH PREVIEW
I'm afraid that I didn't have much time to put this review together so I will make it short and sweet. Saints to win by 15.
Thank you. Okay, perhaps not that short.
Friday night's game sees a welcome return of Round 14 of the Aviva Premiership after all the fun and frolicking of the LV=Cup, and the beginning of a tricky sequence of five games whilst the Six Nations continues to run its course.
This sequence starts with London Irish at home, followed by Bath away, Harlequins home, Gloucester away and Saracens away; two of our away games being against the second and third placed teams. However I am backing Mr Lancaster to pick the entire Bath team at some point, thus leaving us with a fighting chance of a result down at the Rec, and of course we always win at Allianz Park…!!
However others will be previewing those games so my attention needs to turn immediately to London Irish at Franklin's Gardens. This is the return fixture of the game that took place at Reading in Round 5 when Saints won a poor game 19-12.
The Irish currently sit eleventh in the Aviva Premiership league, having only won four of the thirteen games played so far. Their points difference is -112 and they have scored 21 tries (strangely the same number as the Tigers) whilst conceding 33. Their away form is played 6 won 2 lost 4 with the two wins against Newcastle and Tigers (Huzzah). However that was back in September of last year and since then their away form has been pretty poor, losing to Exeter, Sale, Wasps and Saracens. However the last Aviva Premiership game they played was home to Exeter Chiefs which they won by two points (28 - 26) scoring four tries in the process and Shane Geraghty - ex of this parish - dropping a goal in the last minute of the game to secure the win.
Nevertheless it would not be an understatement to say that this season has not turned out as they might have hoped for back at the start of Round 1. The loss of Brian Smith in January for family reasons cannot have helped, with forwards coach Glenn Delaney taking over for the rest of the season until Tom Coventry arrives from the New Zealand side the Chiefs. They have recently announced the signing of our very own Dominic Waldouck and I wish him well. It will be very important not to underestimate this side though because, if this season has proven anything, it is that the league is tighter than ever.
Saints on the other hand sit atop the table having lost only three games thus far and scoring 48 tries (more than anyone else and, with all due respect to them, we haven't played London Welsh at FG yet which does tend to skew the tries scored table) and conceding 27.
However as we all know the Saints form in the Premiership has dipped somewhat from the dizzy heights of earlier in the season and of course the last game of our "first" team was the disastrous result against Racing Metro. Nevertheless overall our home form in the Aviva has been good with only the one loss to Exeter. In addition we have seen some heartening performances from the youngsters (and some not so young) in the recent two LV=Cup games. In particular it has been pleasing to see a return of our defensive form which, for whatever reason, deserted us against Racing.
Although I have mentioned the Six Nations, the impact of that tournament on the choices for the team for Friday has been less than expected, although some of this is down to the injuries picked up by Tom Wood and Courtney Lawes. Our returnees are Calum Clarke, Stephen Myler (although I understand he has a calf strain), Alex Corbisiero and Christian Day. Corbisiero also has a slight calf injury which brought him off the field earlier than expected last Saturday. However the noises from the Saints camp regarding him (and also Stephen Myler) have been quite positive.
So in terms of the team this is slightly easier to pitch than the LV=Cup selections, and obviously Saints will be targeting a win, with a strong set piece in line out and scrum, and a return to some of the sublime handling that our backs can produce. However with the run-in of the next five games that I mentioned above I would not expect Jim and the coaches to take any unnecessary risks with those carrying injuries, no matter how slight. This of course has to be balanced against wanting to win, and to win well if possible.
So to that end I would expect to see a team sheet something like this:-
15 Ahsee Tuala
14 Ken Pisi
13 George Pisi
12 Tom Stephenson
11 Jamie Elliot
10 Stephen Myler (or Sam Olver if Myler's injury does not disappear)
9 Kahn Fotuali'i
1 Alex Corbisiero
2 Mike Haywood
3 Salesi Mafu
4 Christian Day
5 Tom Ryder
6 Calum Clarke
7 Phil Dowson
8 Samu Manoa
My bench would be Matti Williams, Gareth Denman, Ethan Waller, James Wilson, Dominic Waldouck, James Craig, Sam Dickinson and Joel Hodgson.
The Saints need to get back on track and, to that end, we can help by making the Gardens a noisy and horrible place for any opposing team to come and play. Hopefully the arctic conditions of Saturday will not be repeated!
And my prediction - see above - Saints by 15.