News: LV= SF: Saracens vs Northampton Saints - Match Preview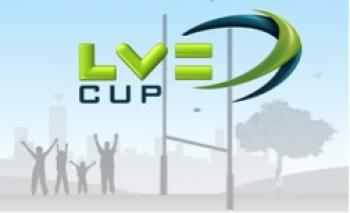 By St Dormouse
March 12 2015
Attention this week turns to the semi-finals of the 2014/15 LV= Cup and Northampton Saints travel south to take on Saracens aiming to secure a spot in the final back at Franklin's Gardens a week hence. Regular COYSDC contributor St Dormouse looks ahead to the match...
SARACENS vs NORTHAMPTON SAINTS
LV= CUP SEMI-FINAL
Saturday, 14th March 2015 - 12.30pm (Sky)
ALLIANZ PARK, HENDON
MATCH PREVIEW
Nestled quietly amidst all the glamour of the Six Nations, the excitement of the European Champions Cup and the attrition of the Aviva premiership, there is the little matter of the LV cup. Often derided as a lesser tournament, forgotten about by those no longer taking part, barely spoken about by the press and therefore almost unheard of by the General Public, the combinations of fearless young guns and hardy old war horses, fringe players and the rehabilitated wounded often produces some of the most thrilling and competitive matches of the season. There is often a more light hearted approach by the fans, if not the players; however the last couple of seasons have seen Franklins Gardens reaching almost full attendance for the home fixtures, while the team have reached three of the last five finals, and will be hoping to grab the first piece of silverware of the season in front of their own fans on 22 March.
Before that there is the small matter of a semi final between two teams who appear to have become the best of enemies in recent years. Unfortunately by losing to Leicester, Saints blew their chance of a home fixture, but thanks to Leicester, and with a hefty win over Wasps, managed to scrape the semi final place on points. This, potentially, could be the first of four meetings between the two before the end of May, I'm sure one team will not win them all but both will try blinking hard to do so.
Traditionally the LV cup has introduced up and coming youngsters to first class rugby, and this year it has made me realize just how old I am. Like many other regulars the first names I thought of when I heard Olver and Packman were not Sam and Howard, but John and Frank! A look around the premiership last weekend saw Dai Young's lad playing for Wasps, Ross Moriarty for Glos and Josh Beaumont is up at Sale. I'm sure it won't be long before you see baby Bothas, Bergers and Teblanches turn up on the Saracens bench. Scotland have Lawson and Laidlaw, somebody please book me a place at Acacia Lodge!
I think the coaches of yesteryear missed a trick and Jim Mallinder needs to act quickly if we want to be winning trophies in 20 years time. What people like John Steele should have done was a bit of wise matchmaking, a bit of Genetic manipulation if you like. Imagine the offspring of Tim Rodber and Sharon Davies, Nick Beale and Sally Gunnell, Pat Lam and Tessa Sanderson, or Martin Bayfield and Fatima Whitbread! (Maybe the last one is a bit scary) It's not too late; Jim should immediately get on the phone and start playing cupid. Think of the perfect, exotic, graceful and probably bloody gorgeous full back we could produce if Bruce Reihana and Denise Lewis got together. How about we get Samu together with Maggie Alphonsi? Would you ever see a better back row forward? If he needs to get away to France quickly then can I suggest he fills a test tube before he goes? How about Ben Foden and Jess Ennis? Tom Stephenson with Katarina Johnson-Thompson and Dylan Hartley with Sandi Toksvig? What a team we would have, not all the Rand in London could buy better. Remember you heard it here first!
"What's that Dear? Get on with it? Sorry Dear". You must forgive my tendency to waffle, good readers. On with the game.
Team selection will depend on a number of factors for both sides. The Premiership and Europe are undoubtedly higher priority for both coaches and Saints have a tricky run in, with a tough home tie against Wasps in a fortnight while still missing some big guns. Do we really want a big final next weekend before that or is it better to rest as many first team players as possibly. My opinion is that we should try as hard as possible to win this match but others will have their own thoughts, indeed 'Fair weather Fan' has started an interesting debate on team selection on another thread so maybe readers will get a better idea of other people's thoughts by reading that. Saracens, too, have some tough games coming up and do not have the luxury that Saints have at the moment of a 9 point cushion. They are also missing 2 fly halves injured and have a number of players away; I gather that Barritt has picked up an injury so Saracens will need to be careful with their squad. They come into this semi having won all their pool matches, ably led, I believe, by 20 year old, 6ft 5 and 17 ½ stone Maro Itoje. 3rd only behind Sam Burgess and Christian Wade in BT Sport's 'How high can we build a pedestal' competition, this guy has captained England at under 20 level and already played for the Saxons. It would be my personal opinion that if we go into this match with no specialist locks as we did at Sale then we might as well not bother cos this kid is the business. With all due respect, from what I have seen of him, Alex Woolford, is not. I am hoping James Craig is fit and Tom Ryder can step in. If Saracens seriously want to win this match then they still have enough strength in depth to play the likes of Jackson Wray, Rhys Gill, Jacques Berger, Richard Barrington and Duncan Taylor. I have been impressed with both Bens, Ransom and Spencer at Full back and scrum half respectively, but I think they are getting slightly short on fly halves at the moment so maybe a charging Dickinson or Tiamana could be wisely used.
I would expect to see Ace or Collins starting at 15, with Wilson getting a well deserved rest and probably a centre partnership of Waldouck and Stephenson. Maybe Sam Olver is preferred at the moment to Hooley. Khan will love the plastic pitch and then it's a case of which front row to start and which for the bench. Take your pick but I think Ethan, Williams and Denman to start but what do I know?
The side will be led by the Squad Father, Phil Dowson in his last season at the club after an almost unblemished and much appreciated 6 years. Briefly picked and discarded by England and on his way out of the Gardens, Phil's star seems to be fading, but if Saints win this trophy, then in my opinion it should be given to him for his mantelpiece.
There are all sorts of ifs and buts, I personally can't call it because I don't really know who will be playing or how much each team wants to win. I'm sure the players will give it their all and I hope that it is Saints that come away with the honours. Apart from doing it for the club, themselves, the fans and for Phil, the Saints players need to think very clearly about the first and foremost reason for getting to the final. Think of David 'Piggy' Powell, the former Saints, England and British Lion stalwart and head Gardener at the Gardens. How it would break his tweed jacketed little heart knowing that Leicester and Saracens were contesting a final on his Patch.