News: London Welsh visit FG to take on the Leaders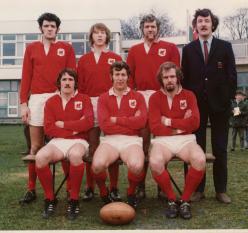 By Bonso
May 8 2015
As the regular Aviva matches draw to their completion, 1st plays 12th at Franklin's Gardens. Bonso takes a look at the upcoming clash.
Saints vs London Welsh
3.15 pm 9th May 2015
Franklins Gardens
Finally, the end of the long march of the season and it was not a marathon or a sprint. No gentle reader it will be the arrival of the intrepid walkers of this year's Saints With Heart. When you see the walkers congratulate them, better still spare a quid and give them a pat on the back. SWH is a great example of what folks can do with single-mindedness, unity, support from communities, and just deciding to make things better. Please join in if you have not got involved before and if you have had a part over the years feel proud.
Now wots occurin' is that we have a rugby match welcoming London Welsh to the gardens for the final regular home match of the season. To say the exiles have had a difficult season is an understatement as their 1 point to date seems to indicate. Despite signing strongly on paper with all blacks and ex-internationals galore, Welsh never seemed to get off the runway. Unfortunately for Welsh they never really have looked like staying up despite not wanting for endeavour or heart. Indiscipline has hurt them and really I cannot imagine what was going through Chris Hala'ufia's head with his actions against Tigers, but the ban seems apt. It does leave his side short of his presence. There is hope though don't forget though they did lead Tigers at half-time.
For Saints I think team selection is an issue. On one hand, the match needs to be won, but on the other hand players might need to be rested. Poor Jim damned if you do damned if you don't. My gut feeling is that we will have a bit of a mixture starting with the 1st 15 and hoping to be able to sub early to cherish guys for future battles. Yet Welsh might give the game of their season with youngsters playing to impress. One thing is vital though a win so no champagne rugby I think it's secure 4 points first and respect our visitors.
In rugby terms I think the Saints machine started to purr against Saracens and on Saturday despite maybe needing to blow the carbs out a bit early on if Saints play with precision and pace Welsh might not be able to match the intensity that I am sure Saints will bring. However, if Saints allow Welsh to slow and spoil the game and don't take their chances, well rugby can be cruel to the anointed and reward the thief in the night. So Saints play hard win the match, secure that home semi and show no mercy.