News: AP: Leicester Tigers vs Northampton Saints - Preview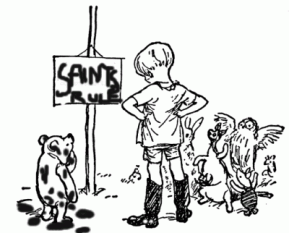 By PelerinStJames
May 15 2015
Having already secured a home tie in the end of season play-offs, Northampton Saints travel to Welford Road on Saturday with the intention of depriving Leicester Tigers their place in the knock-out stages of the 2014/15 Aviva Premiership season. Regular COYSDC contributor, PelerinStJames (David to his mates!), takes a look ahead to an intriguing game...
LEICESTER TIGERS vs NORTHAMPTON SAINTS
AP: Saturday, 16th May 2015 - 3.30pm (BT)
THE ROUNDABOUT, LEICESTER
MATCH PREVIEW
Normally when I write these previews, I have formulated the ideas, the concepts and the plans in my mind by the time I sit down at the computer. Mostly, they are dreamt up whilst walking the dog amongst the sand dunes, however there are times, and this is one, where these plans disappear out of the window as I begin to type, and you realise that, actually, the story writes itself. You see, I had planned to write some further tongue in cheek revelations behind the hidden successes of the Tigers, until I realised that actually, the truth is far too impressive to ignore. Leicester are STILL a great Rugby Club.
So, as we all know, Leicester have been by far and away the most dominant club in recent English rugby history, certainly since the advent of the League system back in 1987. Indeed, in the 27 years that that this has been contested, they have never finished below sixth place, and only 3 times outside of the top 4, which is why they are normally seen as the Premiership top cats. It is also fair to say that their influence remains strong throughout the other teams within the current premiership, with many ex Tigers now playing and coaching elsewhere. At Northampton, we have West and Hare, Saracens have Gustard, Dean Richards at Newcastle and Quins to name but a few coaches, as well as players such as Ford and Waldrom at Bath and Exeter, Twelvetrees at Gloucester and many more besides. Credit where credit is due, Leicester really have excelled in adversity, and even this season, where they have been beset with a seemingly never ending injury list, they come in to the final game in 3rd place, with momentum, and a points difference of +24(!) having won 14/21 games. Quite remarkable really and true testament to the Club for fighting so hard amidst all the problems and setbacks and continuing to grind out the wins.
Tries, it does have to be said, have been hard to come by, but when you have been playing a different 10/12/13 combination in practically every game, it may not be such a surprise. To date, they have only scored 35 this season, (only London Welsh have fewer) but conversely they have only conceded 38 which is the best in the league. One can only wonder why the Defence coach is leaving! From the outside, it really has been a confusing season for our stripey chums, some big defeats including the loss to 14 man Saints at Franklins Gardens just before Christmas coupled with narrow hard fought wins, yet here they are, needing a home win in their last match to guarentee a play off place for the umpteenth year in a row, and therefore they sit only 3 wins away from Glory. Win those and the everything else will be forgotten.
As for the Saints, well as we know, we are sitting pretty at the Top of the Table for the first time in the clubs history. Never before have we finished there at the end of the regular season. Although we have had 3 second places to our name, however this has now been achieved with this one game left. It is also only the 4th time in the 27 years of league competition that we have finished ahead of the Tigers, and so we can genuinely claim the local bragging rights and Top dog status. Given that the only prize for this achievement is a home semi, it does mean that there is a bit of a dilemma regarding team selection, for what for Saints, is "something" of a dead rubber. Whilst the result has no meaning in terms of our league placing, let us not forget the small matter of this being a local derby, and the intense rivalry between the two clubs. So, do you rest a few players so they do not get injured or more likely carded and suspended, or do we go all guns blazing for what is a real rarity of a Saints win at Welford Road? Win, and should Exeter and Sarries also triumph, then Tigers don't make the play offs, lose and we risk the prospect of meeting them again at HQ. Somehow, I can't seem Jim resting any players unless they have an injury. He has never done so in the past, so why would he start now? Of course, picking players on form is a very different matter, so I do not discount the prospect of Mike Heywood, Gareth Denman or Tom Stephenson making the starting XV.
Personally, I would go with something like this:
Tuala, Pisi K, Stephenson, Burrell, Elliott, Myler, Dickson, Corbisiero, Hartley ©, Denman, Lawes, Day, Clark, Wood, Manoa.
Tigers, guess what, have injuries and a suspension for Bai to deal with following last week's "other" midlands derby. That said, their local press seem to think that Parling, Tait and Ghiraldini will all be fit to play, and the Loamanu will replace Bai at 12. Saints fans will no doubt get a chance to see new signing Gibson play ahead of his move for next season, and as always, this will be one hell of a battle whatever teams the coaches put out. I have to admit, I have no idea how to call this game; Saints on paper atleast, have the edge, however such is the pride of the Tigers that I cannot see them going down without a fight! Let us not forget, they are at home, they have everything to play for with their entire season hanging on this one game.
Be warned folks, The Undercats are on the loose, The Undercats are go! Dangerous times for us Saintly ones, but wouldn't it be great to get the win! Fingers crossed for a great game, and not (too) many cards!