News: Jim's "Stiffs" give tigers a shock, but no win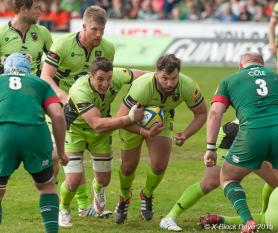 By Dave Jackson
May 17 2015
The "Stiffs" in the title is a passing reference to the "journalist" working for the Telegraph, Daniel Schofield, who used this word in his unprofessional rant against Saints in a one sided match report for Exeter in the Advertorial driven paper. - Our team, although not victorious, showed him up to be the numpty he is. - So let's read what Dave Jackson (certainly a better-inforned reporter) saw......
Aviva Premiership Round 22
Leicester Tigers v Northampton Saints
Saturday 16th May Welford Road - KO 15:30
Before we start this report let us just talk a bit of history regarding Tigers v Saints matches at Welford Road. In all the times I have been to Welford Road to see Saints which is quite a lot I have never seen us win, whenever I don't go we snatch the rare victories, last season I thought the jinx was to be broken, but somehow we contrived to turn a 19-9 lead into a draw. So we once again headed to Leicester more in hope than expectation knowing that Leicester had just about a full strength team and a big prize for winning.
Catching the train to reach Leicester at lunchtime time ready for a few beers (and yes there is a new craft beer bar open!). We then took our seats in time for the kickoff. Despite the many matches I have seen us lose I do always enjoy Welford Road, nice ground and passionate fans, may not always agree with their views but they are a well-supported club much like Saints. We were sat behind the posts at the end Saints would be attacking in the first half with a mixture of fans and some pleasant spring sunshine.
The game kicked off and was not long before a knock on and the first scrum with Tigers winning a penalty from the set piece. An ominous sign so early and it was not long before they gained the territory and penalty to take a 3-0 lead with only 6 minutes on the clock. Some of the Tigers fans around us saw this as a sign that our team had given up and would be a walkover. That was
not to be as the Saints youngsters started to build some good attacks. The reward came and it was an easy shot for James Wilson to make it 3-3. Almost straight away it was back to the other end and after a line out Jordan Crane finished well in the corner and we were 8-3 down. Saints not wanting to lie down again built a steady attack won another easy penalty to leave the score at the end of the first quarter as Tigers 8 – Saints 6.
The game ebbed and flowed a little with both sides having attacks with the turning point being a huge tackle from Mike Heywood in midfield that earned a penalty. James 'Boom' Wilson hit a huge touch finder for a line out. Whilst a way could not be found across the line another easy penalty was earned and Saints took the lead for the first time. Leicester thought they had a scored a try after a break from the base of a ruck, but it was disallowed, being at the far end unsure exactly why but looked like maybe obstruction, a let off for Saints and this enabled us to take a 9-8 lead into the half-time oranges. (editors' note - in at the side!)
Half time provided some interesting and actually quite good entertainment from the Punjabi Dancers, some of the footwork shown may have had Jims eye as a promising centre for the future. The other highlight of halftime was seeing Matt Hampson at the game raising money for the Matt Hampson foundation, over the years it has been good to see Saints supporting this and shows how close the rugby family can be (well until the referees whistle goes)
Back to the rugby and would Saints win a famous victory and assist Exeter in making the playoffs or would we again suffer defeat. Going back to those defeats I still remember when we were heading to a famous victory and suddenly Gordian Murphy rose like Lazarus from an offside position to take out Ben Foden and cost us the game. Hopefully today we would see a fair result and no controversy.
Leicester won an early penalty to retake the lead and at 11-9 the game was finely balanced. Tigers again attacked, but Saints line held firm. Wave after wave of pressure and Tigers thought they had scored against the posts. TMO time and no try scrum 5. These next few minutes were to be the turning point of the game. The action was right in front of us, but I could not see the side of the scrum that was causing the referee concern. Penalty Tigers, reset, Penalty Tigers, reset, Penalty Tigers. One of the Tigers fans behind wanted a penalty try, for this at least I think the referee was spot on, the scrum was not going forward, a try was not likely to have been scored. At this stage with a final warning to Salesi what seemed like a masterpiece by Jim with a quick substitution and Denman taking his place. Penalty, yellow card and a bemused Denman walking slowly off the pitch. Having hardly had time to sit down them Salesi was back on. Not for long though another card and he was off. Saints down to 13 and then 14-9 down on the scoreboard. Maybe those who saw more or understand the scrum can comment more but something must have been happening to cause two separate props to suffer the same fate.
Anyway on with the game, Tigers unsurprisingly made good use of the two-man advantage with a try to Morris but the conversion hit the post. Saints now 19-9 down started to make some replacements. Dylan came on to the expected round of boos from the local crowd. Sir having already made the home crowd happy with two yellow cards found a way of giving them more fun by
sending Dylan back with Heywood not going off. A couple minutes later Dylan was finally allowed on to another round of boos, real pantomime fun for all. To cap it all Tigers had another penalty and it was 22-9.
With only 10 minutes left Saints needed two converted tries and some good work saw the enterprising Tom Stephenson claim one. The conversion, however, was wide and we trailed by 8 points. Attacking again with intent from deep saw the Welford Road crowd call a forward pass and time was soon up. A brave performance from the Saints 23 ending in defeat but with no injuries and we are in a good place for the playoffs.
Open to offers to stay at home next season in the hope of a Saints win at Welford Road!
Jim Says:
Alex Corbisiero Says:
James Craig Says: