News: Saints v Saracens - Aviva Semi Final Preview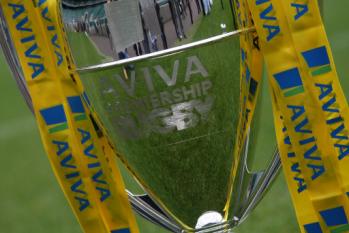 By David Lowrence
May 20 2015
"It ain't over till the fat lady sings" - Kate Smith was a large woman who was very popular as a singer in the 1930s to 1950s (Irving Berlin wrote God Bless America for her); in the 1950s, Kate had her own TV show, which ended right before the station went off the air for the night - thus, the TV broadcast day was not over until this particular fat lady sang her closing song…(allegedly!)
Aviva Premiership Play-Off
Northampton Saints v Saracens
Franklins Gardens
Saturday 23rd May 2015, 14:00
Having waited in vain for the taxi from Barnet with the League toppers cup to arrive, Saints now have to convert their league leadership into knockout prowess to secure the Championship for a second time. Even having rested players last week (much to the fury of some inconsistent media "journalists" who seem to conveniently forget the problems faced by some clubs during the Autumn Internationals and the Six Nations), the top four into the play-offs represent a significant challenge for Saints.
A repetition of last year's final pairing is set to take place at the Gardens on Saturday, with the winner facing either Bath or a resurgent Tigers at Twickenham in the final. So to the mouth watering prospect of hosting our second nearest neighbours this weekend.
In the absence of the swiftly departed Mr. Griffiths, it fell to Mr. Ashton (late of this Parish), to open the windup competition with the fatuous comment that the "pressure is all on Saints". Well, Chris, thank you your pearl of wisdom, but if you really think that, be our guest and spend the rest of the week thinking that!
I was fortunate enough to sit next to one of the players who will probably be in the 23 at the awards dinner on Monday, and we had a fascinating discussion about that attitude. Travelling the road from Clermont, where the team felt similarly, ASM have everything to lose - what a great city – fabulous stadium – gee what noise! Oh dear, what a pasting! – on to the preparation for the match at Stadium: MK where a steely grit was injected into the playing ethos, and Saints ran off 25 20 winners. Be assured Mr Ashton – a double serving of that grit has been applied this week.
Our visitors have had a mixed season, just making it into the top four, however in losing 2 more games than us, their total tries for and against and bonus point haul is very similar, showing how close this league is – there being no easy games. Perusing their board I will plump for the team posited by someone called "wolfpack" who has a visceral approach to all things Saintly
15. Goode
14. Ashton
13. Wyles
12. Barritt
11. Strettle (who will be forever in my mind be associated with his old nickname "Jennifer")
10. Farrell
9. Wigglesworth
1 Vunipola M
2 Brits
3 du Plessis
4 Kruis
5 Hargreaves
6. Itoje
7 Burger
8 Vunipola B
16 George
17 Barrington
18 Johnston
19 Brown
20 Wray
21 De Kock
22 Hodgson
23 Bosch
Not sure of Saracens' injury situation, but in any event they have strength in depth and they won't be afraid to use it.
At the Roundabout last week, a number of youngsters really put their hands up for inclusion, but I don't expect to see any of them on Saturday, because Jim likes to blood his youngsters carefully, and this and the possible final will be the responsibility of the team we have seen most of this year. Interestingly, this is the time of year when the press does its usual obsessional picking of individuals and placing them a "team of the year". Saints players (Samu excepted) are conspicuous by their absence in these teams. But we ran out top at the end of the regular season. Hmmm – could it be that rugby is a team game? Saints have "won ugly" in a number of games this season, playing poorly, but doing enough to win. That is allegedly the sign of a good team. Such "goodness" will not do this weekend. The Saracens will come here expecting a tough win and Saints must beat them and put a marker down for the final. I expect a very strong team to run out – something like: -
15 TUALA
14 PISI K
13 PISI G
12 BURRELL
11 ELLIOTT
10 MYLER
9 FOTUALI'I
1 CORBISIERO
2 HARTLEY
3 DENMAN
4 LAWES
5 DAY
6 WOOD
7 CLARK
8 MANOA
16 HAYWOOD
17 WALLER
18 MA'AFU
19 DICKINSON
20 FISHER
21 DICKSON
22 STEPHENSON
23 WILSON
I am not convinced that we will see George yet, but if fit I would see him on the bench for Tom (which would be a little unfair given the way that Tom has been playing)
Last minute news: Radio says no George this week
Nobby Says:
Stephen Says: