News: Of Gorillas and Needles - Saints 24 Saracens 29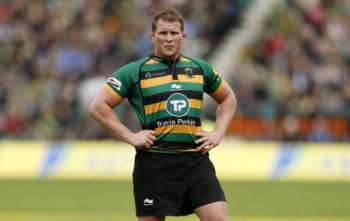 By Ben_Dover
May 24 2015
As a child I used to have a recurring nightmare, it was of a gorilla (don't ask me why!) repeatedly trying and frustratingly failing to thread a needle. It was a dream that generated that squeaky cotton feeling you get when you bite down on a ball of the cosmetic wool and if ever a Rugby match was to give an equivalent feeling then this was it.
Aviva Premiership Semi Final
Franklin's Gardens 24th May 2015
Northampton Saints 24 - 29 Saracens
With the nature of last year's Aviva Premiership final victory, Richard Wigglesworth can probably be forgiven his over exuberance in front of the South Stand when celebrating a very efficient Saracen's victory, and for this spectator it was the only tiniest taint on a day that witnessed two very contrasting styles in an absorbing contest. The North London side have worked hard to get where they are and now only have the multi-talented dust busters from Bath standing between them and the title.
Northampton? Well, they still have a week with the title in name only but can't really be aggrieved by this result, in so many aspects they actually outplayed their visitors. Yet McCall's men were always able to tighten up and shut the door just when it looked like Northampton had found a key. Their second half forays into the home side's territory and Saints indiscipline were enough to gain the vital scores they needed and stay agonisingly out of reach.
Saints have given the best account possible of themselves in their time as title holders by achieving yet another first and topping the league. They will, however, rue the one or two missed opportunities in this encounter that could have seen them progress to a third successive final. As is their current habit against Saracens they conceded early, the ball hacked down field after two minutes and pursued by Duncan Taylor, who taking advantage of the absence of Tuala entered into a foot race with Dickson, Taylor dived over the ball and flicked it straight into the arms of the supporting Strettle. Try Saracens, game over for Tuala.
The contest was underway, at some pace and backed by stomping support for both sides the vibrancy of the crowd against the pallid overcast afternoon left me thinking the game had been shortened to 20 minutes each way. Certainly Saracen's chunkier chaps looked to be blowing hard when Northampton had a period of sustained pressure in front of the south stand. Referee Greg Garner was also convinced of it and seeing Mako Vunipola struggling gave him ten minutes rest for his exertions at the maul. Northampton buoyed by Garner's act of compassion left him no alternative but to award a penalty try for their efforts. Parity restored.
Two scores on the board and then the grappling began as both sides settled from the early excitement into more familiar patterns. Saracens high accuracy kicking game was pressuring and challenging Saints to attack from deep and Saints obliging by probing and passing their way into and out of trouble. Both styles were reaping rewards. It could be argued that these two sides' complement each other, certainly recent score lines and results would suggest as such and in a pell-mell first half they could not be parted.
So now it was a forty-minute match but (perhaps vitally on reflection) Saints lost their replacement fullback Wilson to injury and Prop Alex Corbisiero to what looked like a shoulder strain that he had been carrying pretty much all the way through the first half. Certainly having to move Ken Pisi to the fifteen slot and putting Tom Stephenson on the wing didn't make anything easier for Northampton.
Saints actually edged ahead at the restart and the home crowd sensing a change of tide took the challenge vociferously to the visitors, as good a volume level as you will find in any venue. But Saracens wouldn't follow the script and as hard as Northampton pressed they wouldn't lie down. The lead had lasted three minutes before Jamie George rumbled over on the same spot the earlier Vunipola offence took place. Medicine taken, Saints reprised their campaign up the hill but not before conceding a further Farrell penalty.
Seven points in it and more success for the maul as the day's weapon of choice, Northampton in front of the old club house for the very last time, the honour was Tom Wood's. Stephen Myler's missed conversion seemed to be the chink of light Saracens were searching for and seizing on the slimmest of omens Owen Farrell added his fourth penalty to push the lead back to five. There was just some inescapable sense among the disciples that Northampton had no more get out of jail cards left for the season, and so it proved.
Never out of it Saints just could not get to grips with the fluttering coat tails of their opponents, who were just that little bit shrewder on the day, particularly at the breakdown. It happens when that one or two percent difference prevails against you. No doubt there will be many self-appointed Directors of Rugby, who will claim to know how Northampton could and should have approached the game, there was on the face of it very little that could have been changed, it has been a model campaign. Winning though is a tough game for big boys and Saracens in their persona have grown up a bit. Northampton have helped them with that.
Anyone who has ever tried to thread a needle will understand the frustration when the end of the whisper thin cotton fractures into its constituent elements and becomes impossible to push through to the other side, the only resolution is to cut the thread apply a bit of spit and start again. Northampton will redress the yarn and thread anew hopefully more nimbly than any gorilla ever will.
Jim Says:
Tom Says: