News: Samoan Saints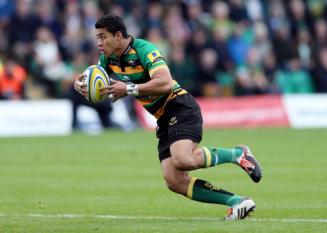 By Saint Ed
August 3 2015
As the seemingly endless summer recess meanders turgidly along, Saint Ed takes a look at our Samoan Saints and how Samoa as a Nation may fair in the up-coming Rugby World Cup...
SAMOAN SAINTS
"Thank goodness we weren't playing all of Samoa" quipped a local after Wales lost to Western Samoa at the Cardiff Arms Park in 1991. In 1995 that team became Manu Samoa and this year in assembling a training squad to overshadow even Stuart Lancaster's squad Stephen Betham's 58 man wider training group look to have taken seriously the idea of getting "all" of Samoa involved. Looking at the talent dispersed through the Aviva Premiership, Top 14 and Super Rugby you can see why Betham would want to give as many players an opportunity as possible.
Included in the initial training squad are Northamptons very own Fab four of Saintly Samoans; Kahn Fotuali'i, George Pisi, Ken Pisi and Ahsee "Ace" Tuala. Betham will be looking for a continuation of the Pisi brothers excellent attacking play when they join up with big brother Tusiata in the camp. George in particular was instrumental in upsets over Australia in 2011 and Wales in 2012 and his eye for the try-line will be invaluable even as his ear is distracted by younger brother Ken calling for the pass. Kahn will boss his pack and provide vision and a running threat as he has done for Saints all season whilst opposition lazy in securing their own ball will find that he's quick as a seagull on a chip at the breakdown! Ace will be looking to add to the first cap he gained in a victory over Canada last season and having found the fitness and form that resulted in Jim selecting him to start for Saints at the end of the season he could well make a strong case for inclusion in the final squad of 31.
Both talismanic Brian "the chiropractor" Lima and ex-Saint Pat Lam have been a while retired but the Samoan team is not one lacking in experience or physicality. Diminutive dynamo David Lemi demonstrated with his brace of tries and assists in the Championship finals that Samoas evergreen captain still has the pace and vision to take defences apart. Alesan Tuilagi and Logovii Mulipola remain two of the best practitioners of the Samoan side-step in the world. Add to that Sinoti Sinoti whose terrifying acceleration, step and ability to wrench himself out of enveloping tackles found him a place on the wing in most papers Aviva Premiership team of the season and you have a very compelling team. That's before you come to get to the experience of Daniel Leo, Sakaria Taulafo, Ofisa Treviranus and Joe Tekori or the prodigious talent of Chiefs utility back Tim Nanai-Williams who qualified for Samoa this season via the Samoan Sevens team. It's a team with huge potential and fewer obstacles than normally face the Samoan team.
Traditionally one of Samoa's problems has been the limited time the team gets together prior to International fixtures but this year there is a welcome change. In total Samoa have six fixtures before they play their first pool game of the RWC including a historic visit by the All Blacks to Apia in July where the challenge of the Haka will be met by the Siva Tau in an International between the two teams on Samoan soil for the first time. After that game Betham will select a 31 man squad for the RWC who will play four games in the World Rugby Pacific Nations Cup and one against the BaBas at the Olympic Stadium in London. After that Manu Samoa will be ready for pool B group stage of the RWC.
The first group game has the feel of a Manu Samoa vs Samu Manoa affair. Hopefully no friendly fire incidents in this game in which ex team-mates will get a taste of what Saints opposition normally have to cope with. The teams will be familiar with each other from the World Rugby Pacific Nations Cup fixture two months earlier. Unfounded rumours suggest the combined Saints BMX crew will give a demonstration of skills as the half time entertainment.
It would event as seismic as their 2011 pre RWC win over Australia if Samoa were to beat South Africa in Birmingham in their third group game. That they finally have an equal number of rest days to the tier one Nations will help. Expect Eli Fuimaono-Sapolu to fire off twitter Exocets if Samoa suffer a similar refereeing performance to that of Nigel Owens in 2011. A number of the players from 2011 including Fotuali'i and George Pisi will need every bit of skill and experience if Samoa are to record their first win over South Africa.
With all four Saintly Samoans starting in the victory over Saracens at the Milton Keynes "home" game back in April the club can claim to have sorted Samoa a home fixture for their third pool game against Japan. Eddie Jones and Steve Borthwick will no doubt surprise some this autumn but whilst Alesana Tuilagi may be a yard slower and a bit heavier than in his prime he is still capable of giving the Cherry Blossoms the sort of fright they last had when Godzilla surfaced in Tokyo Bay.
The final group fixture and another potential "home" game against Scotland at St James Park. With the Falcons own Fab Four; Kane Thompson, Anitelea Tuilagi, Alesana Tuilagi and Sinoti Sinoti in contention hopefully the Newcastle faithful with make their way down from Kingston Park in support. Samoa currently stand one place above Scotland at ninth in the World Rugby rankings and will hope to build on the impressive win over Scotland in Durban in 2013. The St Johns Ambulance have advised travelling supporters who wish to embrace the local habit of displaying their naked torsos that Samoan blue is a tolerable shade for your bare skin but Scottish blue will necessitate you being defrosted in the morning.
Qualifying from the group would see Samoa at Twickenham facing one of England, Wales or Australia. If England meet Samoa in the quarter-finals then I hope for a repetition of one of the defining moments of last season in the Autumn Internationals where the English players joined the Samoan players together in a huddle at the end of the game in a mark of respect and also maybe one of solidarity for the struggles the Samoan players face with their own Union. It was a gesture that reminds us what rugby is about as a sport and community. If England and Samoa are in separate quarter-finals the road to an England vs Samoa RWC final would be well and truly open!
Come On You Samoans!
Manu Samoa fixtures:
Samoa vs New Zealand All Blacks - 8th July 2015.
World Rugby Pacific Nations Cup.
USA vs Samoa - 18th July 2015.
Fiji vs Samoa - 24th July 2015.
Canada vs Samoa - 29th July 2015.
Samoa vs ? - 3rd August 2015.
Barbarians vs Samoa - 29th August 2015.
RWC 2015
Samoa vs USA - 20th September 2015.
South Africa vs Samoa - 26th September 2015.
Samoa vs Japan - 3rd October 2015.
Samoa vs Scotland - 10th October 2015.