News: A Week In The Life Of A Rugby Club Chairman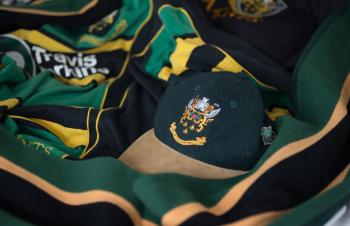 By Connorman
September 9 2015
In another of our continuing series of Summer Articles, Connorman gives us an insight into the life of a rugby club chairman...
A Week In The Life Of A Rugby Club Chairman
No, we're not talking Tony Rowe, Peter Tom or our own Tony Hewitt.
I am talking about the role of chairman of a junior rugby section of a local rugby club: the challenges, the tasks and, yes the rewards (not financial, I hasten to add) of being a volunteer at this level of our game.
There's a very old saying, "it start when you sink in his arms and ends with your arms in his sink".
You fall in love with the idea of your son/daughter playing rugby as a tiny mini, turn up, watch from the touchline, then get involved a bit, take some courses, get CRB checked, start coaching, go to a few meetings and suddenly there you are at the AGM accepting the role of vice-chair for the next two seasons before taking over as chairman – like the once love-struck lady now pulling on the marigolds - how the hell did that happen???
Well, it's called Doing Your Bit.
Here's what the players and parents experience:
Sunday morning
About 10am players and parents start arriving at the club. Head for the bacon rolls, coffee whilst the youngsters put on boots, lose, find and lose again various bits of kit. Then head upstairs to the club shop to buy a new gum shield plus a nice club-badged hoodie for Mum.
Watch the kids train or play from 10-30 to midday then go to the bar, have a couple of drinks chatting to friends before heading back home to a leisurely Sunday roast about 2pm.
Perfect – another Sunday morning with friends, enjoying good company, with the children getting excellent coaching in a sport that engenders the qualities and principles you want your kids to believe in: Teamwork, Respect Enjoyment, Discipline and Sportsmanship.
And for the junior players, let's say from U14 onwards, the chance to play representative rugby for the Alliance, East Midlands, Midlands and even England for those very special players (boy and girls). Or to get into the Elite Player Development Group at the Saints.
So, all good, but does that just "happen"? Hmmm… here's what a week in the life of the club chairman might look like…..
Sunday morning (the reality)
10am? Dream on. You get there about 8-30 to open up the clubhouse, the changing rooms, the bar, the kit store. Get the water heating for the tea urns as they take so long. Don't forget to leave the money box with a suitable float for the bacon duty. Oh, and open up the tuck shop for the girls who run that, selling sweets for the little ones.
Then up to the club shop to open up. Lay out the tables and chairs for the post-match meals in the clubhouse if there's a junior game being played (minis have hot dogs only) and put the notices on to keep them clear for the players.
Argh! Forgot to write the pitch layout up on the blackboard, showing where each age group is, who's playing on which pitch, which changing rooms are allocated and a welcome message for the away U16 team coming from Huntingdon.
By now coaches are arriving and asking where they are allocated – err… try the blackboard? Or asking which changing room they are in - err… try the blackboard?
OK, now it's 10-30 and training starts, matches at 11am, so some time to watch your sons playing or training. But not too much time, as someone from the bar comes up to say the electricity has cut out – that fuse box is a real pain – must remember to let the senior club secretary know.
Midday and time to check the bacon/tea stuff is all cleaned up and put away (the parent volunteers are great) and collect the cash.
Then up to the bar where ten people want to ask questions – where's the CRB form for our new coach? Can we switch an away game next week to home? We've run out of first-aid supplies….
Finally, about 2pm, have a few beers, natch, and head home for that Sunday roast…
After lunch, count the cash, noting the takings and put it safely away to give to the treasurer during the week.
Sunday evening
Start planning the week ahead – some notes on the matches today ready for the mid-week email to everyone about last week/coming week. Complete the M&J report for the Senior club monthly exec on Wednesday.
Monday evening
There's an East Midlands competitions meeting at another club to discuss and then make the draw for the next season's competitions. We have an external rep on the committee but most chairs make the effort to go themselves too – keeps you informed of what's going on at other clubs – a chance to natter and catch up and also have views on how the competitions are structured and run. Leave home about 7pm, back about 9-30pm. (a few beers, natch)
Tuesday – free evening!
Wednesday
Senior club executive. Discussing mainly the seniors, but need to present progress at the M&J – results, numbers, finances – anything of interest really. Again, great opportunity to liaise with senior club – talk about pathways from U16s into Colts – talk about 1st team players coming down on Sunday mornings to work with junior age groups – skill clinics etc. Oh and remind the secretary about that bloody fuse that keep going on Sundays. Leave about 7-30pm, back about 10pm (a few beers, natch).
Thursday
During the day, on way back from work, drop the cash to be banked into the treasurer. Evening, write the email to the coaches, coordinators, execs from M&J and Senior, other interested parties (a d-list of about 50 or so) – that tells everyone what happened last week (congratulations to the U16 girls who won away at Worcester and the U9s who won the Kettering festival) and gives some pointers to what's happening this week (pitch allocations, bacon duty, meals for post match) plus a good luck message to the U15s for their EM Cup game v Scouts and an ask to everyone to get along on Saturday to watch the 1st team in action in a league-decider – promotion at stake!
Friday
M&J exec meeting. Lots to discuss. Need to buy new playing shirts at small sizes – authorise the expenditure. Also need a new bacon griddle - £200! Finances look OK, though. Girls need support for travel costs – they tend to play much further afield to get games and costs rise – can we as a section afford to make a contribution? Well, we want to support the development of girls rugby, so yes. Back home about 10pm (a few beers, natch)
Saturday
Saints! (and a few beers, natch)
Sunday morning……………here we go again!!
Of course, there's coaches annual dinners, end of season awards, club annual dinners, VPs lunches, Saints EPDG evenings, discipline hearings (oops, red card in an U16 game) and so it goes on.
So, it often felt like another job, but the rewards? Plenty. Awesome support from everyone – fellow committee members, kit shop volunteers, bacon duty volunteers, first aid volunteers, age group coordinators, coaches and of course, at the heart of it all – the players. Giving their all for the shirt. Playing to the best of their ability, whether that's only ever going to be mini and junior rugby or playing for the 3rds, or the 1st team (75% of our 1st team come from M&J) or playing representative rugby. And just now and again, a superstar – a Tom or a Howard or a Rotimi.
A week is a long time in politics – it flies by as a rugby club chairman (with a few beers, natch).