News: (F) Saracens vs Saints - Saints Away (S)trip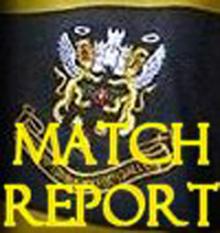 By SaintED
September 28 2015
Whilst many eyes were on the Rugby World Cup at the weekend, Saturday saw Northampton Saints turn out for the first time in the new term, travelling down to Allianz Park to face Saracens in a pre-season friendly. SaintED (Martin to his mates), took in all the action...
SARACENS vs NORTHAMPTON SAINTS
PRE-SEASON FRIENDLY
Northampton's Away (S)trip
Shall I compare thee to a summer's day?
On mine eyes you no longer grate.
With your skies of blue and grey,
This first win your colours commemorate.
With apologies to Will.
You can plan for all sorts of eventualities when going to the rugby. For the missed travel connections, for losing your tickets, for going to the wrong venue, for the peckishness that you get during the halves and most importantly for the weather. So it is always a joy to stow your gloves and waterproof under your seat and sit back and watch the rugby on a truly glorious day. In block 5 of the east stand bang on the halfway line I found myself in an almost perfect position. Bathed in sunlight, tantalised by the waft of the burger van upwind, a pint of beer in my hand and a view onto a field of green, black and gold Saints support in the west stand.
Northampton came with a plan too. With a starting XV not far off the level you'd expect to see in an Aviva Premiership game from the outset they looked to control the set piece, run forwards round the corner and move the ball when the spaces came … and they did. In contrast Saracens seemed determined to put the ball up in the air, a ploy that worked to a degree but missing the accuracy of the first team was a less successful overall.
Some strong direct carrying from a scrum in Saints half then quick hands and a crisp pass from Dickson for a step inside and great finish from Packman started the match off well for Saints. Myler failed to convert and within a minute Ash had sprung high to reclaim the the restart and scored an excellent try of his own to bring Saracens right back into the game.
Foden looked positively piratical and whilst both he and Ace struggled to get involved his first couple of runs were incisive and positive. I really hope 2015/16 can be his season.
A collision of heads between two Saracens players left both stunned and as Saints worked the ball back to the space on the left where both were still prone Garner rightly called for a stop in play. Fraser was one of the injured and was duly despatched to the sideline for a concussion test. Saints were starting to get traction in the loose with the forwards Dickinson and Fisher in particular carrying well. A lovely pop pass from Clark found Hartley coming at a great angle but unfortunately the hooker spilled the ball.
Saracens were kicking rather than running much of their ball and whilst Saints were secure under the bombardment on a Saints kick chase Collins took Morris in the air and Garner was quick to show him a yellow card. Thankfully Morris seemed just winded and returned to play whilst Collins went to the naughty step for ten. Spencer duly slotting a penalty in his absence. Collins made amends on his return. A lovely break from Stephenson and a sweet pass that brought Packman within a foot of the line. Saints recycled with great speed and composure and the ball was whisked to the left wing where Collins strolled in.
Throughout the first half the scrum looked stable but not comfortable with Dickson frequently having to dig ball out in one occasion going both left and back right evading tacklers on both sides before getting away a pass to Myler to clear. Houdini would have been proud of our new Captain.
A loose pass from Kerr was plucked form the air by a very sharp Burrell who raced to the line. Myler converted from in front. Within ten minutes a flat pass from Myler left Strether grasping as Burrell took a hard line straight through the Saracens defence to claim his second. Myler doing his best impression of teutonic efficiency minus the dodgy emissions reader and claiming the extras.
At half time Saints were two clear scores up leading Saracens 26 to 10. Fraser had come back on and gone off immediately to get a blood injury sorted. He stayed off which was hopefully just a precaution as it was great to see him back. At this stage both benches started to empty although somewhat confusingly players retained their XV numbers.
Hanrahan came on for Myler and made an immediate impression with a well struck penalty and a pass so far forward I expect it to land later today. Within minutes young tighthead Hill rampaged up field showing not only decent speed but a good fend. This was followed by another good carry by Haywood but whilst Saints were making ground some small imprecisions handed possession back to the opposition. Saracens worked their way upfield cumulating in Wray picking and driving over the line. Kerr added the extras from in front.
Hanrahan was starting to make inroads on the Saracens defence. Challenging the line in a different manner to Myler and eventually working the ball out wide to Packman who brought the ball close. It was efficiently recycled once again and moments later a delighted Gibson crashed over for his first full Saints cap and try.
On the 60th minutes both benches emptied and whilst the play was back and forth there were no further scores. Waller Junior executed a great turnover with Saracens in an attacking position, replacement lock Woolford was exceptional calling the lineout, soaring in the lineout, putting great pressure on Saracens and stealing their ball near our line. Howard came one and put in the sort of juddering tackle that in a cartoon would have resulted in a little ghostly version of the player floating off to heaven.
The game ended 17-36 with Saints looking comfortable throughout. It was a strong starting XV and whilst both teams are missing players to the RWC it was clear this had a greater impact on the Saracens team. With five tries to two the result was a fair reflection of the game.
Saints played well and it was a good first hit out. Our lineout was exceptional and whether it was Hartley to Day and Gibson or Haywood to Woolford and Ludlam it looked rock solid and a real weapon. Gibson was my Saints MotM. Great lineout and defence and the spoiling work that has plagued us when he was at Tigs was a real boon. The backs looked composed under the high ball and sharp in attack and it was interesting to see the difference Hanrahan brought to the attack. A good game for Burrell to who made his tackles, carried hard at the midfield and was well worth his brace of tries.
Overall a beautiful day and as alluded to above the sky blue and (a little) grey or our away kit was mirrored in the skies above. The Saints travelling support was phenomenal as always with the north end of the west stand being in especially fine voice. It was also great to meet Highbury Saracen and his friends and Joes excellent drumming really added to the occasion. I could see X-block-Dave snapping away so fingers crossed for some photos and one of his fantastic cartoons.