News: ERCC: Racing 92 vs Northampton Saints - Match Preview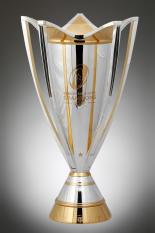 By HRsaints fan
December 10 2015
Northampton Saints travel across La Manche this weekend to take on Racing 92 in a vital European Rugby Champions Cup match. Esteemed COYSDC contributor, HRsaints fan (David to his mates), takes a comprehensive look ahead to the game...
RACING 92 vs NORTHAMPTON SAINTS
ERCC: Saturday, 12th December 2015 - 3.15pm (BT)
Stade Olympique Yves Du Manoir, Colombes
MATCH PREVIEW
The club rugby version of "Le Crunch" has arrived and the start of back-to-back games for Saints against Racing 92 in the European Rugby Champions Cup. The outcome of these two games will, in all likelihood, determine the winner of Pool 3 and we start with an away fixture on a Saturday afternoon – yes folks – somewhere in the northern hemisphere they still do play games of rugby on a Saturday afternoon.
Perhaps starting away for the first of these two games might suits Saints although memories of a shocking 2 minutes during last season's ERCC Round 1 fixture away at Racing will still be fresh in the mind, as a game we should have at least drawn was subsequently lost without any points whatsoever. There then was the Round 6 return fixture at Franklins Gardens which, every time I think about it – which isn't often – I develop a pronounced nervous twitching in my right eye.
Racing have started their domestic season very well, and only got toppled from the dizzy heights of leading the Top 14 league following last weekend's Round 10 games. Due to the size of the French Top 14 league their games started whilst the Rugby World Cup was still being played. This may have produced some distorted results including, for our opponents, a win from the first game of the season away at Toulon which they probably did not expect.
So Racing has played ten games thus far, winning seven of them, drawing one and losing two. Their last game was away to Pau who, up to that point, had lost six of the nine games played. The result – a 15-15 draw – probably had quite a lot to do with the fact that only six of Racing's players that had taken part in the result away to Scarlets in the ERCC were selected for that game; so on that basis I think we can expect a very different set of players lining up against Saints on Saturday including a certain Dan Carter – fresh from his deserved receipt of his World Cup Winners medal.
Interestingly the talk about Dan Carter at the moment revolves around the fact that he speaks hardly any French, and the Racing coaches (and many of the players) speak very little English. When Jonny Wilkinson arrived at Toulon he did so with a passable amount of French and so this made his transition quite smooth. As I think the Racing coaches will not be able to resist starting Carter one can only hope that there are communication problems all over the place – although the language that Carter excels at – rugby – is one in which he is utterly fluent.
This is not the first home game for Racing since the atrocities that took place in Paris on that dreadful night of Friday 13th November, but nevertheless those events are still - and should rightly remain for some time - fresh in everyone's memories. When I read some of the spats that rise up for time to time on this Forum I think we all need to remind ourselves that Rugby is only a game; one that we love and one that we are all passionate about but, when put into context of what is going on in this worrying world of ours, still only a game. The great thing about sport though, and rugby in particular, is its ability to cross national and cultural boundaries and to be something that all, regardless of race, colour or creed, can enjoy. I am sure this will be the case come Saturday in Paris.
As for Saints we sit proudly atop ERCC Pool 3 although primarily because of the cancellation of Racing's game against Glasgow that followed black Friday in Paris. Saint's form has not been something to write home about but we have won all four games that have taken place since the start of the ERCC (two in that competition and two in the Premiership) scoring 69 points and conceding 40. Saints have not set the try-scoring world alight with these performances but, far more importantly, there has been a growing return of confidence throughout the team. Tries will come I am sure, but at the moment the good news is that we are proving to be a very hard nut to crack for opposition teams.
We also need to remember who we are missing; an injury list containing Dylan Hartley, Alex Corbisiero, Tom Wood, Courtney Lawes, Calum Clark and James Wilson is certainly one that would affect many teams. Nevertheless the performances of those who have stepped into those exalted boots have been very heartening. There is talk in the camp that Courtney will be in the mix for the Racing game but not Tom or Dylan, and we know that Calum and James will not be playing until next year. The news that Alex needs an operation on his knee is not good for him or for Saints, and I for one wish him a speedy recovery and return to first team rugby.
Racing is undoubtedly a strong overall unit and I think that Saints set-piece game will need to be at its best as the French teams (and spectators) also prize, and appreciate, a good set piece. Encouragingly, despite the aforementioned poor form at the start of the season, what has been working extremely well is the Saints set-piece. When Dylan has previously been unavailable there was always a concern that lineout throwing was not the strongest part of Mikey Haywood's game. Not anymore. I don't know the statistics but I do recall a comment from the television broadcast of the Bath game that our lineout was one of, if not the best in the Aviva Premiership.
And then there is the scrum. I have to confess complete ignorance of what goes on in a scrum having been a winger in what I euphemistically like to think of as my playing days. I am, of course, one of the loudest to disagree with a referee when our own scrum is penalised (just out of habit really!) and also one of the loudest to cheer when the whistle goes our way (regardless as to whether or not I understood what the decision was for). But I found David Flatman's television commentary on what was going on in the scrum down at the Rec last Saturday very helpful and illuminating. Mr Flatman, despite being asked to be an expert pundit on a game featuring a team that he played 161 times for over a 9 year period was, in my opinion, very even handed and fair in his comments. I would hope that Mike Ford took time to listen to what Flatman had to say because that way he might learn how a scrum should work and why his team in particular were penalised.
However for the team this coming Saturday I would expect to see some changes from the players that ran out against Bath last weekend. There are some great match-ups around the pitch. I think Stephen Myler will start even though JJ was excellent against Bath, and Stephen will no doubt relish playing against Carter. George North will have his hands full of Rockoco (so to speak) and I think that Jim will start with Victor Matfield for his big-game experience, general rugby nous, and to counter Luke Charteris. One player we thankfully won't have against us is last year's man of the match - in our home game against Racing - Jamie Roberts who is now plying his trade with Harlequins.
This is going to be a step-up for Saints although going away to Bath last weekend was really good preparation. I do not expect Saints to throw it around, but I do hope they keep hold of the ball for longer periods as, in that Bath game, there were some signs of the return of the running rugby and off-load game that we all know Saints can play. On the other hand (and I'm covering all the bases here) we may approach Racing with a quite narrow game plan that would be intent on quietening the partisan, and noisy, Parisian crowd. I also think we are going to be looking to slow them down at the breakdown – legally of course – and to that end I think we could see the pairing of Gibson and Harrison start again, as they did against Bath, as they gelled very well in what was their first outing together and their speed to the breakdown was a constant thorn in Bath's side. The team also needs to be extremely mindful about penalties especially when the posts might be in range of Mr Carter's left boot.
So on this basis the Saints team selection might look a bit like this:-
15 Ben Foden
14 Ahsee Tuala
13 George Pisi
12 Luther Burrell
11 George North
10 Stephen Myler
9 Lee Dickson
1 Waller (A)
2 Mikey Haywood
3 Keiran Brookes
4 Victor Matfield
5 Christian Day
6 Jamie Gibson
7 Teimana Harrison
8 Sam Dickinson
and a bench of Waller (E), Hill, Williams (if not still injured), Courtney Lawes, Michael Paterson , Kahn Foutali'i, JJ Hanrahan and Jamie Elliot.
This is going to be tough, and with Racing getting a try-bonus in their first game against a desperately poor Scarlets (in the first half of that game at least), we will need something from this game. Despite knowing how difficult it is to beat French teams on their patch, I think Saints have the capacity to upset Dan Carter's debut game. My heart says that we could sneak a result here, but my head is making an ever-louder noise that this is unlikely. If we do lose then it will be very important to limit any damage – i.e. no try bonus points for them and a losing bonus point for us as I think a point here or there could prove very important come the conclusion of the Pool games.
For all those who are travelling have a safe and enjoyable time and I am sure that the Racing crowd will be delighted that this game is going ahead after all of the recent troubles and so you will all get a very warm welcome (unless we win of course!!!).
And whatever happens just remember to…
KEEP CALM, IT'S ONLY A GAME!
COYS