News: Reflections on Saints Friday Draw with Racing 92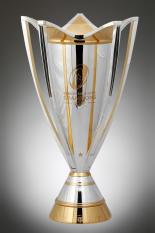 By Stockers
December 21 2015
After a little bit of a drubbing in Paris, Northampton Saints welcomed Racing 92 under the floodlights to Franklin's Gardens on Friday evening in Round Four of the pool matches in the 2015/16 European Rugby Champions Cup. COYSDC editor, Stockers (Jonathan to his mates), reflects on an absorbing match...
EUROPEAN CHAMPIONS CUP, ROUND 4
Franklins Gardens, Friday 18th December 2015
By Jonathan Stockham
Northampton Saints 9 - 9 Racing-92

Sport is curious, challenging, frustrating and sometimes bewildering. It makes us smile or weep, shout in sheer anger or wonder what the hell just happened. Yet, no matter what feelings we're left with after taking part or watching from the stands and terraces, sport mostly keeps us coming back for more.
Seasons of exhilaration and triumph have the unhappy and sometimes inevitable knack of being followed by the bewilderment of mediocrity, the truth that when at the top of the game, there is only one way to go.
We see it in so many sports. McLaren and Red Bull must wonder why even being average is just such damned hard work after years dominating Formula 1. Chelsea FC have seen the "season after effect" do for one of the most highly rated managers in world soccer only half a year after being top dogs in England.
So with Saints. Two seasons of being at the top or thereabouts count for little in the harsh and demanding reality of professional rugby when results don't happen, when tries can't be bought even if fat brown envelopes of cash were offered to the Gods of Goals. Yet, we fans keep hoping, keep supporting and keep turning up in anticipation of an opening of the flood gates of points. It can only get better. Can't it? Please say it is so.
Tick tock, tick tock.
After the humbling of last week's defeat at the hands of Dan Carter and a few mates in Paris, many Saints fans may have expected another one sided match, another opening of flood gates painted in the Ciel et Blanc of Racing-92. Instead we got a rather lack lustre and error strewn affair which ended in a low scoring draw.
I hate draws. Neither one thing or the other. So close and yet so far. But there can sometimes be a moral victory and it was Saints who claimed it at the Gardens on Friday night.
A more physical forward effort and aggression over the ball at the breakdown gave better go forward against a much quieter Racing. The double threat of battering rams Masoe and Tameifuna was much less in evidence with Saints having more possession and attacking presence for the Parisians to contend with. For yet another week, Teimana Harrison, deservedly voted Man of the Match, showed what a proper open side flanker could and should be doing. Tackling, jackalling and generally being a nuisance to the opposition. Budge Pountney would have been impressed and the watching Eddie Jones must have been checking out T's qualification for England on residency grounds. No need to import some tubby bloke from Toulon!
Such was the improvement in Saints' play that Racing, who never really threatened the home try line, will have headed for home with a sense of disappointment. In fact, the closest to a try being scored came from a charge down of the usually impeccable Dan Carter's in-goal clearance kick. George Pisi got his finger tips on the ball which ricocheted to Jamie Elliot 5 metres out. Unfortunately, 2 rather chunky Racing defenders were lurking nearby and Elliot, winning his 100th cap on Friday, was held up over the line. Other than that, it was 3 penalty kicks each for Carter and Stephen Myler.
The battle at the set scrum was fairly even although Saints probably just shaded it when it mattered. Worryingly, tight head Kieran Brooks departed early in the second half with a strained knee. Paul Hill deputised very effectively as usual. Promising youngster Victor Matfield, possibly the most "on brand" player to ever grace The Gardens turf, put in a big shift and Sam Dickinson carried and harried all night. All of the squad had better games than in Paris and it could have so nearly been a home win for Saints.
I hate draws.
TEAMS
NORTHAMPTON SAINTS: Foden; Elliott, G Pisi, Burrell, North; Myler, Dickson (capt); A Waller, Haywood, Brookes, Lawes, Matfield, Gibson, Harrison, Dickinson
Replacements: Williams, E Waller, Hill, Day, Paterson. Fotuali'i, Hanrahan, K Pisi
RACING-92: Dulin; Rokocoko, Laulala, Chavancy, Imhoff; Carter, Phillips; Ben Arous, Szarzewski (capt), Tameifuna, Charteris, Van Der Merwe, Lauret, Nyanga, Masoe
Replacements: Chat, Brugnaut, Gomes Sa, Carizza, Claassen, Machenaud, Goosen, Andreu
REFEREE: Nigel Owens, WRU