News: ERCC: Northampton Saints vs Glasgow Warriors - Preview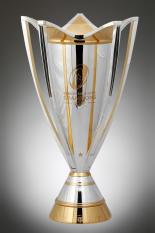 By HRsaints fan
January 14 2016
After a narrow loss to Leicester Tigers last time out, thoughts return to the European Rugby Champions Cup this weekend with Northampton Saints welcoming Glasgow Warriors to Franklin's Gardens under the floodlights on Sunday evening. Esteemed COYSDC contributor, HRsaints Fan (still David to his mates), takes a comprehensive look ahead to the game...
NORTHAMPTON SAINTS vs GLASGOW WARRIORS
ERCC: Sunday, 17th January 2016 - 5.30pm (BT)
FRANKLIN'S GARDENS, NORTHAMPTON
MATCH PREVIEW
Is it just me or does this season seem relentlessly fast? The late start of the Premiership due to the Rugby World Cup must be part of this, but it seems that no sooner do we draw breath from the weekly onslaught of Premiership games (and it particular That Derby) we are then thrust into the hurly-burly of the final pool stages of the European Rugby Champions Cup.
Of course in my case it could just be old-age.
Psychologist William James, in his 1890 text Principles of Psychology, wrote that as we age, time seems to speed up because adulthood is accompanied by fewer and fewer memorable events. When the passage of time is measured by "firsts" (first kiss, first day of school, first holiday etc.) the lack of new experiences, James morosely argues, causes "the days and weeks to smooth themselves out…..and the years to grow hollow and collapse".
Well that cheered me up no end………..
The other problem with this current season is that I am all out of sync with where we normally are in the scheme of things. For example this time last year we were already through 13 of the 22 rounds of the Aviva Premiership, and, having already suffered the disruption of the Autumn Internationals, were now looking forwards to the mess that is caused by the Six Nations. So save only that the Six Nations is looming large on the horizon, things are quite different this particular season.
In terms of drawing breath, I don't know about you but I found it very difficult to look back objectively on the East Midlands derby last Saturday. The Tigers fans reckon that everything that happened on the pitch was either down to them being brilliant or rubbish, or the referee's decisions – no mention at all about Saint's performance. On this board there has been much discussion about our own performance and that of the referee. The reality of the situation for me was that for 23 minutes Saints were not at the races and, because of that, we shipped three tries to Tigers; however for the remaining 57 minutes the Saints emerged as the better team. Indeed the interception try came about precisely because of the excellent suffocating Saints defence which caused Tigers to completely run out of ideas after numerous phases of play. And yes Mr Barnes - That Try was a try. If that type of tackling is illegal, then you can write off Rugby Union as a contact sport.
Oh and another thing I must get off my chest. Reading the Sunday Times the day after the game I read just about the shoddiest piece of sporting journalism I have come across for a very long time from a certain Mr Martin Johnson. Let me enlighten you with some cracking examples of a man at the very forefront of journalistic skill:-
"…with just six seconds of playing time left on the clock, referee Wayne Barnes blew for a penalty on the former Tigers flanker Jamie Gibson right underneath the posts...."
"Ten minutes into the second half Saints looked to have snatched the lead with a second try from Harrison, who stole a loose ball and ran in from 10 metres. But Barnes had spotted something in the build-up, and after calling the TMO, the big screen flashed up a replay of the Tigers right wing Peter Betham being tackled around the windpipe by Luther Burrell. No try, penalty Tigers".
I was reminded when reading this of the words of the immortal Victor Meldrew "I don't know what language you are using but I think it is b****cks". God help us if Mr Johnson was ever required to report on something that was more important than a game of rugby.
Anyway, enough said. Let's turn our attention back to this season's European Rugby Champions Cup.
Looking at the Pool tables makes very interesting reading as we approach the last two rounds especially as the previously postponed games have now been completed and everything is now evened up. It is quite difficult to estimate who is going to come out on top of Pool 2 (where Ospreys, Clermont and Exeter are fighting it out) and Pool 5 (where it is between Wasps and Toulon). It does not take too much crystal-ball gazing to deduce that Saracens are probably going to top Pool 1 along with Racing in our Pool and Tigers in Pool 4.
So that leaves the three runners up spots. At the moment it looks to be a punch-up between Ulster in Pool 1 (the only Irish team still with a chance of qualification after their excellent second-half performance away at Oyonnax), Ospreys, Exeter and Clermont in Pool 2, Saints and Glasgow in Pool 3, Stade in Pool 4 and Wasps or Toulon in Pool 5. Perm three from eight.
What does become clear is the need to secure those all important bonus points (not the losing versions though). If Saints were to beat both Glasgow at home and Scarlets away but not get any bonus points in the process, then that would secure 18 points but I don't think that would be enough to get one of the runner's up spots. Glasgow have an even bigger mountain to climb in that they currently sit third in the table one point behind Saints, but their last game of the group is at home to Racing, and we know from bitter experience how difficult that game could be. Obviously if Saints win this coming Saturday then Glasgow cannot qualify no matter how the result of their last game goes. I'll stop woffling on about the various permutations but suffice to say that there is a lot riding on Sunday's game for both Saints and Glasgow.
What of the form of both teams coming into this fixture?
Glasgow – the reigning Pro12 Champions – is having a rough old season. They currently sit 8th in the Pro12 table having won five of the ten games played, and with a minus 1 points difference. And their form has not been helped by losing the 1872 cup to Scottish rivals Edinburgh. So the loss at the weekend to Racing means that our visitors on Sunday afternoon are on a three match losing streak. Nevertheless they have not become a bad team overnight, and as the game against Racing showed, they can be very dangerous when they seek to move the ball out wide. Their problem lies with their pack who, to my mind as I watched the Racing game on TV, was out-muscled for most of the match even though Gregor Townsend stated after the game that he thought the pack "was outstanding". It is true that Racing only secured their fourth, and bonus point, try in the last minute of the game. Nevertheless inasmuch as Glasgow's hopes of a quarter-final place in the ERCC rest not only on beating Saints away and Racing at home but also they must secure a try-bonus in both games, I think that Sunday's encounter could be quite interesting!
For Saints the situation is marginally better with the last three games being one win and two losses. Quite how Saints contrived to lose to London Irish is still a mystery – although all due credit to the Irish for that performance. And, curiously, I do not think that Saturday's loss against Leicester will have a negative effect on the team at all, primarily because of the manner in which Saints played for almost three quarters of the game (see the longest paragraph in this Forum's history from Garracc for a really good review of the game – sorry mate – couldn't resist it!). The home form also needs to be taken into account where the only team to beat us at Franklins Gardens this season was Saracens (crickey that seems like a long while ago – back to the old age issue perhaps???).
Even though there is a continuing list of injury concerns, Saints - despite not finding the free try-scoring momentum of last season – are still in the hunt on both the domestic and European fronts.
In terms of league form we have lost more games than we would like and by the smallest of margins (hence the 5 losing bonus points). We current sit 5th in the table although there is still a long way to go. At the same stage last season (albeit in November rather than January) the 5th placed team was a certain Leicester Tigers who sat on 25 points (as compared to our current 22 points). And, as I am sure all of you will recall, it came down to the last round of the regular season when Saracens pipped Exeter to the fourth play-off place by dint of having lost fewer games (7 to Exeter's 8) and then went on to win the thing. So, dear friends, all is not lost by a long way.
Saints European form has been better although the performance away at Racing was particularly disappointing. I think we were unfortunate to meet them on the day of the debut of Dan Carter which undoubtedly had a very positive impact on their squad as a whole. They certainly were not as good against Glasgow last weekend as they were against Saints before Christmas.
But if my permutations are correct, then Saints, like Glasgow, are going to have to get a try-bonus point in both the remaining pool games and that will not be easy at all. It is not beyond us, but it will require a greater level of handling dexterity and three-quarter movement than we have seen this season unless, of course, the forwards decide to take matters into their own hands!
For the team selection I think we will see some changes from the line-up at Welford Road last weekend. Although Jim has expressed his delight at the way that George North performed at centre I doubt that he will stay there so I would expect that Jaimie might drop to the bench leaving Tom and George as the wingers. In terms of the centre pairing I wonder whether Jim might be tempted to put JJ in this slot as he does have that ability to break through opposing defences (he certainly made a very good impact against Newcastle at outside centre). I always like seeing James Wilson either in the team or in the reserves although Jim may be reluctant to pick a centre pairing that is not tried and tested. The problem, of course, has been that his tried and tested pairing of Luther Burrell and George Pisi just hasn't gelled this season, for whatever reason, and if the intention is to win but also get four tries, then he may consider a change. Although young Harry Mallinder has been warming the bench the last two games I would be surprised if he gets picked for this particular game. I think that the fly-halves will rotate again with Stephen starting this one. The front row has, due to injuries, tended to pick itself although I would not be surprised if Dylan – ribs excepting – starts this one with Mikey Haywood dropping to the bench. Victor has had a couple of run outs so I would expect some rotation here with perhaps Tom Wood starting alongside Courtney with Christian Day on the bench. Teimana Harrison is almost becoming undroppable and, similarly, Jamie Gibson – despite being singled out by Mr Johnson as the main reason that Saints lost to Leicester – has been playing exceptionally well. By the way my rugby hormones are bubbling about how a pairing of Calum and Teimana might perform on the pitch! There is still no news that Calum is available for selection though. I am still not 100% convinced by Sam Dickinson at No 8. Don't get me wrong, you cannot fault the work rate and the commitment that Sam puts in but he does seem to struggle to break the gain-line. But Jim's options here seem limited so Sam to start I think.
So here, for what it is worth – which is not a lot - is my guesstimate for Sunday's team:
15 Ben Foden
14 Tom Collins
13 JJ Hanrahan
12 James Wilson
11 George North
10 Stephen Myler
9 Lee Dickson (capt)
1 Alex Waller
2 Dylan Hartley
3 Paul Hill
4 Courtney Lawes
5 Tom Wood
6 Jaimie Gibson
7 Teimana Harrison
8 Sam Dickinson

16 Mikey Haywood
17 Ethan Waller
18 Gareth Denman
19 Christian Day
20 Michael Paterson
21 Tom Kessell
22 Luther Burrell
23 Tom Stephenson or George Pisi (depending on injury status)
First and foremost a Saints win is of paramount importance. However as I have mentioned the bonus point issue cannot be ignored. My overall feeling is that Saints will be too strong for Glasgow although I expect it to be a close contest especially if Glasgow performs as they did against Racing last weekend. I think Saints will come out on top and, depending on whether we nail down some tries in the first half, we will see if there is a push for that all important bonus point along with the win.
Saints by 10.
See you all on Sunday afternoon (Sunday afternoon? What a strange time for a game of rugby!)