News: Reflections on Saints Last Gasp Win Over Glasgow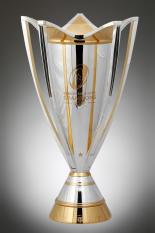 By fair_weather_fan
January 19 2016
COYSDC message-board regular, fair_weather_fan (Robin to his mates), looks back on a frustrating day for Northampton Saints as they struggled to overcome a determined Glasgow Warriors side, only taking the spoils right at the death...
NORTHAMPTON SAINTS vs GLASGOW WARRIORS
Sunday, 17th January 2016
FRANKLIN'S GARDENS, NORTHAMPTON
Reflections on Saints Last Gasp Win Over Glasgow
Sunday at 17.30 is not time to start a game of Rugby in my opinion. It seemed that most of the 14478 other souls listed as being at the game agreed, as hardly a cheer greeted the teams as they took the field for a Champions Cup game vital to the prospects of both sides.
As the game started, it seemed as though one team were interested in progressing in the competition. Glasgow Warriors were champions of the Pro 12 last season playing expansive and adventurous rugby, but they have not found their form this season and featured a XV lacking some notable names. Their fans site disconsolately listed 13 ineligible, as if to make their excuses early. However the players hadn't been informed, and set about attacking the Saints from the off, playing with every intention of keeping the ball alive, testing the Saints cover defence to the limit.
Unusually the Saints were playing down the slope in the first half, yet from my seat in the Barwell stand all I had was a constant view of wave after wave of blue shirts attacking and probing the Saints defence. However after about 15 minutes Saints won a midield penalty kicked to the corner, where after several attempts it was eventually mauled over with Teimana Harrison coming up with the ball. It looked as if an earlier prediction of a stream of mauled tries might prove correct, but Glasgow went on the offensive and camped in the Saints half for long periods. The pressure eventually told and while the Saints line held, Glasgow made enough half breaks that required slowing down at the next phase, and so three kickable penalties were won. Finn Russell made a horrible mess of the first but kicked two more to bring the warriors back to 7-6.
Saints offensively were very limited in this period. They won occasional turnover ball but for the most part Glasgow bossed the breakdown and rarely resorted to kicking the ball away. When Saints did have it, they made no progress with ball in hand with the necessary aggression required to break the gain line seeming to be completely missing. It's as if everyone is waiting for Samu to do it, having forgotten that he is enjoying better weather and better food 1000kms to the south. So Saints had to kick it away, and from one such incident Tom Collins got a knee to the head competing for the ball and was carried off after a long delay. Fortunately I can report seeing him walking around after the game apparently none the worse, but I would assume that he will be in concussion protocol now and consequently it may be some time before we see him in the GB&G again. I recall him getting injured in the same way a season or so ago, so dare I suggest that we would be better employed getting the ball into his hands?
I think every spectator in the ground must be aware that our kicking game is not a thing of beauty. It is slow and telegraphed and relies on the opposition making a mistake as the kicks are not accurate enough in any sense. It pains me to see Ben Foden, on his day one of the finest counterattacking fullbacks in world rugby, kicking the ball away. It isn't that kicking is altogether wrong, it's the lack of variation that kills us. Worse, JJ had a nightmare kicking from hand with restarts out on the full, sliced kick-offs being returned with interest, and a second-half penalty from the same position as Russell's missed the same way. Cheers greeted the arrival of Steven Myler, and I feel for JJ who looks a confidence player very short of it.
Still, before SM arrived, Saints had been pressing and from another penalty to the corner Christian Day was mauled over when Luther and George P added their weight to the pack. This put us ahead 12-9 but Glasgow had responded again, winning breakdown penalties aplenty and when Stuart Hogg banged over a long range effort to put Warriors ahead 15-12, the Gardens was silent except for the few Warriors fans making noise for their team.
Cometh the hour, cometh the man. Steven Myler kicked some penalties accurately into the corners and from one of them, playing an advantage he cross-kicked for George North to get about his third touch of the game palming the ball back for young Harry M to charge over with two minutes left. Sleepy Saints were so happy to get ahead that they wasted the remaining time with the conversion and that was it at 19-15, our hopes kept alive but our spirits dimmed by a lacklustre performance. Only at the end did any real sense of urgency appear, the catalyst being Mikey Haywood who attacked the rucks and tackles single-handedly almost, to create some fast ball that had been completely lacking before. We also got a cameo from Tom Kessel so that was two senior debuts on the day.
Glasgow played in a similar way to Harlequins keeping possession but never really threatening to break through. When the first line of defence was broken there was always a sweeping Saints defender to plug the gap, Lee Dickson being particularly alert to stop one first half break and slow the ball enough to avoid a card at the same time. So while a try never looked likely from Glasgow they provided all the rugby and the Saints precisely none. Perhaps we were a bit flat after last weeks epic, but where were Warriors playing last week??
So we got a win but the bonus point went missing. Saints might have got a fourth try on another day, but frustration came from an unusual source. Roman Poite is highly rated by many Saints fans for his appreciation of our dominant scrum of a few seasons ago, but that referee was not at the Gardens yesterday. Instead his Georgian stunt double Romanov Poitashvili from Tblisi had charge of the game. Like all Georgians he had a good appreciation of the scrums but had never seen a rolling maul before and consequently believed that pulling the maul down, falling on the ground, and entering it from any angle were all legal activities. Presumably as Mr Poitashvili didn't understand Bulgarian or French he was unable to communicate with his assistants who might have been able to put him straight. So it was the 77th minute before a penalty accrued from any rolling maul and the advantage was used to good effect.
The other thing that was badly missed yesterday was the 16th man. I can hardly recall the Gardens being so quiet and didn't know that roast potatoes had such a numbing effect on the vocal chords, or maybe it was the kicking tactics that did it. Either way inspiration is needed, something to get the crowd into voice to lift the players. It's a chicken and egg thing, and I for one will not be counting any in advance of our visit to Wales next week. Scarlets may have been hammered this week but will be playing for pride next. What about the Saints?
More Northampton Saints headlines
Northampton Saints Poll