News: AP: Harlequins vs Northampton Saints - Match Preview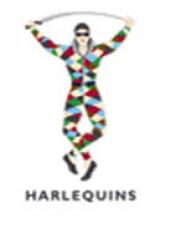 By SaintED
February 4 2016
After a lacklustre reverse at the hands of Wasps at Franklin's Gardens last time out, Northampton Saints travel to South-West London this Saturday to take on Harlequins in Round Eleven of the 2015/16 Aviva Premiership season. Regular COYSDC contributor, SaintED (Martin to his mates), looks ahead to the game...
HARLEQUINS vs NORTHAMPTON SAINTS
Saturday, 6th February 2016 - 2pm
TWICKENHAM STOOP, LONDON
MATCH PREVIEW
Last season after ten games played Northampton Saints headed the table with 39 points having lost just two games. In the eleventh game of the season Saints met up with Harlequins for the festive Big Match 7 fixture at Twickenham where two largely first team sides played an exciting game of rugby. Despite Ma'afu receiving his Christmas card late from referee Wayne Barnes and reducing the away team to 14 Saints held out for the win with both team running in three tries.
This season as game eleven approaches Harlequins are once again our opponents, this time in the cosier confines of the Stoop rather than Twickenham and whilst the opposition for the eleventh fixture is the same the circumstances are very different. Ten games in Saints are stalled mid-table with 22 points and six losses and only Newcastle Falcons have scored fewer tries. Harlequins by contrast have started the season brightly currently sitting in fourth place with 32 points, just three losses and 1 draw and only Exeter Chiefs have scored more tries.
Two of those losses where away to other top 4 teams; Leicester Tigers and Exeter Chiefs and in both instances Harlequins forced the opposition into sacrificing a player to the bin but where ultimately unable to close the game out in the final play of the matches. To date they are also the only team in all competitions this season to beat Saracens.
Harlequins look to have recruited very astutely adding some much needed direct running at centre with the acquisition of Jamie Roberts, quality on the wing with Tim "Mc"Visser, a mentor to their young props at tighthead in Adam Jones, bulk in the form of Mat Luammanu and in James Horwill the sort of niggly, borderline dirty enforcer you hate to play against but appreciate having in your team. Young Academy player Harry Sloan also joined the main squad. The main concern for Harlequins is probably a repetition of last season where they missed their Internationals badly but now they look to have slightly better cover except in the scrumhalf position where they will be playing their third choice due to injury and International call ups. Possibly less of an issue as Saints could well be doing the same.
Harlequins pack, an area that has been an issue in previous years, looks to be going well this year having stood up well against both Leicester Tigers and Exeter Chiefs and with the possibility of both first and second choice Saints tightheads on International duty we look likely to have a real battle on our hands in the tight.
Looking at the likely Harlequins team (with thanks to T-Bone, NicoWilson, InsertQuinsPunHere and West stand Quin) due to injuries and International absences we can probably expect a similar team to the one that lost to the Newcastle Falcons but with the front row shuffled slightly and experienced stager Nick "Minty" Easter back into the 8 shirt, evergreen Kiwi Evans continuing to pull the strings from flyhalf:

15 Chisholm 14 Yarde 13 Lowe 12 Sloan 11 Walker 10 Evans 9 Tebaldi 8 Easter 7 Wallace 6 Luamanu 5 Matthews 4 Horwill 3 Sinkler 2 Ward 1 Lambert .
16 Buchanan 17 Evans O 18 Jones 19 Metrics 20 Chisholm J 21 Waters 22 Botica 23 Swiel.
In last week's loss to Newcastle Falcons Harlequins looked more vulnerable. Missing their Internationals and looking disjointed and out of sorts both their defence and discipline made them vulnerable and Newcastle Falcons capitalised. Walker served as a worrying reminder that Harlequins can and will hurt you from anywhere if you give them the space and time.
For Saints the balance at flyhalf still doesn't seem right with Myler reliable with the boot but sitting too deep and JJ playing flatter, creating opportunities and putting players into space but missing important kicks. Mallinder and the coaching team seem to have decided that playing them together isn't a solution so best case scenario for me would be Myler with Mallinder Jnr outside him rather than seeing the Burrell and Pisi combination yet again. I have no idea whether the team will be one to whet the appetitive and engender a bit of hope for the season like the team against Scarlets or the default kick and clap team playing a gameplan that everyone in the league has worked out but the players will need more passion, urgency and skill than we saw in the first forty last week. Without a real response from the players whatever team Mallinder picks we'll lose to Quins and previous seasons points totals suggest that fourth position would then be gone.
The frustrating thing is I believe in our squad we have the players and the skills to take the game to Harlequins and beat them. I hope to see something, anything, that will make me feel that we're moving forward and that we have a plan for the rest of this season. The reality is we are running out of time to make season defining changes whether in attitude or gameplan.