News: AP: Northampton Saints vs London Irish - Match Preview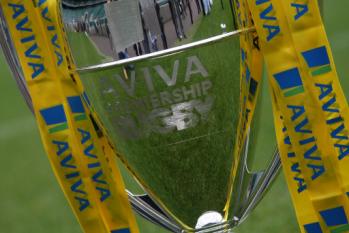 By PelerinStJames
February 12 2016
3 o'clock? On a Saturday? Who'd have thunk it! After snatching victory at the death against Harlequins last time out, Northampton Saints welcome London Irish to Franklin's Gardens in Round 12 of the Aviva Premiership season. Esteemed COYSDC contributor PelerinStJames (David to his mates) takes a comprehensive look ahead to the game...
NORTHAMPTON SAINTS vs LONDON IRISH
Saturday, 13th February 2016 - 3pm
FRANKLIN'S GARDENS, NORTHAMPTON
MATCH PREVIEW
I guess I am not the only person waking up in the world on this Friday morning, looking at the date and thinking "oh crap, I knew there was something I was supposed to do before the weekend?" Although I should hasten to add that my mind was not filled with thoughts of red roses, big hearts and the Feast of St Valentine, but immediately turned to the preview I had promised to write for Saints v London Irish on Saturday.
Now, as we all know, St Valentine is the patron saint of happy marriages, affianced couples, love and young people, but also bee keepers, epilepsy, the bubonic plague and against fainting. This however, does not give any of you the excuse of giving your beloved a rat infested with a medieval illness or a swarm of bees no matter how long you have been married.
However, the game is on the 13th, not the 14th, so it was with great curiosity that I decided to check whose feast day this was, I mean, how apt, how appropriate if this day of all days, could be the feast day of St Keith. Yes, it was a long shot, but miracles do happen, after all, all Quins had to do last week was drop the ball, knock it on, take 1 step back out of play or dot it down, but no, a hefty boot up field got caught in the wind, and Saints returned it with interest to sneak the win, scoring 3 cracking tries and hopefully reigniting the season.
Sadly, for the 13th, you can take your pick from Agabo, Benignus, Catherine de Ricci, Dyfnog, Ermengild, Eustochium, Gosbert, Huno, Julian of Lyons, Lezin, Martinian, Modomnoc and Polyeuctus. Time forbids me from researching all the above, but it is worth noting that Agabo was known for pushing pineapples, shaking trees, and dancing the hula melody, whilst Dyfnog ran straight at the enemy and was able to throw his spear beautifully of his left hand under the most extreme pressure.
However, according to Catholics Online, there is no St Keith and therefore no relevant feast day. Surely everyone knows that there is one and this Saturday, is the day where we as Northampton Saints fans, are about to celebrate the latest addition to the magnificent Cathedral that Keith has built and dedicated to him and his family, The Barwells.
You see, many moons ago when I was just a lad back in the 1980's, Franklin's Gardens was a very different place. Back then, all games were played at 3pm on a Saturday, the Lake end was indeed a Lake, what is now the Tetleys stand was a gravel bank with a lengthy tin shed covering it. Opposite that, was the main stand that was just a set of wooden benches with a roof, and the Sturtridge Pavilion was relatively small affair, way before the hospitality boxes were built. On the pitch, times were tough, the team was not performing and relegation to the old Division 3 was averted purely due to a restructure of the leagues. Now, I am writing this from memory, so please excuse any mistakes in the history, but I was only 12 when it happened and really only interested in the game not the machinations of the clubs organisation. However, I do recall the watching a video telling the story of the "Gang of Seven" in which they said that a local businessman had suggested that they build some new hospitality boxes and had bought the first one himself. That man was Keith Barwell, a man whose family over subsequent years would become pivotal to the ongoing success of the Northamton Saints.
As the club grew, so did the Barwells investment, and it is fair to say that the club would not be where it is now without the stewardship of Keith and his family. It is very easy today to take for granted the luxurious facilities that we enjoy at Franklins Gardens. Back in the 80's and 90's, crowds numbered maybe 2,000-3,000 but have grown steadily over the years to the place now where we regularly accommodate 15,500 people. There are not many clubs in any sport anywhere in the world that can point to 13 years of profit in a row and continued success in the top echelons of their sport, but we can, and our deepest thanks must go to the Barwells for their continued support, love and devotion to their club, and of course ours. Together, we have had many ups and downs, but together we stand perhaps stronger than ever before with the firmest of firm foundations built by the Barwells. I for one would like to put on record my deepest thanks to Keith, Leon and Ella and the rest of their family, for their historical and ongoing support and dedication to the Northampton Saints over the years. I do not think we could have asked for better.
So, even if St Keith does not have an official feast day, we are holding our own for our very own St Keith and his family in Northampton, and I for one hope that we can celebrate the success off the pitch with a fitting display on it. London Irish may well be rooted in a 3 way battle at the foot of the table, but it is only a matter of weeks since they beat us down in Reading. Saints form has been patchy this year to put it mildly, and we have stuttered away to the half way point in 6th place in the league and an away quarter final in Europe. (Something tells me that despite our utter lack of fluency, we have done well to achieve this). What is more, we have seen the emergence of several youngsters taking opportunities that have come their way be it through injuries or lack of form. Teimana Harrison has been the stand out forward of the season so far, whilst who can dispute the impact young Harry Mallinder has made in his so far short Saints career. Mikey Heywood continues to excel in the front row, almost all of our props are 25 or younger, and Tom Collins continually threatens from the wing. Times they are a changing in the Saints first XV, and one can only anticipate the selectorial debates that will rage from now until the end of the season as players such as Dylan Hartley, Courtney Lawes and Callum Clarke return to the fray following the VI Nations and injury.
This week, I would anticipate the following XV:
Foden, Elliott, Burrell, Mallinder, Collins, Myler, Dickson, A Waller, Heywood, Brookes, Day, Paterson, Wood, Harrison and Dickinson.
Not that I have a clue, really but that team would do nicely for me given what I have seen from afar this season.
London Irish on the other hand, have won 3 of their last 5 games, having lost their first 8 of the season in the league, a run that began with that last gasp win against us on Boxing day, the Feast of St Stephen. Last week, they beat fellow bottom 3 strugglers Worcester with the following line up,
Fenby, Ojo, Hearn, Mulchrone, Tikoirotuma, Geraghty, Steel, Court, Paice, Aluika, Symons, Lloyd, Sinclair, Narraway and McCusker.
I do not believe that there will be many changes to this line up, and the stand out players have been Hearn and Narraway, whilst former Saintsman Shane Geraghty returns to the Gardens to renew his rivalry with Stephen Myler, this time on opposing sides.
As for the the game itself, it is certainly an intriguing match up of 2 teams showing the earliest signs of coming back into form following a testing and disruptive start to the season. I am pretty sure that the Saints will be charged up for revenge following the away defeat in December. Irish on the other hand will be looking to build on recent success and with Geraghty at 10, they are more than capable of finding moments of magic to unlock the tightness of the Saints defence. Should Saints attacking game click into gear (which it seemed to watching the highlights last week) then we could be treated to a genuine celebration for the Franklins Faithful on this special day for the Club, and what better way to thank St Keith, St Leon and St Ella and their families for their continued love and devotion for our club on St Valentines weekend than with a bonus point win for the men in Green, Black and Gold.
As the saying goes, Roses are Red, Champagne is bubbly, Happy Valentines, I'm off to the Rugby!