News: AP: Northampton Saints vs Worcester Warriors - Preview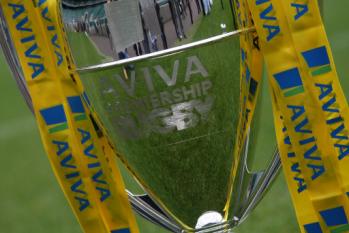 By Mobbs
February 25 2016
After a narrow loss away to an in-form Newcastle Falcons last time out, Northampton Saints look to get back to winning ways, welcoming Worcester Warriors to Franklin's Gardens in Round 14 of the Aviva Premiership on Saturday afternoon. Regular COYSDC contributor Mobbs takes a look ahead to the game...
NORTHAMPTON SAINTS vs WORCESTER WARRIORS
AP: Saturday, 27th February 2016 - 2.45pm (No TV)
FRANKLIN'S GARDENS, NORTHAMPTON
MATCH PREVIEW
Shock, Horror, Probe reads the headline in the Daily Express and a second consecutive Saturday game at the Gardens with another one coming soon - it is now still daylight when we get back to the car so Spring must be on its way and all is well in the world of Green, Black and Gold...if only !

Saints had appeared to have rediscovered their mojo against Irish after the horror show against Wasps, a game which was put into an element of context when the Pests visited the Special Ones a fortnight ago. Our players and coaches seemed to have had a divine awakening in discovering that playing with ball in hand is in fact possible despite the winter gloom, heavy pitches, wind and rain that we have enjoyed since November. That being said, Wasps showed at Bath last weekend what sometimes needs to be done when playing on the mudbath that is invariably the case down at The Rec hard on the heels of a try-fest at Barnet on the plastic pitch.

Round fourteen however looms large and yet another opportunity for Saints to get their stuttering season back on track after another disappointing loss to Newcastle. Too many stalwarts are simply not putting in the performances they are capable of and game management both on and off the field seems lacking but then of course, what would you or I know about anything? Last weeks game in the North-East made uncomfortable viewing and any team that has pretensions for success cannot afford to lose by the odd point or two at Sixways, Madjeski and now Kingston Park and I fear this campaign may end at Kingsholm on the last day of the regular season. No-one disputes the effort or the graft but the lack of discipline, inability to keep possession and the apparent dearth of any players capable of taking a game by the scruff of the neck is costing Saints big-time. Andy Goode's performance last Sunday in which he was constantly chatting and debating issues with Wayne Barnes was an object lesson in how to let experience overcome a perceived lack of stamina and pace in a game in which Saints appeared to give him a very easy ride indeed. Oh well, its in the history books now and we must turn to this Saturday afternoon and the Worcester Warriors.
I have always had a soft spot for Worcester even though I would be hard pressed to come up for a valid reason. Perhaps, round One this campaign excepted, it is because we have a good record down at Sixways. Certainly I have always enjoyed the banter with the Worcester faithful and the food under the South Stand is a bit tasty. I have also enjoyed a few games down there as a neutral over the years and after all this is Elgar country, Malvern Hills, Cello Concerto etc but I digress so back to matters in hand.
Our visitors from the West Midlands have a different take on the season so far in what appears to be yet another battle to avoid relegation from the top flight. Love it or hate it, the status quo regarding promotion and relegation appears to remain in place for a while yet so the endless champagne running rugby promised by the ring fencing camp will have to remain a pipe dream for sometime to come or at least until the PRL can create a situation where both Leeds and Bristol can get up at the same time. Worcester will have been delighted to end their losing streak with a hard fought win over Sale last saturday at Sixways showing that they can score tries albeit conceding four in the process; a good job perhaps that Cipriani managed to miss all his conversions. Meantime, Dean Ryan has made some pointed comments about the rub of the green recently which may yet come to haunt him should the PRL/RFU actually take any notice of remarks from the unfashionable end of the table; I am sure Cockers would be heard loud and clear but he too may be getting a phone call after revelations on camera about team selections!
A potential return to the Gardens beckons for a number of old boys no doubt eager to gain a double over their old club. Phil Dowson and GJV come back with plenty of credit still in the bank for their time with the Saints whilst Ryan Lamb may ruefully see his time with us as a bit of a failure; mercurial moments mixed with the pure insanity of some of his long floating passes which saw his attempt to displace Smyler fall into the same category as TinTin a couple of seasons previously. Matti Williams has of course signed for Warriors for next season, a player who has never quite been in the right place at the right time whilst playing in the GB&G; breaking your leg on your debut in front of your Mum is never a great start to a career ! It is always good to see the admirable Chris Pennell in a bit of form, a player whose loyalty to his club upon relegation probably cost him a big opportunity to get further International recognition. The long suspension handed out to Tevita Cavubati will certainly give Saints one less thing to worry about and if Tom Biggs remains on the injury list then Jamie Elliott will breathe a big sigh of relief having been legally shredded by his opposite number in the opening game of the season. Nonetheless, the Warriors will come to the Gardens with a spring in their step after that much needed victory and certainly should not be intimidated by the Saints on the hosts current form. If Worcester can control the breakdown, be aggressive in defence and take every opportunity for points on the board then they have every chance of causing an upset despite the fact that this season 'upset' is probably over stating things a little.
So with just under half the regular season left to go can the Saints get back on track ? Seven games lost with tough away fixtures at Saracens, Exeter and Wasps looming large would suggest that it may be a very big ask indeed. That being said, only the Champions and the Chiefs seem to be definitely on track for the play-offs whilst Quins and Tigers are as woefully inconsistent as ourselves at present with only Wasps on a really good run of form at the business end of the table. Regretfully therefore it has to be cliche time once more and we are back into 'one game at a time' territory and a home win on saturday will perhaps perk us all up a little bit or perhaps its just me and the rest of you are all in confident and bullish mood for the balance of the season. Just think what it must be like to follow Bath at the moment who dispite all the flair and razzmattazz of last campaign, have struggled on from game to game without showing very much at all and are actually very close to the relegation zone and it really can happen as Quins and Saints supporters know all too well. Maybe, just maybe, we are at the back end of a good run and like all good things we are due for a bit of a downturn in fortunes as every side must endure from time to time. This is when good players and good coaches really earn their dues by turning games around and sneaking wins when they may not be deserved (Quins ?) and getting big results when they are really needed.
Silence they say is golden but the lack of information about the availability of the likes of Kahn and Calum to name but two is somewhat frustrating to those of us without inside contacts at the Gardens. All teams have their injury issues of course but lets be honest, we have really missed our erstwhile England flanker this time around and the chopping and changing at nine and ten does not appear to have had the desired effect upon the way we play so far. Saints as ever are very cautious about announcing new signings but a certain Frenchman apart, silence is again deafening and with the transfer window well and truly open most fans of my acquaintance are eager to see some new blood in time for the start in September.
So back to another Saturday afternoon in February and a plea to the Good Lord above that we might play some rugby in spring sunshine rather than more wind and rain. Saints have the latent ability to beat anyone on their day, lets prove it once more to, at the very least, put some pressure on those around us in the table before the trip to Saracens where I have a strange feeling that we might just cause an upset...but in the immortal words of Supertramp... 'Dreamer, nothing but a dreamer...'