News: AP: Saracens vs Northampton Saints - Match Preview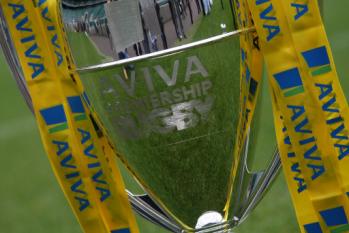 By Ginger Prince
March 3 2016
Northampton Saints travel south this week to take on Aviva Premiership champions Saracens at Allianz Park. Veteran COYSDC messageboard contributor Ginger Prince (Jamie to his mates) takes a look ahead to what should be a fascinating encounter...
SARACENS vs NORTHAMPTON SAINTS
AP: Saturday, 5th March 2016 - 3.15pm (BT)
ALLIANZ PARK, HENDON
MATCH PREVIEW
Hello everyone, or should that be "hej allihoppa!" Ginger Prince in Stockholm here – first time previewer, long-time lurker and poster; and suddenly very aware of the footsteps I am following, all those that have gone before me – gulp!
I'm hoping to come over to England to see my family and for this game, it actually falls on my birthday and I'm on Sportlov holiday- it's kind of like a late February half term, but in Sweden everyone goes ski-ing… as if they haven't done enough through winter!
And what a fixture for my first attempt: Current vs. former champions, artificial vs. grass pitch, fez vs. halo, camel vs. Bernie, the terrace rap battle of Stand up vs. Wendy… and all the utter guff that Sky Sports used to over-hype a match with. Well, I think we've all come a long way since being influenced by Messrs Harrison and the Lardy one. One of my favourite Irish songs is "The Town I Loved So Well". It has beautiful lines of
"So what's done is done, and what's won is won;
And what's lost is lost and gone forever"
I like that. I think it says that nowadays this fixture lets the rugby do the talking. Unless Austin Healey is allowed a microphone and rakes up old graves. So my birthday wish is that at some point this week, he falls on a spike and can't be with us this weekend. Make it happen please, I've been a very good boy! ;)
But ever since the hyperbolic days of the "Tiny u-turn" we've seen two teams grow from watching Tigers and Wasps walk away with silverware, to taking their place at the top of the table. Progress for both teams hasn't been linear or smooth; the take-off saw different trajectories, and there's been turbulence on the long journey, but both teams have enjoyed a smooth ride for a time and a beautiful landing that was finally the intended destination, instead of the diversion a place of summer desolation.
This season, the turbulence has been longer for Saints this year with losses to teams we feel we shouldn't be losing to, as well as those where we lose by less than 7. Looking quickly at the stats, we lost to Sarries by 6, Irish by 2, Tigers by 3 – whereas as Sarries had a small bump of losing to Quins by 6 before losing an engine and crash landing against Wasps.
The flip side to this is that Saints managed to dispatch Bath by 2, Exeter by 3 and Quins by 4. Ominously, our hosts survived and emerged from the crash position and have already beaten us by 6, Tigers by 20, Bath by 6 and Exeter by 3. For all the words that get thrown around about their performance, I always use one that I feel is most appropriate – efficient. I mean that with the utmost respect, as well. A team at the top of the league has to be respected, and the way Sarries put away their opposition should be appreciated. For anyone that says 'yeah Ginge, but it's not pretty' I'll counter with 'since when has this been a beauty contest or do we give marks for artistic impression?' Efficient also shows fewer mistakes made, whether it be handling errors, conceding penalties or anything else – you've got to give it to Sarries. It's controlled, it's ruthless, it's winning rugby.
I want this weekend to be the catalyst for a series of consistent performances for us. It's frustrating to see a team win, then lose, win again, then lose. We have a chance to hit Sarries on the back of their big loss and high-scoring draw against Sale. Yes, they beat Gloucester in between, but they're shipping points at the moment and that must give the analysts something to look for in attack.
If I can get across and see that game, I hope to see some individual matchups amongst the whole game. I must admit, that's how I watch some games – I just follow a particular player and see their contribution instead of following the ball. I've learnt so much about front row play from Robby Richmond and Broonie; they've really added to my joy of watching. There's a string of battles that intrigue me, (unfortunately, we are robbed of Brits vs Haywood) so injury and selection permitting, I give you: Hodgson vs Myler. Two class 10's that can always be called on when their team looks to them. Similar temperaments, great skillsets, and the ability to create and exploit something in a heartbeat. I have a feeling that one kick from either might be the game winner.
Burger vs Wood. Ouch, just ouch. The physicality of both players could see Woody with a nose like Jacques and our Namibian friend with his straightened like Tom's. For those of you sitting up close, get ready to feel the impact if they venture into range…
Bosch vs Burrell. Marcelo has been used at 13 and 15, and I prefer him in the centre with Ransom at fullback. Luther still has a lot to prove; young Harry has the 12 shirt on merit, George Pisi wants his 13 shirt back and Tom Stephenson is whispering "I'm coming to get you…" I would love to know if he figures in Eddie Jones' plans and if so, is it 12 or 13? With Manu just being called up to train with the EPS, I hope Luther can add a couple strings to his bow to show he's more than just the archetypal Saints 12 from the early noughties onwards.
Wray vs Harrison at number 8. The best thing I can offer would be "Jackson meet Teimana, Teimana meet Jackson" blow the whistle then get out of there!
The engine room sees Jim Hamilton going up against (I hope) Christian Day. You know that scene in Rocky 4, where Paulie says to Rocky "You know it's kinda hard for me to say these kinda things, cuz it ain't my way, but if I could just unzip myself and step out and be someone else, I'd wanna be you. You're all heart"?That's how I feel about Daisy. Is there anything else he could actually give our club? Sorry, man-crushes make sentimental fools of us all… but seriously, Daisy is the first name I would write on a team sheet. Actually, I'd have a pen in my other hand and write Myler at the same time.
I've been away from England (and FG) for 5 years now; I've found ways to watch Saints on my travels through Abu Dhabi and Dubai, and finally found a bar in Stockholm that subscribes to the rugby so my weekends have been set. I stopped playing after I left Dubai and don't miss being injured and aching, or walking into work looking and feeling beat up, just to go and do it again when I start to feel human again. The clubhouses are still warm to me, and nothing will ever come close to smashing the hell out of opponent for 80 minutes, shaking hands on the field, then clinking pint pots in the bar after.
But I do miss live rugby, especially standing in C Block with St Rich and Albion Saint, sharing the hip flasks on every score. I miss bumping into fellow Saints like "Roger Moore" on away days whilst travelling by Train - I'm in touch with a few Saints via facebook in the hope we can do this. So I'm not going to offer a prediction of the score, obviously I hope Saints win, but this trip for me is all about seeing my team play one more time, the nostalgia I will no doubt feel, seeing old friends and a few cheeky drinks to mark a birthday that ends with a zero. I hope you all enjoy it as much as me.
Cheers, sláinte, or as we Swedes say: Skål