News: AP: Exeter Chiefs vs Northampton Saints - Preview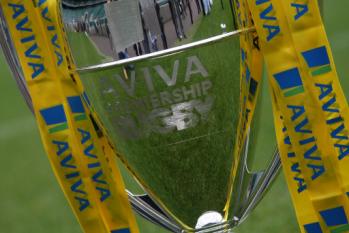 By HRsaints fan
March 17 2016
Northampton Saints clawed their way back into the top four of the Aviva Premiership table last time out with an impressive victory over Sale Sharks.This weekend they travel south to take on second-placed Exeter Chiefs in a Sunday lunch-time fixture and esteemed COYSDC contributor HRsaints fan (David to his mates) takes alook ahead to the game...
EXETER CHIEFS vs NORTHAMPTON SAINTS
AP: Sunday, 20th March 2016 - 1pm (BT)
SANDY PARK, EXETER
MATCH PREVIEW
So here we go…again. As we head inexorably towards this Season's pointy end with a trip to the South West and our old mates Exeter Chiefs this is another of those "must-win" games.
This increasingly tight Premiership season is drawing towards a fascinating climax. For the top six there is a very small hint of daylight between them and the chasing pack with Harlequins sitting in sixth place on 43 points, whilst Sale and Gloucester share seventh place on 38 points apiece. Although Saracens and Exeter still lead third placed Wasps by 9 and 7 points respectively there have been a number of points "lost" by these two over the past few games – more of that below.
Additionally these top six teams still have to mix it with each other over the final series of games and, of these particular fixtures, Saints have the worst run-in having to face Exeter (a), Harlequins (h), Wasps (a) and Tigers (h). Leicester, on the other hand, have only to face Saracens (h) and Saints (a) and Wasps have Saints (h) and Exeter (a). In truth however there are really no 'easy' games in this current league and, when one bears in mind that some teams will be fighting for their Premiership survival, it all makes for a really nail-biting finale.
Despite what the current Premiership Table states, this is actually a game between 1st and 1st; 1st in that Exeter have scored more tries than any other team and 1st because Saints have the meanest defence in the league. Alternatively it could be classified as a game between 1st and 4th; 1st because Exeter have the best home record of any side in the league and 4th because Saints are the 4th best away side. Admittedly Saints away record could have been far better had they not lost to Worcester and Newcastle Falcons by 1pt, and London Irish by 2 pts.
In reality of course it is a game between 2nd and 4th...
I have always subscribed to the view that form, in any sport, is that vital ingredient that enables teams, or individuals, to ultimately succeed in their chosen profession. That old football cliché that "form is temporary but class is permanent" - allegedly made by the late great Bill Shankly - could be applied to a Saints team that has struggled to hit its straps in the first half of this season. We all knew that they could play better, and so did they, but that knowledge didn't seem to transfer to the pitch come match day. Uncharacteristic mistakes abounded, the ball was kicked back to the opposition so often you might have been forgiven for thinking that we had become allergic to it, and players themselves seemed to be struggling to regain their mojo.
However fast forward to the start of the second half of the 2015/2016 Season and things have changed markedly. In the games between Rounds 11 and 16 the current top six teams have experienced quite a topsy-turvy set of results. In terms of points scored, Saints and Wasps have 24, Saracens and Exeter 16, and Tigers and Quins 11. So these results show that, at long last, our much loved team are finding their way back into some good form. To be honest if someone has asked me "who is the current form team in the Premiership" I would probably point, with some justification, to Wasps. However whilst analysing these last six games I was very surprised to see that not only had we achieved the same number of points as the Insects but that we had only scored one less try than them in the process (and that includes the eight that they put past Saracens). I think that these numbers say much about the direction this team is currently going in.
So the form of both teams for Sunday would seem to slightly favour Saints. Of the last six games played Saints have won five and lost one, whilst the Chiefs have won three and lost three, hence the points total as noted above. The last time that Chiefs lost at home was just over a month ago to the league leaders Saracens. The other two losses were away to Sale and Tigers. Reading the reports of last week's home game against Newcastle the final score-line (32-17 to the Chiefs) belies the fact that this was quite a close game. Half time was 3-3; with 21 minutes left it was 17-17 and with 10 minutes left on the clock 20-17 to Chiefs. Two late tries gave what was, in all probability, a slightly flattering final result to the home side.
Interestingly - and whether this is an effect of the Six Nations period and/or an impact of injuries is difficult to assess, - the Exeter try scoring machine seems to have dried up somewhat. Of their 47 tries scored so far 34 were scored in Rounds 1 to 10, whilst only 13 have been scored in Rounds 11 to 16.
Nevertheless we must not forget, and neither will the team or the coaches, that Exeter are still a very difficult nut to crack at home and this is one of the hardest away fixtures of them all in the current Premiership league. They will also want revenge for Saints New Year's Day victory at Franklins Gardens.
There is no doubt though that Saints go into this fixture in good spirit which, for many of us whose faith in the Saints way of playing rugby has been sorely tested this season, is quite a turnaround. Additionally our league record at Sandy Park is pretty good – certainly better than most – having won three out of our last four visits although save for the game in January 2013 the margin of victory has always been close.
Saints have not been as affected by the Six Nations stupidity[i] as in the past, with only Dylan, Keiran and George away for this Sunday's game. Exeter is more affected with Jack Nowell and Luke Cowan-Dickie away for England, Moray Low for Scotland and Tomas Francis for Wales. However the Chiefs will be pleased with the fact that they got Henry Slade back on the pitch against the Falcons. In fact I was quite amazed to hear that he played at all as he had broken his leg and dislocated his ankle back in December of last year. However I did find a report dated 8 December 2015 where Rob Baxter was quoted as saying:
"In 10 weeks' time we'll know a lot more accurately. It may be that in March the reality is this season is tough for him or we're rubbing our hands together because he's nearly back. It's a relatively complicated operation but one that people have had done a lot now. The ankle was dislocated as well but it went back in immediately."
I have emailed Rob and asked him for this week's lottery numbers.
For Chief's coaches, team and supporters, the good news of Slade's return to action will have been marred somewhat by the citing and subsequent eight week ban of Tomas Francis which means that he will play no further part in Exeter's remaining games of the regular season. This seems to be a real blow as their replacement – Ben Moon - is not, according to the Chiefs fans, as good a scrummager or as adapt in the rolling maul as Francis. Although this is a problem for the Chiefs I think it is something that Saints can hopefully take advantage of, particularly given the strength of our set piece.
I must confess that I was disappointed when the Saints team was announced for the Sale game in that we had gone back to a 9, 10, 12 and 13 combination that had hardly set the world alight this season. Please don't get me wrong. I am not a supporter that has 'likes' and 'dislikes' in respect of various players. If they take pride in wearing the jersey and give 100% every time they put it on, then that is good enough for me. I am a fan of Stephen Myler but I am also excited by what JJ can bring to our back play. I think Luther suffered a massive dip in form after losing his place in the England squad and, funnily, he seemed to be getting his form back not by playing in his usual position at inside centre, but playing outside of young Harry Mallinder. The Pisi brothers both struggled to find club form post the RWC, something that Ken alluded to last week. But it cannot be a coincidence that the inclusion of Harry, the return to form of Ken and, to perhaps a lesser extent, George Pisi, and the fact that Lee is finding his best form for some time has been a major part of the form of the whole team over the past six games or so.
So, on this basis I think that it is very unlikely that there will be any major changes for Saints from the team that started against Sale. Similarly I would think that Exeter will also field an unchanged side.
The result? Well, that is difficult to predict. This is a good time to play Exeter as although they still have a strong side, they are not as strong as they might have been outside of the Six Nations window. Saints seem to know how to play the conditions down there and will, as I have said above, be going into this game in a confident manner. So loathe as I am because this will undoubtedly put the mockers on the whole thing, I am going for a narrow Saints win.
It has been a plan of mine every season to get down to this game as I understand that it is one of, if not the most enjoyable away games that a fan can attend. Sadly I have failed again to properly organise myself and Mrs HR Saints Fan in this respect so it will have to wait until next season. To all those who are making the journey I wish you all safe travels, loud renditions of Wendy, and a result that puts a smile on all our faces.
_________________
[i] As in having international games played whilst the Premiership is still carrying on