News: AP: Northampton Saints vs Harlequins - Match Preview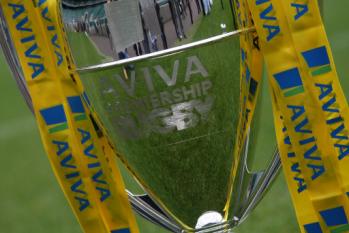 By Mobbs
March 24 2016
Northampton Saints roller coaster season continues this Easter Sunday as the Green, Black and Gold welcome Harlequins to Franklin's Gardens in Round 18 of the Aviva Premiership. Regular COYSDC contributor, Mobbs, looks ahead to the game...
NORTHAMPTON SAINTS vs HARLEQUINS
AP: Sunday, 27th March 2016 - 3.15pm (BT)
FRANKLIN'S GARDENS, NORTHAMPTON
MATCH PREVIEW
Ah, its that weekend again and a chance to chase the Easter bunny, watch the spring lambs and eat over-priced chocolate eggs which have been on special offer for weeks. Alternatively we could all turn up at the Gardens to watch the two most inconsistent teams in this years Premiership battle for the title of 'best of the rest' ! Now call me an old traditionalist but I am not too convinced about the decision to play games on an Easter Sunday; in a world in which so few days are 'special', should we have to decide against a day at home with the family in order to follow the rugby ? Ok, mini-rant over so relax on your keyboards and lets take a look at what's on offer this time around.
I never get the sense that Saints games against Quins have quite the same edge as our contests against Tiggers and the Special Ones. Both clubs have fine histories and enjoy similar levels of support. The make up of the fanbase may be different, market-town against city slickers, but each club has some excellent players with a tendancy to under-perform which must drive coaches, not to mention supporters to complete frustration on a regular basis. Take last weekend as a classic example. Our visitors would have expected to see off the Warriors at home even with the likes of Evans, Marler, Brown, Care and Robshaw missing from duty. Controversy surrounding the try that was'nt but actually was, angered Conor O'Shea and all concerned in Quins colours but young Craig Maxwell-Keys apparently called 'play on' which just goes to show that old adage of playing to the whistle still holds good. Good finish by Saints old boy GJVV. Saints meanwhile enjoyed a very promising first half against the Chiefs at Sandy Park followed by an abject second-half capitulation which saw the team returning back up the M5 pointless. Quite what was said in the dressing rooms at half-time must be open to conjecture but it seems that Rob Baxter's words of wisdom were a deal more effective of those from Messrs Mallinder, West and King.
So its now five games left to go and it is interesting to see what lies ahead for the contenders for the fourth play-off position and I mean no disrespect to Sale and Gloucester who will believe they are still in the mix for the top four.
SAINTS ---- Quins H, Wasps A, Tigers H, Bath H, Gloucester A.
QUINS------ Saints A, Falcons H, Saracens A, Irish A, Exeter H.
TIGERS----- Sale A, Gloucester H, Saints A, Worcester H, Bath A.
Of these three sides, Leicester probably have the more comfortable run-in on paper but three of their five games are away from home. Quins meanwhile also have three tricky away games and two fixtures against the top two sides so maybe they might not quite make it this time around. And what of our beloved Saints - well, the hardest run in perhaps but three games at the Gardens all of which are now in the must win category. In reality Saints probably need to win all five matches which might be too much to ask such is the nature of the fixtures ahead but one thing is for sure, there will be movement in the table between now and the end of the regular season. If only, if only, if only an extra penalty at Sixways, Madjeski and Kingston Park, if only......!
So who will be back in the mix this time around. Lawes, Collins and Burrell have had an extra week to regain fitness and I would be dismayed if North and Brookes did not appear on sunday. The 'skipper' of course is unlikely to be seen for a while as he goes through concussion protocols and it would be completely appropriate at this point in congratulating England Captain Dylan Hartley for leading England to Grand Slam success in Paris last weekend. How refreshing to see some of the doubters proved wrong and Dyls getting some excellent press over the past few weeks - top man ! From the Quins perspective I believe that it is highly unlikely that Nick Evans and Marland Yarde will be seen this weekend but there is every chance that Danny Care, Mike Brown, Chris Robshaw, Joe Marler ( pending investigations ), Jack Clifford, Tim Visser and Jamie Roberts will make some form of appearance though I would be delighted if Conor O'Shea would give them all a week off ! Old boys of course in the form of Joe Gray, Dave Ward and though some may forgotten, the aforesaid Tim Visser.
Quite what to make of Dave Ward I do not know sometimes. Those who followed Saints during our season in 'the minors' will recall his ever-changing hair colour and the feisty hooker we saw then has certainly improved as a player since those faraway days at Cornish Pirates et al. Such is the frequency of his 'chat' to all and sundry one could almost imagine that Ward could have been a scrum half in another life which naturally leads us to the potential line up of Lee Dickson against either his brother Karl or indeed Danny Care which could be, shall we say, entertaining with just a smidge of niggle or maybe a lot of niggle come to think of it !
The forecast for sunday, as I write, is for a dry day which will do the Saints no harm at all. Since the Wasps debacle, Saints have been throwing the ball around with more freedom and playing a more expansive game which I guess most of us prefer to see. It does not always work of course when confronted with the Andy Goode/Wayne Barnes bonding session nor the white flag second half last week but we are scoring tries again with Lee Dickson making it a very regular and most welcome habit. The return of Internationals does not always guarantee success at club level but assuming he plays, a dry pitch and some wide ball should re-ignite the enthusiasm of George North to play domestic rugby.
Much could depend on the man with the whistle and this weekend I believe it is Tim Wigglesworth. I really felt that the Saints got on the wrong side of Greg Garner last weekend as evidenced by the second half penalty count. The previously mentioned rapport we saw at Kingston Park between a certain rotund outside half and the referee is something perhaps that Saints players should bear in mind. The trophy referee's spots this weekend see Wayne Barnes given the West Country game between Glaws and Bath whilst JP heads up the A1 for Falcons hosting Coventry Wasps. No doubt WB has already booked his hotel room for Saints against Tiggers in April !
No pressure then this time around for Saints or Quins but whoever loses is probably out of the running for a play-off spot.
Hopefully a good crowd, hopefully a fine dry day and hopefully a good win for the Green, Black and Gold !
nb Next meeting of the Supporters Liasion Group takes place immediately before the Mobbs Memorial Game in April. Any issues, whinges, complaints or even praise (!) would be most welcome - TELL US please.