News: AP: Wasps vs Saints - Preview 2 - Too Much Pressure!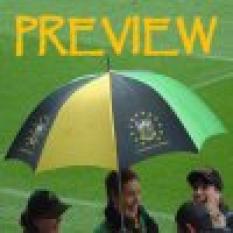 By Saint Dazza
April 1 2016
As the Ferrero Rocher lady once said, "Mr Ambassador, you are spoiling us!" Yup, a second preview of Saints' weekend match against Wasps as COYSDC message-board regular, Saints_Dazza (Darius to his mates), gives his take on the trip to Coventry...
WASPS vs NORTHAMPTON SAINTS
AP: Sunday, 3rd April 2016 - 3pm (BT)
RICOH ARENA, COVENTRY
MATCH PREVIEW
TOO MUCH PRESSURE!
So the pressure is on, Sunday 3pm at the Ricoh Arena when a stuttering Saints take on a flying Wasps. I have had my eye on this fixture from the start of the Season, partly due to it's position at the start of what has to be the home straight for the run in to the pay offs, with only four more matches of the regular Prem season to follow. The other reason for my attention to this fixture has been my move, almost 12 months to the day from Northampton back to my home City of Coventry.
Having spent the last 20 years (give or take) living and working in a variety of places, latterly in Northampton for almost 12 years I returned to Cov..
With Wasps having moved in only just before me, I now have a chance to see my old Home town club play away at the new home of my old home City if that makes any sense.
But like I was saying the pressure is really on, and will be for the remainder of the season, in this case Wasps will be busting every sinew to get a lucrative home semi being only 1 point behind Exeter and 4 behind Sarries.
Saints will be hoping that they have now hit their straps after a patchy season so far and will be looking to place added pressure on next weeks opponents from up the road and perhaps some additional daylight between the pack behind them.
Too Much Too Young!
Dai Young's team have been making real waves this season with bludgeoning wins against some the greats of European Club Rugby, not to forget handing the Saints a pasting at the Gardens, and its not hard to see why as a Saints fan you'd be forgiven for approaching this game with some trepidation.
Wasps have the ability to cut loose and if Saints are not on their mettle from the get go, could be very badly exposed as Wasps seems have the habit of flying out of the gates and as we have all seen Saints seem to have games when they sleep walk through the first twenty minutes.
Do that at the Ricoh on Sunday and it will be a very long uncomfortable afternoon!
So You're Wondering Now, given the raw power and pace that Wasps have at their disposal how the Saints can even hope to compete?
And on the face of it I'd tend to agree and hope that we can come away with a loosing bonus point or try scoring bonus too. But I don't like going into matches supporting my team hoping for damage limitation.
As we know from our own experience going that final metre and changing from contenders to champions takes time, and whilst Wasps have made some astute acquisitions, George Smith in particular, I am hoping that they are not quite the finished article … yet.
Saints have learned through hard, bitter experience over the years what it takes to see out games, that matter, and this one really does.
I don't think Wasps as a unit have been through that as much and my hope is Saints can turn their Champions game face on and drag this one out of the fire, slim hop I know but Saints do have the ability, to dominate oppositions when we play to our strengths.
Rugby isn't black and white, it is all ebb and flow, with dynamics that can change in a heart beat, with an unexpected shift in gear, a stunning step, a gap opening as a result of tired legs and weary mind, moments of brilliance or 80 minutes of sheer dogged determination by a team focused on a goal and that's why I love the game so much.
That's why on Sunday the 3rd of April at 3pm as the Saints come to play in my home City, I wouldn't, couldn't, be anywhere else than watching them play. I am sorry if this preview leaves you with a Blank Expression, thinking that there are some Missing Words, like how about the teams, the score, they key battles on the pitch, I guess I'll leave that to someone with more knowledge of the game.
A few side notes;
If you happen to be at the Ricoh, do try the Purity ales, brewed in Warwickshire, dang fine beers.
I will be joining up with some former team mates from Northampton COYS Touch Rugby Club to play some Touch Rugby against a team from Coventry and some additional visitors from Barnet coming along to join the fun.
The best beer in Coventry in my humble opinion is available from Twisted Barrel Ale, I am hoping to be there after the Touch Rugby before heading to the Ricoh. http://www.twistedbarrelale.co.uk/
If you like your music and are at a loose end before the match, you could do worse than checking out http://www.2tonecentral.co.uk/ museum, shop and Café seem to be open before the game.