News: ERCC: Saracens vs Northampton Saints - Match Preview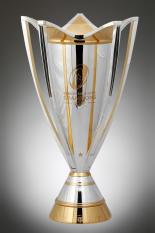 By Western Wanderer
April 7 2016
The European Rugby Champions Cup reaches the knock-out stages this weekend and Northampton Saints face an away trip to Saracens in the last eight. Regular COYSDC message-board contributor, Western Wanderer (David to his mates), takes a look ahead to Saturday evening's game...
CHAMPIONS CUP QUARTER-FINAL
SARACENS vs NORTHAMPTON SAINTS
ERCC: Saturday, 9th April 2016 - 5.45pm (Sky)
ALLIANZ PARK, HENDON
MATCH PREVIEW
The relationship between Saracens and Saints, soured by the poaching of Tonga'uiha (who and then Ashton) has calmed down of late. Saracens once the underdog who enjoyed challenging the status quo are now the pace setters of the Premiership. Whilst no longer underdogs they seem to revel in their unpopularity, but have to be admired for their ambition in innovating and developing so many England qualified players.
Our recent meetings with Saracens favour the Saints – we've won five of the last eight, including Twickenham two years ago memorably (though lost in an alcoholic fuzz) and the last two at Allianz Park, so there is reason for optimism. At Allianz Park that season we benefited from a fast start, James Wilson scoring two tries in the first quarter for a lead we never relinquished.
When we beat Saracens at Milton Keynes last season, we had some luck, but we took our opportunities as good teams should. Saracens definitely has the upper hand in the first half with Billy Vunipola making numerous carries to get them over the gain line. Once he went off injured they struggled to get that same forward momentum. Moreover, it was probably the hottest day of the season and the heat sapped the "Wolf Pack" of energy in the second half, whilst the nasty concussion of Wray may also have had an effect.
In the semi Final Saints struggled to get over the gain line – were Saracens offside at nearly every ruck, in my opinion, probably, but if the referee doesn't give it, then they keep doing it and it is up to the attacking side to adjust to this. Even our usual ball carriers Manoa and Burrell didn't make yards. I was sat there in added on time watching them harry us backwards, disappointed that we didn't even look like making a half break.
Our meeting this season at Franklin's Gardens this season should have be an occasion of joy as we returned to the renovated and expanded stadium, but was one of the dullest games of rugby I've ever seen as Saracens strangled the life out of the game and we kicked the ball away or couldn't run our way over the gain line when we did retain it – we were lucky to escape with a bonus point. We fared better away from home with Myler and Dickson running in tries as Saracens were shorn of a number of England players.
Last week bore many similarities to that semi-final defeat: In the first half against Wasps, Saints had 60% possession, but never looked like scoring, often passing laterally across the field with no forward momentum and kicking when we ran out of ideas against their aggressive blitz defence. In the second half we resorted to our early season tactic of just kicking the ball away aimlessly. I think Luther's ability to charge over the gain line was really missed.
Since that match Sarries have lost Tigers, but since their internationals have returned have looked in imperious form, blitzing Exeter 36-18 and beating Bath 30-10 in a controversial game. George Kruis was not banned after a post-match citing, but quite how Kelly Brown escaped a citing from the same maul brings yet further damning evidence against the inconsistent panel – it has lost much credibility and is in need of reform.
Maro Itoje could miss the match after limping off at the Rec, whilst Jamie George and Charlie Hodgson are long term absentees. Saints have their own injury concerns with Hartley and Burrell joined by Dickson and Brookes requiring concussion return to play assessments. Jamie Gibson was absent with ankle trouble at the Ricoh and Dickinson was substituted. It is difficult to know what team medical assessments will allow us to pick. Our one bright point against Wasps was the lineout which Christian Day picked apart, but it will be far tougher this week. Saints' scrum struggled last week – it certainly hasn't met the standards of previous seasons but many of the referee's calls were baffling – Dylan's leadership and aggression would help, but scrummaging isn't Sarries' strength, so we may get away with it here.
Saints just haven't hit their straps this season and I can't see them winning this one sadly – they are struggling against aggressive defences and lack either the big ball carriers or variety in play to overcome it. Saracens have their internationals back, are playing well and have had an extra two days' rest: Saracens 25 – 6 Saints.
More Northampton Saints headlines
Northampton Saints Poll