News: Mobbs Match Preview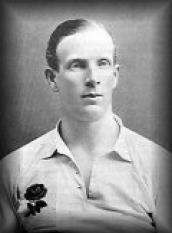 By Smurf
April 12 2016
Wednesday sees Franklin's Gardens hosting the Mobbs Memorial match, where a Saints XV will take on an Army side. This is a fixture with a lot of history, albeit that the players involved have reduced from the teams stocked with internationals involved during the amateur era when the match – in those days, East Midlands v Barbarians – was often seen as an unofficial England trial game.
THE MOBBS MEMORIAL MATCH
The side playing in this match will, in this professional era, be missing the top class players that play at Saints (especially given the injury list) but will no doubt be a strong Wanderers side. However, this preview will concentrate less about the teams and more about the man who we're honouring. For those who don't know, or need a refresher, a little history…
Edgar Robert Mobbs was born in 1882. A pupil of Bedford Modern School, he played for Olney, Weston Turks and Heathens before arriving at Saints in 1905. He was appointed captain for the 1907/08 season, a role he would hold for the next five years until his retirement from the game in 1913. In all he played 234 games in the black, green & gold and scored 179 tries – a pretty good strike rate for a winger in any era.
Mobbs made his England debut in January 1909 against the touring Australian side, a team he had beaten as captain of a Midlands & East Midlands XV the previous month – the only defeat in England for the tourists. He then played in all four of that year's Five Nations games. The following year, he only made two international appearances, the final one – against France at the Parc de Princes – was his only game captaining his country.
On the outbreak of World War One in August 1914, Mobbs volunteered but was told that, at 32, he was too old for a commission. His answer to that was to join as a private and raise the "Mobbs corps" – 400 volunteers who joined the 7th Northamptonshire regiment, 264 declared fit for duty and proceeded to training camp at Shoreham. Soon after arriving at camp, Mobbs was promoted to Sergeant and was commissioned as a full lieutenant in October 1914. He was promoted to Captain before departing training camp in August 1915.
A natural leader, Mobbs was captain of both East Midlands and Barbarians. His final competitive game was for the Baa Baas against a Welsh XV in April 1915 – beating a team containing thirteen internationals by 26 points to 10 - before departing for the Western Front. An exhibition game, played at the County Ground between English and Scottish XVs, was his last playing appearance in Northampton in January 1915.
The 7th Northamptonshires faced battle for the first time in September 1915 at Loos. They lost over 200 men, including their commanding officer Colonel Parkin. The horrendous loss of life, as well as injuries to officers and enlisted men, made for rapid promotion. Edgar Mobbs was a Major by January 1916, and temporarily assumed command of the regiment. Months later he was a Lieutenant Colonel and in permanent command, however injury at the Somme and resulting illness meant he was absent from the front for long periods of 1916.
7th Northamptonshire regiment faced further hardship in 1917, at Vimy Ridge. In late July they were ordered to what would become Mobbs' final resting place – Passchendaele. Lieutenant Colonel Mobbs, in a typical act of leadership and bravery, took a small group of men to attack a machine gun nest that was pinning down their advance. While trying to use grenades to knock out the German machine guns, Mobbs was mortally wounded and his body was never recovered.
Only 85 of the original 264 "Mobbs corps" survived to see the unveiling of the memorial statue, in the Market Square (now on Abington Square) in July 1921. The first Mobbs Memorial match as it was played until 2007 – East Midlands v Barbarians – was played in February 1921. However, this was preceded by others.
Saints played an East Midlands team on Boxing Day 1919. This was always known as the first "Mobbs memorial" match. However, in helping to sort items from the Sturtridge Pavilion last year, I came across a programme for a game played in March 1919 between an East Midlands team and an Australian Trench XV. Even more confusing was the accompanying article stating that this was the second Mobbs memorial match!
Research by BBC Northampton's Graham McKechnie turned up a clipping from December 1917, only months after Mobbs' death:
"I should fail in my duty if I did not draw attention to the first of what will be, I trust and expect, a never-ending series of annual matches at Northampton. This takes place this Saturday and is between teams of New Zealanders and South Africans, the gate money being devoted entirely to the Northants Prisoners of War Fund. The title of the match is the Edgar Mobbs Memorial Match, and after the war, if we are ever to know such a time, the Barbarians RFC will bring a team to play against a team of the East Midlands Rugby Union every year under that title. Emile de Lissa has undertaken to 'run' the Bar-Bar's team, and fro the getting together of the EMRU XV JB Minahan will be responsible. Thus will the memory of a great patriot and player of Rugby football be kept green."
A fine note to end on. This July will mark 99 years since Mobbs' death, and while he is still remembered in this annual fixture – whoever is playing in it – his sacrifice, and that of millions of others, is not forgotten.