News: AP: Northampton Saints vs. Leicester Tigers - Preview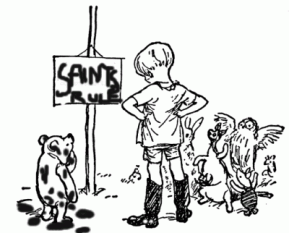 By Mobbs
April 14 2016
It's the biggest derby game in the Aviva Premiership calendar this weekend as Northampton Saints welcome Leicester Tigers to Franklin's Gardens on Saturday with Saints knowing a win is essential to maintain their ambitions of a top four finish. Regular COYSDC contributor Mobbs takes a look ahead to the game...
THE EAST MIDLANDS DERBY
NORTHAMPTON SAINTS vs LEICESTER TIGERS
Saturday, 16th April 2016 - 5.30pm (BT)
FRANKLIN'S GARDENS, NORTHAMPTON
MATCH PREVIEW
'...In fact,' said Rabbit...Tigger's getting so bouncy nowadays that it's time we taught him a lesson. Don't you think so Piglet?'

And so, after recent events it may well be time for Saints to do a good thing and teach Tiggers a lesson on their next journey down the five-o-eight to the Gardens. After all, the game will played on the former site of a bear-pit and monkey house into which many players over the years would have fitted in very well indeed; the Gardens were after all created as a place of amusement and entertainment so please don't start reading too much into that previous observation!
Now logically, Cockers should be thinking of the big picture and targetting the 'home semi-final' against Racing in Nottingham in a couple of weeks time. After all, Tiggers are four points ahead of Saints with a crucial two victories in hand (10-12 so they could afford to lose at the weekend and still be fairly confident of wins against Worcester and Bath. At best, the fourth placed side in the regular season will have to play away at Saracens in all likelihood so the path to Twickenham in May is a hard one and Tigers are only one game away from a European Final - you pays your money and takes your choice but don't be too greedy Richard. And yet, and yet, this is after all, an East Midlands derby and say what you like, this is THE big derby game in the Premiership as it stands at the moment. Yes, this one matters big-time to the clubs, the players, the coaches and most important of all to the supporters who remain long after the players and officials come and go.
Now, for the Saints, this is an easy square to circle; defeat to Exeter and Wasps means that Saints MUST win their three remaining fixtures to have a chance to reach the play-offs and even three wins gives no guarantee of fourth place so it has to be all-out effort from the first whistle in all three games. As I write, I do not know who the referee will be this weekend. Surely they could not select Wayne Barnes or JP Doyle again for this fixture...well, I suppose they could...but 'history' shows that either selection could be seen as a touche provocative as Saints seem to do well with JP and Tiggers correspondingly well with WB...it should not matter but lets face it, it does!

Last weekend saw contrasting fortunes in the Eurpean Cup Quarter-finals. Against a degree of expectation, none of Saints lengthy injury list came out of the woodwork to appear against Saracens; this prompted many to believe that Jim sees the play-offs as a more realistic challenge for this campaign and the prospect of an extra week's recovery time for some of the walking wounded was a temptation that he could not refuse even if it meant a probable reverse in North London last saturday. As things turned out a Custers Last Stand turned more into a Battle of Rourke's Drift with an unlikely away win only fading away in the last fifteen minutes with a number of senior players rueing lost first-half opportunities. It would be hard to praise the forwards enough for their efforts but the performances of Harrison, Nutley, Haywood and Lawes cannot go unmentioned with Saxons tours a likely reward for some. Our 'friends' from the Roundabout saw a comfortable victory on Sunday in front of almost a full house against a Stade team that travelled in typical French fashion raising the white flag within the first quarter and finishing a well-beaten side at eighty minutes.
Say what you you like about Tigers (and we do - often!) they are most adept at finishing a season strongly with a level of committment and determination for eighty minutes that no other side can match year in year out. Cockers will want to beat Saints, quite naturally, but is he pragmatic enough to see the bigger picture of European glory and take a punt that a losing bonus point at the Gardens would still put his side in a very comfortable position for the final two league games ? Any injuries to key players such as Youngs, Manu, Croft, Kitchener, Goneva or Tait could be very expensive in the overall scheme of things...hmmm...discuss!

'Well, I've got an idea' said Rabbit, 'and here it is. We take Tigger for a long explore, somewhere where he's never been, and we lose him there, and next morning, we find him again, and - mark my words - he'll be a different Tigger altogether.'

The trouble is, Tigger has been here before and has come up short chasing two trophies as indeed did Saracens of course when a couple of years ago they lost two finals on consecutive weekends. Its that word 'pragmatism' again....no pressure then Cockers, yours to win or your to lose. A walk in the park for Jordan Speith turned into a Masters nightmare for the multiple champion whilst the plucky underdog went about his business in a quiet and under-stated manner to take the prize. So its an easy call for Messrs Mallinder, West and King - it has to the the strongest possible side this weekend as defeat means a proverbial early bath and a long break for non-tourists after the final hurrah at Castle Grim.

Selections...wasn't there a box of Chocolates called Selections...sorry I digress. We can only guess at Cockers choice so lets forget about the opposition and concentrate solely on the Green, Black and Gold. The front row from last weekend will probably start in pole position with a back up of Ma'afu and hopefully Hartley and Brookes on the bench. The remainder of the pack is all down to injuries but I would be more than happy with Craig and Day in the second row with a back three coming from Lawes, Wood, Gibson, Nutley and Harrison. My own preference in the half-backs would be the tried and tested Dickson and Myler combination but I realise there are question marks against both for many supporters of my acquaintance. The return of North on the wing would be very welcome as his absence last weekend raised a number of eye-brows; the prospect of him disappearing on Olympic Sevens duty over the summer does give rise to a number of questions in my mind and a blistering run of games during April and May would be overdue in my opinion.
The remaining positions amongst the backs I would give to Burrell, the Pisi brothers and Foden with young Mallinder as all-purpose bench replacement. It is, lets face it, a long old season, especially for those who were involved in the RWC, but it is in April and May that the season is decided and all professional rugby players want to be involved in games such as Saints-Tigers at the business end of the campaign.

It would be churlish not to note that last weekend Leicester City took another huge step towards an unlikely Premiership Crown whilst the Cobblers secured promotion with a probable title of their own just around the corner. And we sometimes talk about the East Midlands being a 'rugby region' - just goes to show how things can change. There was a terrific reunion last Saturday for the surviving members of the 1965-66 Division One squad...can it really be fifty years? Sorry, I was getting all nostalgic there for a moment...forget about Cohen and North...'we've got Arry, Arry, Arry, Walden on the wing....on the wing'

Atmosphere...what about atmosphere on Saturday ? Lets be honest, we have not had a real rock'n'roll time at the Gardens since we last entertained our friends about sixteen months ago. This weekend really will be a sell-out rather than a notional one and there are no excuses for a Saints home crowd to forget how to raise the roof. We do not need any artificial prompting on the PA (Come on you Barff/ Oirish etc etc) nor the deafening intro of Smoke On the Water to get us in the mood, this is after all, Franklins Gardens, home of Northampton Saints, is it not!
It would be good to imagine a late-afternoon game starting in some Spring sunshine allied to a firm dry pitch although as I write on Monday evening yet another April shower is passing through Brixworth. A rainbow now stretches out towards Spratton...time for a poem....no I guess not, sorry, almost got carried away there for a moment but there is apparently a pot of gold at the end of said rainbow and so its time to man-up this weekend and go and dig deep for it...COYS !


'...Tiggers never go on being Sad,' explained Rabbit. 'They get over it with Astonishing Rapidity. I asked Owl, just to make sure, and he said that's what they always get over it with. But if we can make Tigger feel Small and Sad for just five minutes, we shall have done a good deed...'