News: AP: Gloucester Rugby vs Northampton Saints - Preview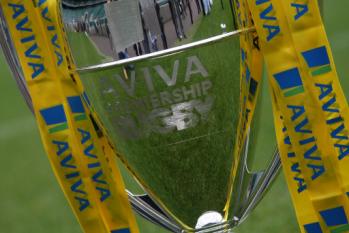 By HRsaints fan
May 5 2016
It's been a frustrating season for Northampton Saints this term and it all comes to an end this Saturday afternoon as they travel to Gloucester to take on David Humphreys' "Cherry and Whites". With a Saints win essential to secure qualification for next seaon's European Champions Cup, esteemed COYSDC contributor, HRsaints fan (David to his mates), takes a look ahead to the game with a comprehensive preview...
GLOUCESTER RUGBY vs NORTHAMPTON RUGBY
AP: Saturday, 7th May 2016 - 3.30pm (BT)
KINGSHOLM STADIUM, GLOUCESTER
MATCH PREVIEW
And so we come to the last game of the regular season although for Saints and their long-suffering fans, the word "regular" would not be one that springs to mind when thinking about the performances throughout the 2015-2016 season.
In saying that perhaps you could say that Saints have been regular at things that have, sadly, been a feature of performances this year such as gifting the opposition tries, dropping the ball, aimless box kicking, poor passing and an inability to make the most of the undoubted talent that we have standing out on the wing……..
We approach Saturday's game in the odd-position, at least in terms of recent seasons, of not looking forward to a semi-final berth, either home or away, but instead fighting for the right to play in next Season's European Rugby Champions Cup.
To recap what you, dear reader, already knows Saints currently sit 5th in the Premiership Table, one point ahead of Harlequins, two points ahead of Sale Sharks and seven points ahead of Saturday's opponents Gloucester. So the fight for the coveted 6th place is between Saints, Quins and Sale as Gloucester needed other results to go their way last Saturday in order to still have a chance of that place. Harlequins are at home to Exeter (which should be a good game) whilst Sale travel to the North East to play Newcastle.
There is, of course, the added wrinkle that due to the 2015 World Cup there are no play-off games for the remaining 20th spot in the Rugby Champions Cup – this now going automatically to the winners of the Challenge Cup Final which features Harlequins against Montpellier in Lyon on 13 May. There is much debate on the Quins forum about whether they should put out their first team against Exeter this coming Saturday knowing that they have a chance of silverware the following Friday night. Of course if Quins beat Exeter then I think I am right in saying that ERCC qualification would be secured regardless of a) the results of the Challenge Cup Final and b) the results of Sale's game away to Newcastle. But it must be a bit of a dilemma for Conor O'Shea as, on a personal level, he would surely love to get a trophy before he leaves the club for the obvious delights of living in Verona.
Taking all this into account Gloucester would want to give themselves every chance of getting that 7th place such that in the event of a Quins victory over Montpellier, they would be in the draw for the Champions Cup next season. However for that to happen they would need to turn in a bonus point victory against Saints and hope that Sale come away with nothing from Kingston Park.
So, alongside the normal end-of-term jockeying for position between the teams in 2nd, 3rd and 4th (which sadly Saints has no interest in) there is still much still to play for.
What of our opponents on Saturday?
In terms of current form over the last four games Gloucester have won two - including an unexpected victory away last Friday night against the previously unbeaten Sale - and lost two, including a painful home loss to local rivals Bath. They sit 10th out of 11 in the 'home games' league table having won 7 and lost three, scoring a total of 32 points (although of course some of the teams -including Saints - have played one home game more). Tries have not been easy to come by, with a total of 34 scored (19 at home and 15 away) and defensively they have conceded 40 (15 at home and 25 away). Only twice this season have they achieved the requisite four tries for a bonus point, and one of those was away from home.
The home losses have been the aforementioned game against Bath, Tigers in January and Saracens last October and they lost these games by 5 points, 1 point and 2 points respectively so they are no pushovers at home at all, despite their league position.
Regardless as to whether they can beat Saints and score four tries in the process, Kingsholm is never an easy place to go and get a result, as Saints can all too easily testify. The last time we won there was seven years ago! The mind also drifts (at least mine does…..) back to 21 September 2013 and the woeful decision making of Martin Fox right at the end of the game. Offside at the kick off…??? Those five players…??? Never ref. Kicking the ball back into the scrum……wasn't me sir so the penalty must be against Saints. The only good news is that Fox is not on the Premiership's list of referees these days, and I see that we have JP Doyle in charge of the whistle who I personally think is one of the better refs, but then they all have their good and bad days!
So Gloucester will be very tough opponents come Saturday and Saints, if they win, will have done something they have not done since Aviva took over the sponsorship of the Premiership.
Turning to Saints, for many supporters this season cannot end soon enough. The home form has not been too bad, losing only 3 and winning 8 games, although the performance against Wasps, and then gifting Leicester two tries were some pretty low points in a season quite full of low points. So Fortress FG has not been quite so impregnable this season. Away form has been dire with only three wins on the road. Indeed there are four teams that have the honour of losing five away games by less than 7 points; Exeter, Harlequins, Bath and Saints. What made this all the more annoying were those losses to the bottom three teams including the now-relegated London Irish. Of those teams in the "Five losses by less than 7 points" league, only Harlequins and Bath lost away to one of the bottom three (Newcastle was the team in question on both occasions). And boy have those lost points come back to hurt us.
I was encouraged though to see Jim's candid interview on BT Sports with Martin Bayfield prior to the game on Saturday (which has now been repeated in the Chronicle). He has admitted that errors were made pre-season which were then compounded by losing three out of the first four games, and thereafter Saints have been playing catch up. I know that some supporters felt he was not being entirely honest and that there were still questions about the manner in which we were playing. I see it slightly differently. That poor start cost us not only points but also confidence, which then led to Saints playing within themselves. This, coupled with the form of some key players being badly affected by the Rugby World Cup (the Pisi brothers for example) had a huge impact on both the manner in which Saints played and the results that we being achieved.
We can however end the season on the up with a win away at Gloucester which would cement our 5th place finish. To do this though we are going to have to play better than we did on Saturday where, yet again, the opposition were gifted tries. One might say I am being harsh about Bath's first try with that wicked roll of the ball, but had we not lost it in contact in the first place that might never had happened. I was also in disagreement, just prior to that, with the decision to kick for touch rather than take 3 points and start to build a score; a decision that led to no points (as we lost the third lineout of this sequence) and concluded, not long after, with Bath 7 points up. The Bath second try was also a gift with Luther Burrell (sadly not for the first time) losing the ball in contact. Luther needs to get this part of his game sorted as he will have no chance of an England place ever again if he keeps on giving the ball to the opposition, especially when that leads to a try. Another gripe of mine is that I wish players would stop running with the ball in one hand. If the ball is held in both hands then the opposition defence has to try and guess where it is going which has far more impact.
The strange thing is that even allowing for the fact that three of the last four tries scored against us were gifts to the opposition (and you might even say that all four were if you include Thackers try as he should never have found a gap that large in Saints defence) we are still joint-meanest defence in the Premiership, having only conceded 33 tries all season (15 at home and 18 away). In case you were wondering the other team in question is Saracens (19 at home and 14 away). So a major positive for Saturday is that, as long as we cut out the gifts from our game, and giving easy penalties to Laidlaw (if he plays fly half on Saturday) we have a seriously good defence against a team that have struggled to score tries all season.
I don't know if I was alone in being concerned about Ken Pisi's performance and, indeed, his fitness on Saturday. Ken got seriously burned by Jeff Williams even though he was initially ahead of him in the foot race for the latter's second try. He also seemed to make far more errors than normal. Personally I would like to see James Wilson get on the pitch on Saturday as every time he does we seem to get our backs moving better (and notably forwards). Wilson also seems to work well with North.
On a brighter note was the continued performance of Teimana Harrison who is going to be very unlucky to not be on a plane to Australia in June. He carried more times (19), made more metres (125), and beat more defenders (8) than any other player during the whole of Round 21 of the Aviva Premiership and this was after Bath specifically made a note that they needed to stop him in his tracks. There is the mouth-watering prospect of a back row of Clark, Harrison and Picamoles for next season, and it does seem we will have considerable riches in this area of the Saints squad. I thought George North had a good game considering he had not played for Saints since the end of the Six Nations. He seemed to look for work far more than he was doing before the 6N. Similarly Lee Dickson seems to be recovering some of his best form although when I watched the game again on the TV I was disappointed to hear that he failed to get on the right side of Wayne Barnes and being told at one point to "shut up". I do think we need a change of captain for next year. For me a scrum half needs to be a gobby-git, which is, I am sure you will agree with me, not the first requirement of the Captain of a professional rugby team – certainly when faced with a Sir on the pitch who comes from the Wayne Barnes school of Refereeing. Lee certainly comes into the gobby-git mode, but not the Captain's mode – in my personal opinion.
In terms of the teams I would think that, other than the return of some of their injured and sick players, the Gloucester team will not be much different from the one that ran out against Sale last Friday. For Saints, save only for the possible return of Ben Foden, I think that the team will be very similar to the one that played against Bath (and although I would be delighted to see Dylan back, my feeling is that his best outcome would be a place on the bench).
We can lose this and still qualify for the Champions Cup, but I would rather see us close this disappointing season on a high. So (with fingers firmly crossed) I am going for that rare thing – a Saints away win at Kingsholm…..but not by much!
I would like to take the opportunity of personally thanking the Editors for the fantastic job they do running the COYS sports network forum. I think I have read every post this season, and although I could not put my hand on my heart and say I agreed with everything that was being written, nonetheless I thoroughly enjoyed the discussions that took place.
For me the game on last Saturday was my last as a Season Ticket holder of the last 12 years. My wife and I just missed too many games because of the juggling of the fixtures to suit the television companies. But we will be choosing some specific home and away games to attend and it would be great to be able to meet up sometime with some of the regular contributors on this Forum. In the meantime, I hope that the last result of the season puts a smile on all our faces and sets us up well for what will hopefully be a far more exciting and rewarding 2016/2017 season.