News: Reflections - Saints Win at Castle Grim!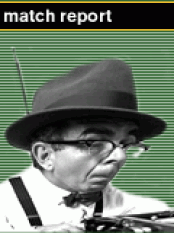 By Mobbs
May 9 2016
Northampton Saints ended their season early for the first time since 2009 outside of the top four play-off positions. But they did see the year out in winning style with a hard-fought win against the Cherry and Whites of Gloucester. Mobbs looks back on last Satdee's action...
GLOUCESTER RUGBY 20 - 28 NORTHAMPTON SAINTS
Saturday, 7th May 2016
KINGSHOLM, GLOUCESTER
So, the last game of the regular season and for both teams at Kingsholm thats's it, no more club rugby this time around after two pretty lacklustre campaigns. When I pulled the curtains open this morning I found that my geriatric cherry tree had burst into bloom over night which somehow seemed a bad omen for a trip to Gloucester. Always an enjoyable journey down through the Cotswolds, so much more enjoyable than the M6/M5. Coffee in the Cathedral and plenty of Saintly shirts in evidence around the quays and in the town centre.

Sun shining as we walk to the ground, Gloucester fans in good voice after a couple of excellent wins against Exeter and Sale, the latter being very helpful to Saints cause. Good to see Ben Foden floating around with the BT team as he misses the game with yet another niggle. Oddly a bunch of chaps in full red-coated hunting gear and look, there is a guy dressed up as a fox, oh well, it is the end of the season.

Ok, we have a strong team out there and great to see Dylan back at long last. The hosts are missing the likes of Trinder, Sharples, Hook and May so maybe we can edge this one.

Early errors from both sides and the hosts line speed defence is giving Saints very little room around the margins. Ben Morgan getting through the driving maul, we must get the ball away more quickly....memo to our latest signing from Cape Town ! Greg Laidlaw takes three points from the tee and as usual we are playing catch up. Then a disallowed score for the home team in the corner with a foot in touch - let off, big time !

Fifteen minutes TRY, quick ball from Lee to Harry who runs fifty metres followed by lovely interchange between the Pisi brothers with George going over in the corner; no extras but Saints lead but not for long as Laidlaw takes another three for Jamie G not rolling away.

Dickson clattered by Savage leading to a yellow card from JP and now Smyler puts Saints back in front so ten minutes to extend the advantage. Still scrappy stuff and not for the first time recently, 'words' are exchanged between the Saints half-backs. Oh...no, Evans goes over in the corner for Glaws, Luther exposed in the centre and both Pisi boys missing last ditch tackles...good conversion from Laidlaw - so much for the one man advantage ! Right, keep it tight till half-time...noooooo, Moriarty breaks from forty yards out, sidesteps Harry and goes over with easy extras to make it 20-8. Blow the whistle JP....please...hang on, line out steal, across the field, Harry runs straight at them and an easy offload to North who goes in under the posts so its half-time 20-15 to Gloucester.

Now, we all know that this season, Saints seem unable to put in a full eighty minute performance. This is not to doubt effort or commitment, more so the discipline and authority that makes play-offs and wins silverware. Think back to the first thirty minutes at Welford Road, the first forty minutes at home to Wasps and Bath. So have we just witnessed the good half or the bad half ? The skies over the Cotswold Hills are darkening, the thunder and lightening has begun and it seems that for once the weatherman from the Beeb has got things right.

Here we go, throwing it down now and a lovely cross-field kick from Myler finds Ken who kicks himself putting the hosts defence under pressure. Aggression, better handling, Woody picks up, breaks through and another easy offload to George North who now has a brace and Saints lead again 22-20, no, make that 25-20 with Myler taking another three from the kicking tee.

Gloucester change the front row and the Saintly Victor Matfield comes on for what could be his last ever competitive game of rugby - I think this time he really means it !
And now the 'skipper' returns for his first game since Paris along with King Kahn who like Victor is playing his last game in the Green, Black and Gold.

Ten to go and Gloucester are pressing very hard on the Saints try line...TMO time!
The ball has hit the line.....or has it, the home forward have not retreated so maybe not convinced...NO TRY...five yard attacking scrummage. Pressure relieved and Saints now pressing themselves for a bonus point try...quick offload from Nutters but North cannot hold it and its game over, four points, job done, fifth place and first tier European rugby at the Gardens once again in the autumn. The Shed empties in quick time as both sides do a slow lap to acknowledge their fans. Saints take a team huddle to perhaps reflect on what might have been and thoughts perhaps drift back to Sixways way back in October when an additional thirty seconds possession could have set the lads onto a winning start.

A young lad of about ten, resplendent in his Gloucester shirt is excitedly holding Victor Matfield's right boot in his hand...size fourteen apparently...good game rugby....roll on September and Round One...bring it on !


Have a good summer


Mobbs
More Northampton Saints headlines
Northampton Saints Poll